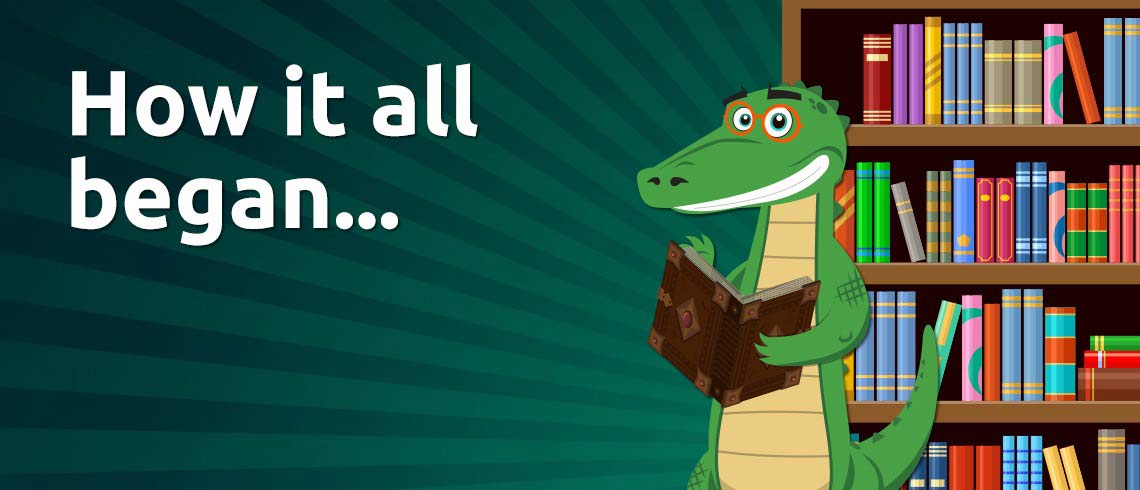 The story of how the Land of PlayCroco and our casino came to be has been passed down by RoyalCrocos to BabyCrocos for centuries.
While it's not exactly clear when the first scaly pioneer climbed out of the primordial swamp, whipped out a pair of shades and started sunning himself on the banks of Lake Croco, what we do know is that the PlayCroco online casino was started by none other than Croco.
If you can spare a minute, we'd like to tell you this story and enlighten you on how our casino came to be. There's mystery, intrigue and plenty of tales of top notch pokie titles. So sit back get comfy and enjoy the yarn.
Chapter 1: A prehistoric land of pokies
Legend has it that the Land of PlayCroco existed back in the prehistoric times and was inhabited by a group of fun-loving crocodiles. They spent their time playing casino games, wallowing in the mind and otherwise chilling out under an endless blue sky. 

Life was pretty good for these benevolent beasts, but even the older crocodiles were starting to get bored of their games. One bloke in particular called Croco was at his wit's end. He dreamed of trying more exciting offerings with higher stakes and feasting on bonus prizes with his mates. Could he convince everyone to start a new casino?
Chapter 2: The great reptilian revolution
This idea grew in Croco's mind as he turned it over. Before long it became apparent that he needed to act. So he gathered the crew together and announced his plan:"My fellow CrocoDudes and CrocoGirls! There's more to life than just playing these boring old pokies. We need more excitement in our lives. Let's take our PlayCroco casino online!"
A cheer went up and all agreed. They too were over the same spins, the same wins and the same pokie themes. Most of all though, they were tired of having to crawl across the mud flats in order to reach these pokies. Who would have thought crocodiles could be so lazy?

Chapter 3: From the mud to the net
They put their best and brightest brothers and sisters onto the job. After much tinkering, tweaking and the odd mud nap, the crocodiles finally went digital! Now they could access and whole new world at the tap of a claw.
Croco was thrilled with the progress, but they were only just getting started. He wanted to make the Land of PlayCroco the best provider of pokies and casino games in the entire world.
So he scoured far and wide to find the best titles. Crossing billabongs, swimming countless kilometres and waddling through cities, until he finally came upon a company called Real Time Gaming.
Chapter 4: A match made in online casino heaven
It was a match made in online casino heaven. With the revolutionary reptile Croco keeping everyone entertained and Real Time Gaming's comprehensive selection of high-quality games, PlayCroco was born.
Not many online casinos can boast such a rich history. And even though we still hang onto our roots, we're committed to delivering the most in-depth, edge of your seat gaming experiences in the world.
So on behalf of the team here at PlayCroco, we'd like to extend a swampy claw of friendship and welcome you into the family. Hold onto your hat, strap yourself and get ready for one heck of a ride. You're about to become a part of PlayCroco's history!


👉 Create your account today:
If you don't have an account create yours here.
Click on the "Coupon" button if you're using a mobile device or head to "Cashier" if you're using your computer
Redeem your welcome bonus: coupon PLAYCROCO - 200% bonus up to $5000
Grab your free $50 treat: coupon PLAYCOOL
Start playing and have fun!