As on of the top online casinos in Australia, we continuously enhance our gaming services.

That includes expanding an already impressive lineup with fresh and intriguing features. The Lobby Jackpot is one of the newest additions at PlayCroco.
What is Lobby Jackpot? 
Lobby Jackpot is a thrilling feature that gives players the chance to hit the jackpot while enjoying their favourite casino games. Available on both mobile and desktop devices, it offers an extra layer of excitement and the opportunity for big wins. This feature is exclusively available to PlayCroco members, making it a fun and unique way to experience the casino.
Think of it as a pot of gold waiting for you at the end of the rainbow - except the rainbow is the lobby of PlayCroco Casino. And instead of a pot of gold, you have the chance to win a massive amount of money with just one lucky spin.
How much is the Pool? 
Lobby Jackpot reaches its limit at around $50. Some players get awarded $100, and some $25.  It can be triggered at any point randomly. Maximum Pool Prize is $100.
How much does it cost? 
Once you Opt-in, $0.01 will be deducted from your balance after every spin you make on your favourite games. 
How do I join Lobby Jackpot? 
1. Go to your Casino Lobby
2. Log in to your account 
3. Click Opt-in to join

4. Confirm that you want to Opt-in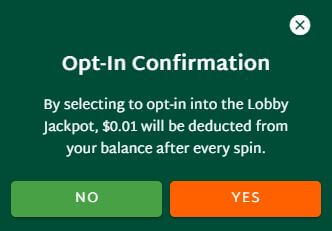 5. Start playing your favourite online casino games and await the thrill of finding out if you're a winner
How do I know if I am a winner?
If you're a winner, you'll receive a notification when playing.
You'll be prompted to claim your cash prize if you receive a notification. Simply follow the instructions to claim your prize, and the cash will be added to your account balance.
The lucky winners can be viewed in the lobby within the Lobby jackpots section.
How do I stop playing Lobby Jackpot? 
To Opt-out follow the steps below.
1. Click on the burger menu

2 Click on Lobby Jackpot 
3. Click Opt-out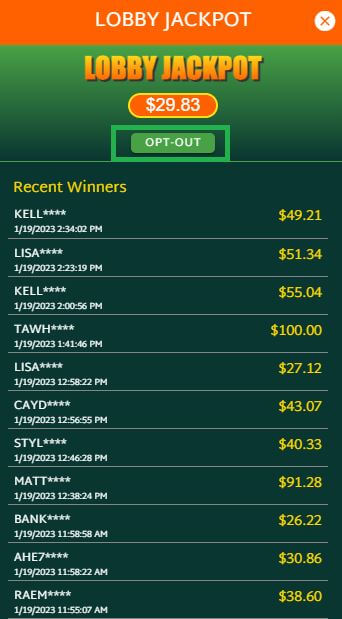 Here you can also see the recent winner.  
Good to know
🐊 Free spins or free bonuses do not contribute to the lobby jackpot
🐊 You can opt-in and opt-out whenever you want 
🐊 The Lobby Jackpot is paid out several times a day, depending on how often the Jackpot is triggered 
🐊 Only pokies and slots contribute to the lobby jackpot
Lobby Jackpot Terms & Conditions
Go to our Casino Terms & Conditions.

Read more articles 📗

👉 Create your FREE account today:
If you don't have an account create your account today
Click on the "Coupon" button if you're using a mobile device or head to Cashier if you're using your computer
Redeem your welcome bonus: coupon PLAYCROCO - 200% bonus up to $5000
Grab your free $50 treat: coupon PLAYCOOL
Start playing and have fun!