Welcome to another PlayCroco online casino article. Today we're going to sit you down and send you WILD for slot machines! How are we going to accomplish this? Well, it's actually not all that difficult. We don't need hyperbole and we needn't tempt you with giveaways. All we need to do is introduce you to the things that make PlayCroco online casino games the best in the world! So strap yourself in. Everyone from BabyCrocos to RoyalCrocos is in for a ride.

These are the real money casino games and slot machines you cannot miss and what we do behind the scenes in order to give you the best punting experience possible!

Slot Machines - Play PlayCroco casino games for free 🎲
Play the best online pokies and slot machines for free! If you want to rip and tear on top casino games, continue scrolling down. Here are the things that make our online casino number one on Earth...
$10 FREE CHIP
Try it out for free!
Code: 10FREE
Available for new players only. Coupon can only be used once. Max cashout $180.

10 top online slot machines you can't miss 🎰
The top 10 slot machines online you cannot miss at PlayCroco? They're listed below! Check them out now by going to our casino game lobby. You'll be rubbing your eyes in disbelief that we have so many outrageously good slots, but trust us… it ain't no trick. You can really play all these slots at our friendly online casino! 
Cash Bandits 3
Plentiful Treasures
Diamond Fiesta
Achilles Deluxe
Sweet 16
Jackpot Cleopatra's Gold
Sparky 7
Lucky Catch
Asgard Deluxe
Wild Fire 7s
Over 350+ different slot machines 💰
Do you enjoy having a smorgasbord of pokie and virtual table games to choose from? Like… over 350 different sources of enjoyment? Because here at PlayCroco, our shelves are totally stacked with premium quality titles!
This includes everything from traditional pokies to more innovative releases, blockbuster real cash slots and insanely enjoyable poker games. If you can dream of it, there's a big chance that we have it. So let your imagination run wild like a herd of stampeding Crocos (do they stampede?). With 350 plus online slot machine games and virtual table games, you definitely won't run out of fun while you're a member of PlayCroco!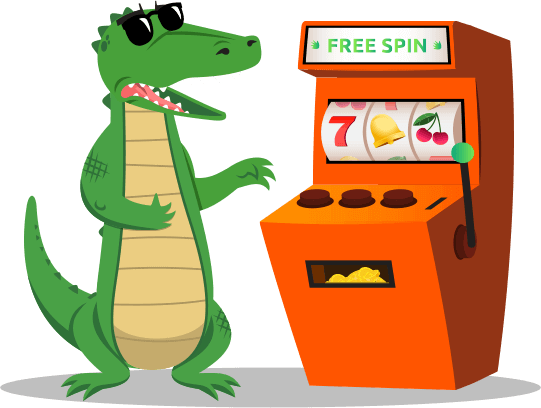 New slot machines released every month 🎁
Speaking of running out of fun, that often happens with other online casinos. Not to point fingers or anything. It's just something that your fellow members have told us. In any case, we don't want you to get bored at PlayCroco, so we've come up with an interesting solution…
Starting this year, we release not 1 but 2 online slot machines every month for you to win on! That means two times the awesomeness and two times the rewards… better yet, there's no telling what type of pokies we're going to release. Will it be an old-school slot that's been given new life? Or will it be something entirely novel that you've never played before?
We can't give you the answers, but we can tell you that they're worth the wait. So keep your email inbox open… that's where you'll hear about our new casino games as they're released!
The types of online pokies and slot machines at PlayCroco casino 🔮
You might have noticed that like Crocos… not every online slot machine is built the same. Some are weird, some are wonderful and some are downright wacky. But fear not, loyal PlayCroco punters. We only host the best quality online slots. As far as game types go though, here's what you'll find on our online casino:
Casino Table games
Table games is the term we give to any game of chance that's played at a (virtual) table. In this instance, that means blackjack, roulette, baccarat and craps. Table games are games that have you either playing against the casino, playing against other punters or playing against both. Online casino table games come with enhanced graphics that can make you feel like you're actually sitting at a Las Vegas table.
Progressive slot machines
Progressive slots are truly the gaming gods gift to us mere mortals. Essentially, they play the same way as normal online pokies and real cash slots, except the jackpot is somewhat different.
The difference between progressive jackpot slots and normal pokies is that progressives have a jackpot prize that increases with every non-winning spin. Then, after some lucky bugger wins the jackpot, it will reset to a predetermined amount and you can test your mettle all over again.
Jackpot prize amounts can get to over the $1 million dollar mark, which makes them extremely attractive to savvy players seeking a life-changing win.
Online pokies and slots
Pokies are what us Crocos call slots, and slots are what everyone else calls pokies. Confusing? Maybe… but it's all good. Just know that they're the same thing and that they're EPIC!
Safe, fun and super simple to play, pokies are online slot machines that have reels, paylines and symbols. Bonus rounds can be triggered and rewards such as free spins, prize multipliers, expanding wilds and random prizes can greatly increase your odds of winning!
What's more, our pokies and slots are available to play on both on our casino mobile pokies app (iOS and Android) devices plus tablets, laptops and computers.
Online poker
Online poker is any poker or poker derivative that's played online via an internet browser, live stream or on a mobile devices.
Online poker has increased with popularity over the last two decades due to advancements in technology. It's also become huuuugely popular since covid times. Online poker is easy to play and more accessible than brick-and-mortar casino poker, since you simply need to login online to sit in on a session. Dark shades or suspicious eyes not necessary…
Keno
Keno is basically a lottery game, but more like lottery on demand. Play real cash keno at PlayCroco casino, simply search for "Keno" in our game lobby search bar.
Once inside, you pick your numbers, place your wager and click to confirm how many games you want to play. Then, it's just a matter of seeing whether your numbers matched those that were picked. Keno is simple to play, super fun and it can be enjoyed in combination with our casino games. This makes it a good complement if you're on a serious hunt for a humongous life-changing win.
Speciality games
If pokies don't grab your goat and table games don't rock your boat, there's still some good news on the horizon.
Speciality titles play like video games in the sense that they don't come with the usual gameboard layout. However, there are still vague hints of pokie features, such as a paytable, symbols and sometimes even reels. Banana Jones and Cubee are two speciality releases that get a lot of air-time at PlayCroco.
We reckon they're fantastic because they're very different to everything else on our roster. You'll prob reckon they're great because while they appear whimsical, they actually offer heaps of opportunities to bag some cash!
Loyalty program for slot machine players 👑
Call us crazy, call us wild, just don't call us bummers when it comes to loyalty programs. Ours is truly something special. It's often called revolutionary and it always puts a smile on our members' dials.
Just sign up to become a BabyCroco. You can then progress through the ranks, from Baby to JuniorCroco, SuperCroco and RoyalCroco. As you move towards the final stage, you'll be given access to bigger and better daily rewards. This includes increased withdrawal limits, cashback bonuses and a personalised host, but there's way more on offer for you to discover. 
The advantages to using our innovative loyalty program are almost too long to list… so let's just start with the most obvious ones: 
Increased odds of scoring a winning spin
You get to feel like a true blue VIP
Your daily perk is something to look forward to
Being able to climb the ranks gives you a target
Becoming a RoyalCroco is pretty bada$$
24/7 online casino customer support ☎️
A nagging question can keep you up at night, while an online casino issue can really put your knickers in a knot. That's why it's important to have your queries answered and your problems solved quickly.
Walking around with twisted undies isn't our idea of comfortable after all. So what we've done is made our customer service accessible 24/7. Just arrange a call, start a live chat or flick us an email when you need assistance. Our team are trained to provide legendary advice with a friendly attitude to ensure your needs are met lickity split!
Free slots tournaments 🏆
Did somebody just say "free mobile slots tournaments"? Available exclusively on mobile devices, our mobile slots tournaments are a weekly and monthly event whereby you can play for real money prizes at PlayCroco!
There's a different pokie every 7 days and you simply need to win in order to climb the leaderboard. Then, once the tournament has ended, we'll tally up the points. If you're in first place you'll get a share of real cash money, however, if you come second or third you'll still walk away with some moolah.
Just register, create your alias and give it a red hot crack. Our free mobile csino pokie tournaments are an absolutely amazing way to land big payouts! 

Read more articles 📗

👉 Create your FREE account today:
If you don't have an account create your account today
Click on the "Coupon" button if you're using a mobile device or head to Cashier if you're using your computer
Redeem your welcome bonus: coupon PLAYCROCO - 200% bonus up to $5000
Grab your free $50 treat: coupon PLAYCOOL
Start playing and have fun!