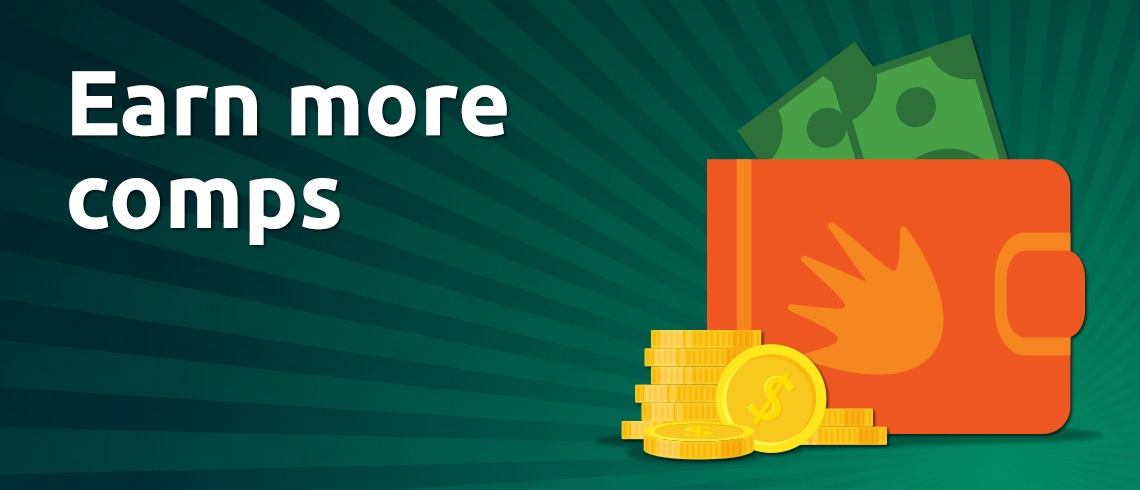 This is your ultimate guide to earning more online casino comp points. If you've been around the traps for a while playing our mobile pokies and online casino games then there's a massive chance you've heard about online casino comp points before…
If you're new to the wonderful world of online casino gambling and online pokies, you need to read this article on how to get more casino comp points bonus for free. At PlayCroco Casino, the concept of casino comp points and loyalty is simply a way to reward players in Australia for free as a thank you for their loyalty. The main thing about our comp point loyalty program is that you can exchange your casino comp points bonus for real money or free spins.
Read on to discover everything there is to know about the PlayCroco online casino comp point loyalty system, including what online casino comp points are, the benefits of comp points and how you to collect more online casino comp points bonus (with no need to spend money). We tell ya, this post is guaranteed to croc your world!

Online casino comp points bonus 👇
Become a master online casino comps bonus collector and let's get started with the following steps:
Choose an online casino pokie or slot machine to play (you will get 1 comp for every $10)
Or play our Pokie of the Month for DOUBLE casino comp points bonus (you will get 2 comps for every $10)
Casino comp points will be automatically collected into your casino wallet
Exchange your online casino comp points for real money for free once you've collected at least 100 casino comp points

What are online casino comp points bonus? 🔎
Casino comp points bonus, otherwise known as complementary casino points are essentially a type of reward and loyalty system (think of it as tier credits) that online casinos and land-based casinos use to compensate casino players.The only difference here is that land-based casinos often use slightly different loyalty rewards, such as VIP access to an exclusive lounge with some free drinks, private parking or even free accommodation (like maybe a special stay at the Wynn Las Vegas).
At PlayCroco,the best online casino in Australia we offer comp points in free money. Think of it as free slots play but if you win, you can cash out big. For every $10 bet on any online pokies you will receive 1 comp point  that accumulates as you continue playing. On the online casino pokie of the month you will receive 2 comp points for every $10 bet. Easy,ay?
Comp points work just like real money. For every 100 comp points, which is the minimum amount of comp points that can be redeemed, you will receive $1 with no maximum cash out and no playthrough.
You can redeem your comp points by going to the cashier, after logging in to the casino. If you have any issues, simply contact our casino customer support team and or we can do it for you.
How do casino comp points work? 🔧
The way that online casino comp points bonus work is actually super-dooper simple. There's no mysterious puzzle you need to solve, no form you're required to fill out. All you really need is an online pokie or slot machine to play and some real money in your casino account.  
You can then use your real money to place a bet, with every $10 wagered equalling 1 comp point. These online casino comp points can be exchanged into a wager-free casino balance of 100 points per $1, with the minimum amount of comp dollars able to be claimed at PlayCroco casino is set at $1. The only time this formula is different is during our Pokie of the Month casino promotion when we award double casino comp points, so that you actually get 2 points for every $10 wagered. We're pretty sure, this is even better than rewards in Las Vegas!
Unsure how many online casino comp points you've collected? Having issues exchanging your casino comp points for real money for free? Simply contact our 24/7 live online casino support team and they will convert your casino comp points into real money for free in no time.

What are the benefits of casino comp points bonus? ✔️
Casino comp points is the PlayCroco online casinos reward and our way of giving you a pat on the back for choosing us as your preferred online casino. But it's a pat on the back that comes with a pretty special benefit, which is that players can actually earn real money on comp points for free no matter whether you're winning or losing.
As long as players are playing games and placing a bet of $10 those casino comp points will continue to roll in. As we mentioned previously, players can then trade in their casino comp points for $1 once you hit 100 and reuse those casino winnings on their next wager or casino bet. There have been many stories of PlayCroco casino players doing just that and pulling off magnificent wins... It does, however, pay to be a little bit savvy about how you earn comp points in order to maximise your chances of converting them into free real money.

Online casino comp points: follow these tips ✏️
By now you're probably ready to tear into our comp point system… but hold your horses, PlayCroco player. There are still a few things you need to learn! Check out the following comp point tips and level up your skills with a little help from PlayCroco casino

Play the online pokie of the month 🎰
If there's one thing that will boost your ability to collect online casino comp dollars, it is by playing our casino Pokie of the Month. That's because any online pokies that we nominate as our favourite online slot for that particular month also award you double comp points bonus when you wager on it.
This is a pretty sick bonus offer since you can collect these casino comp points bonus twice as quickly as usual by simply playing slots. That means, you literally double your lucky by earning 2 comp points for every $10 wagered - you're getting extra free money in less time. What's more, players will get to reconnect with some of the best slots and games. Don't forget, unlike most casinos, we only feature popular casino games and slot machines to become our pokie of the month. Now that's what Croco calls a win-win situation!

Use your casino comp points and play pokies on the go 🏃
Take advantage of our awesome PlayCroco online casino mobile app version that allows you to enjoy your favourite online pokies at your fingertips. Plus everything else you love about PlayCroco online casino... but on your mobile device! From Apple iPhones to Android devices, with PlayCroco online casino you can play online pokies, get loyalty points for free and collecting casino comp points really easily.

How many casino comp points have you got? 👛
If you're unfamiliar with our comp dollars loyalty system you should really get on it. We know, we know… how can players miss the chance to earn real money for free and free spins simply for spinning online pokies? Trust us, it happens. 
The only advice we can give here is to make sure you check your casino comp points loyalty system often. That way you always know where you're up to and how many comp dollars you need in order to make a swap for real money for free.
Simply login to your online casino account and check your casino balance. There you will find the option to exchange your casino comp points bonus for real money for free super quick.

Exchange your casino comp points for real money 💰
Of course... there's no point just checking your casino comp points bonus, only to simply click back and forget all about them till next time. Like carnival coins or arcade tokens, you gotta exchange your casino comp points bonus if you want to grab a bonus prize!
Just wait till you accrue at least 100 casino comp points. After that you can hit the redeem button and either grab free money or wait a little longer to earn more casino comp points and exchange a larger amount of casino comp points.
Once you start playing online casino pokies and accumulating casino comp points, simply check the casino Comp Points section when you tap the casino balance. If you would like to check how many casino comp points you've actually collected, follow these steps:
Login to your PlayCroco online casino account
Tap on your balance amount
View how many casino comp points you've collected
Select how many casino comp points you would like to exchange for real money for free
Click or tap 'Redeem'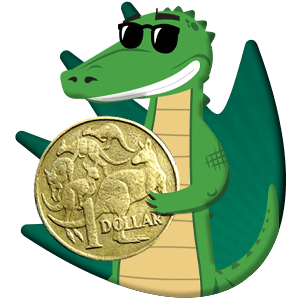 Use your casino comp points bonus often 💫
Once you've redeemed your casino loyalty comp points bonus, it's simply a matter of recycling your casino comp point winnings on other bonus promotions. This involves combining your comp point casino winnings with a recent casino deposit and taking advantage of our online casino bonus offers.
There's CrocoSpins that awards online casino free spins, CrocoBoost gives players $100 free bonus every Friday, our Lucky Loco Draw that's been known to go as high as $777 in free bonuses to lucky players and much, much more.
So don't let another chance to pick up casino comp points slip through your claws. Bet now on PlayCroco casino on our latest online pokies or slot machines or play our Pokie of the Month casino slot and start collecting as many casino comp points as you can!
You can also use your online casino comp points on online casino pokies tournaments which can give you an extra bonus boost to you balance for free! Let's go! 

👉 Create your online casino FREE account today:
If you don't have an account create yours here.
Click on the "Coupon" button if you're using a mobile device or head to Cashier if you're using your computer
Redeem your welcome bonus: coupon PLAYCROCO - 200% bonus up to $5000
Grab your free $50 treat: coupon PLAYCOOL
Start playing and have fun!