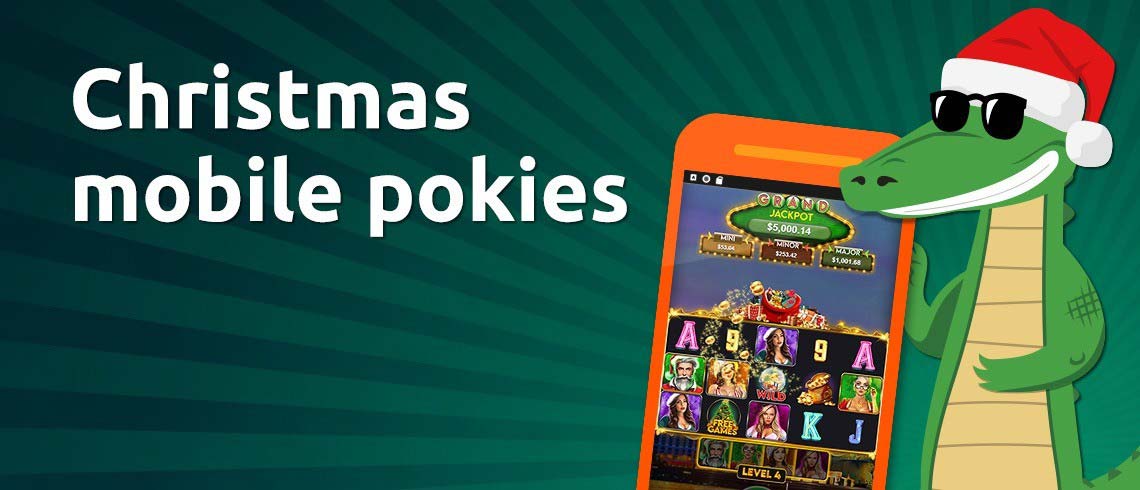 Are you looking for some Christmas gift ideas? Well, how about jamming some Christmas slot games into your stocking?
Your favourite mascot is here to say Merry Christmas and get all our PlayCroco players into the festive spirit with his Christmas online slots games guide.
The best Christmas casino slots🎅
Take it from Croco, the silly season is the best time to whip out your phone and win big. That's right, no need to visit any pokies venues because there are so many festive, fun, and fabulous Xmas-themed online slot machines for you to try!
To celebrate what's guaranteed to be the rockingest, crocingest out of this world holiday, we're listing 11 of our favourite payout Christmas casino games. From the fantastic Santastic to the riotous Rudolph's Revenge, these virtual slots at PlayCroco Online Casino will have you ho-ho-ho'ing all the way to the bank!
Croco has climbed down many casino sites' chimneys on his quest to unwrap some very merry payouts this Christmas. Thanks to him, some significant gifts will be under this online casino's Christmas tree. All you have to do is play our festive online pokies. Before you begin, check out our promo page and claim any and all bonus offers available to you. You wouldn't start a swimming race without stretching first, so why would you begin playing the pokies without giving yourself an edge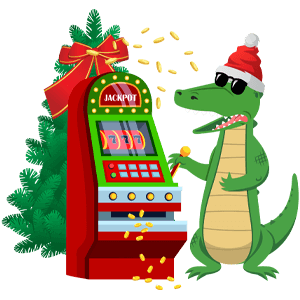 Epic Holiday Party 🥂

Santa is throwing a Christmas season soiree and your name is on the list. Join the slimmest Santa we ever did see on 243-AWP paylines today!
The fiesta is in full swing and his curvalicious helpers are handing out gifts. There are 4 jackpots to trigger, a 50,000-coin top award plus 12 free games and prize multipliers to activate. Take it from Croco, this is one X-mas doo that you don't want to miss. Give this pokie a red hot crack today and reap the rewards of being an Epic Holiday Party VIP.

Naughty or Nice III 👙

If you like bubbles, beautiful women and having your car thoroughly scrubbed by Santa Claus, you're going to love Naughty or Nice III. Of course there are other reasons to love this 30-payline pokie.
The major and minor progressive jackpots for example are certainly very joyous! As is the fact that there are three feature rounds to trigger. The 500-coin top award is just the cherry on top. Play it on your iOS or Android device now to win 5, 10, 15 or more free games thanks to the retriggerable free game bonus rounds. Just remember that it doesn't matter whether you've been naughty or nice… Santa is giving out gifts regardless!
 
The Naughty List 📝

Been a little bad this year? Fear not, because in The Naughty List… Santa has been up to no good on 50-paylines too. From what we can gather, he's given Mrs. Claus the slip and substituted her for a couple of lingerie-wearing ladies!
They're gifting multipliers worth x500 times your bet per line and double prizes to other wicked players. Now you can enjoy lumps of cash instead of lumps of coal and transform bad karma into good juju with Santa and his 'friends'.
This is one of those rare moments when it pays to be evil. So the next time you feel like being nice, remember that The Naughty List only rewards mischievous members.
 
Santastic 🎁
Falling snow, vibrant lights and x6 multipliers abound in the winter wonderland of Santastic. Taking place across 5-variable paylines, this progressive jackpot pokie will make you believe in Santa all over again!
Claim three of a kind wins to trigger the Festive Feast bonus round, then open that chimney and let a 2,500-top award, 1 or 3 Jackpot Spins or 3, 10 or 25 free games slide down the chute. This cartoony Christmas-themed pokie is all that's good in the world! Try it today with your mobile device and win on the go with Santastic.
 
Swindle all the Way ☃️

You've heard the song 'Jingle all the way', now play the hit mobile pokie Swindle All The Way! Combining holiday charm and some Home Alone-inspired antics, this 25-variable payline title proves that Christmas is the thieves time to shine.
Join them on their seasonal robbery spree and steal a few payouts for yourself. There's a progressive jackpot with a major prize in addition to a 82,500-coin top award. The real fun though starts when the burglars appear on the reels.
When this happens it's your mission to help them break into homes to land free games. Now we're not saying we condone robbing homes, but Croco's a massive fan of freebies. So put aside your well intentions. This pokie is an opportunistic burglars delight!

Rudolph Awakens 🦌
Rudolph is in a bad, bad mood. We're not exactly sure what his problem is. All we can say is that this renegade reindeer is dishing up justice and mobile payouts in Rudolph Awakens!
Fight against him in the Santa v Rudolph conflict and blow up your bank account with retriggerable free games, a 50,000-coin top award and 30-variable paylines. The battle is raging and you're Santa's secret weapon.
Help Mr. Claus freeze Rudolph for good and get extra games. Maybe if you win enough money, everyone's favourite four-hooved hero will return to the forces of good once again!

Penguin Power 🐧

We prefer claws to flippers, but even you can't deny the cuteness overload that is Penguin Power! Set in the Arctic and full of adorable black and white penguins, this 20-payline pokie is one cool customer!
Try it now and get up to 25 free spins plus prize multipliers so hot they're cold. Then belly slide along the icy surface and trigger those Igloo scatters to really heat things up. This is the X-mas pokie playing experience you've been waiting for. Power to the penguins!

Rudolph's Revenge 🔥

Croco is a lover, not a fighter… but even he won't stand for another reindeer invasion! So don't let that out-of-control animal win once again. Play the 50-payline pokie, Rudolph's Revenge, and help Santa restore peace at the North Pole!
To do so you'll need to spin those battle-weary reels in an attempt to land the 5,000-coin top award or activate the scattered Present Bomb symbol, which awards 7 free spins and double prizes!
Watch out for explosions and dodge those attacks though, otherwise you won't get to live out your pokie playing days in once piece. Manage to emerge without a scratch you may just live long enough to claim that elusive progressive jackpot. Who said the spoils of war weren't worth the fight?

The Nice List 👼

Turn up the heat this holiday season by landing your name on The Nice List! Following on from the success of The Naughty List, The Nice List boasts 1,024-paylines to play on plus a top award worth 18,000-times the bet per line.
Sprinkle in double prizes, free game bonus rounds and a Lucky Feature that awards a x10 multiplier and it's no wonder the fat man looks so jolly this season. Water your neighbours, say hi to your plants and otherwise be nice, because this game could see you land on the rich list too!

Snowmania ❄️

Mania is defined as a condition that causes a person to experience unreasonable euphoria, very intense moods, hyperactivity, and delusions. Snowmania, however, is defined as being a pokie that can bring some serious Christmas cheer into your life!
Get spinning and get winning on this wacky 20-fixed payline pokie now and land those ICE WILD wilds on the reels. You'll then be able to see symbols get crushed and x2, x3 or x5 multipliers awarded! If that's not enough to chill you out, there are also plenty of frosty free games to win.
Manage to combine all of these features and Snowmania might even send you a x15 multiplier. Now if that doesn't bring a smile to your frozen face, we don't know what will!

Return of the Rudolph 🕯️

Rudolph is back with a vengeance, except this time… it's personal. See what that wild reindeer has been up to once again in the 50-payline Christmas-themed pokie, Return of the Rudolph.
Brave players will no doubt love the Rudolph's Rampage, Santa's Strike Back and Rudolph's Revenge Feature bonus rounds. Especially when they could see you earn up to 50 free spins, quadruple prizes or a very jolly looking progressive jackpot.
There's so much action in this flashy title, we're not sure what to think. All we can do is wish you the best of luck. Here's to hoping that after this magnificent mobile title, Rudolph will be back to his old ways and pulling sleighs!
👉 Create your FREE account today:
If you don't have an account create yours here.
Click on the "Coupon" button if you're using a mobile device or head to "Cashier" if you're using your computer
Redeem your welcome bonus: coupon PLAYCROCO - 200% bonus up to $5000
Grab your FREE $50 bonus: coupon PLAYCOOL
Start playing and have fun!