Christmas in Croco Land is green, warm and home to our Xmas special advent calendar promotion! Launches on December 1st featuring a very merry river and a new gift every day...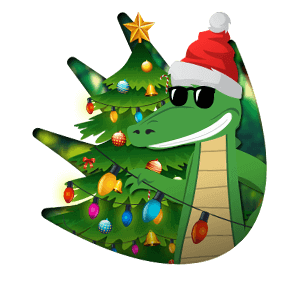 Christmas in Croco Land is out of this world! There's laughing, dancing and plenty of crocodile rock! But Christmas in Croco's homeland isn't white and snowy. It's green, warm and home to our latest advent calendar promotion!
Called Christmas in Croco Land, it's our way of saying happy holidays and spreading the luuuurve! Throughout the month of December you will get a special gift every day as you explore the beautiful place where Croco comes from.
There are free spins sweeter than any candy cane and bonuses so big that can't fit in Santa's sack! Don't forget to check your emails regularly either. That's where we'll be sending those Christmas in Croco Land reminders!

Unlock 25 gifts throughout December 🎁
You're on Croco's nice list this year, which means he's giving you 25 different gifts throughout December up until Christmas Day! Want to know more? Here's how to attend our Christmas in Croco Land expedition and claim your presents: 
Login to your PlayCroco account between 1st – 25th December
Go to the Christmas in Croco Land special promo page
Unlock the daily gift that's available by clicking on the relevant advent box
Get your jolly coupon code
Enjoy your Christmas treat! 
A new gift will be available every day and you could claim up to 25 different goodies. Not only will this make you feel like a totally loved PlayCroco member, it'll also send your odds of triggering a jackpot win soaring! 
Better yet, we'll even flick you some reminder emails throughout the month. This way you won't forgot about this fantastic promotion or the extra fantastic freebies that it comes with. We're not saying that you're forgetful, it's just that at this time of year things are a little crazy!
Receive free spins and bonuses 🍪
We ain't handing out lumps of coal here. The gifts that you'll be getting are top shelf. Some days you'll get a bundle of free spins, others it will be a barnstorming bonus!
There'll even be a fair few days that we double wrap your gifts and send you free spins AND a bonus offer! You can then claim this treats right away using the same process for redeeming free spins and bonuses as usual.
Play top Christmas pokies plus popular slots 🎅
There's been heaps of holiday titles recently released plus a plethora of popular pokies launched this year. So for our Christmas in Croco Land promotion, we're linking some of our free spins and bonus offers to our most beloved games!
This means you get extra cash to sink your claws into top tier titles such as Diamond Fiesta or Epic Holiday Party. Because the holiday season isn't just about giving… it's also about playing the best online slots available right now!

Explore Croco Land and win 💰
Take a trip through Croco Land this Christmas and explore the many hidden surprises that this wonderful world of reptiles offers!
This is the perfect chance to score some extra cash before the biggest holiday of the year, so don't be a croc in the mud. Slide into the river and claim up to 25 different free spin and bonus offers in December – it's the only advent calendar that will actually make you richer… no fatter!
👉 Create your FREE account today:
If you don't have an account create yours here.
Click on the "Coupon" button if you're using a mobile device or head to "Cashier" if you're using your computer
Redeem your welcome bonus: coupon PLAYCROCO - 200% bonus up to $5000
Grab your free $50 treat: coupon PLAYCOOL
Start playing and have fun!