Witches, zombies and wicked fun abound on our upcoming Halloween promotion. Launches on October 16th featuring only treats, no tricks...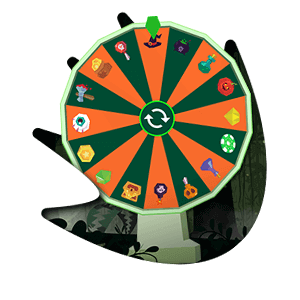 Designed by none other than the creepiest reptile ever to rep a pair of shades, this campaign is guaranteed to scare the bejeebus out of you.
In addition to revealing just how our Halloween CrocoWheel promotion works though, Croco wants to give you the rundown on this hellraising holiday. Don't be frightened. He's not going to jump out of the screen and shout "Boo!"! That's the kind of trick an annoying alligator would pull…
Croco would rather teach you all about Halloween and give you a few treats. Because at the end of the day, our scaly mascot would prefer to scare up some wins instead of scaring members such as yourself.
Besides… if you've ever been up close and personal with a crocodile's mouth, you'll know that it's simply no challenge for them to strike fear into a human. With that in mind, it's time to take a bite of this petrifying promo!

PlayCroco's Halloween CrocoWheel promotion 👻
First up is our easy to follow 1-2-3 guide that details everything you need to know about our Halloween CrocoWheel promotion. Set in a spooky swamp that's flanked by a foreboding forest, this promo is a little bit strange, a little bit eerie, but golly gosh it's a whole lot of awesome. Check out how it works, what prizes it offers plus why we're running it below.
👉 Step 1. Spin our wild CrocoWheel 
Our CrocoWheel promotion comes with its own special page. This page can be accessed by brave members such as yourself via mobile or desktop from Friday 16th Oct. How it works is that you simply give this wickedly wonderful wheel a spin. It'll then rotate around and around until the pointer lands on a particular prize… and that's when all the fun begins!
👉 Step 2. Enjoy bone-rattling bonuses
After plucking up the courage to spin the wheel you'll then be rewarded with a special prize. The prize is determined by the pointer, which will be revealed once the wheel has come to a complete stop. There are 16 bonuses for you to win, each of which could very well make this the best Halloween in the history of Halloweens.
👉 Step 3. Set the spooky season in motion
If you want to know what these bonuses are though, then you'll have to first land that pointer on a specific prize. Upon doing so a popup will appear and you'll be given a hauntingly awesome rundown of the bonus you have won, complete with some charming visuals and a special coupon code. With this coupon code you can redeem your reward and use said reward on any deposit that you make.
One thing's for sure – no matter which prize you win at the end of your spin, you'll come away with something epic. If that alone doesn't have you biting your claws in anticipation, well then maybe you also need a little Halloween history lesson.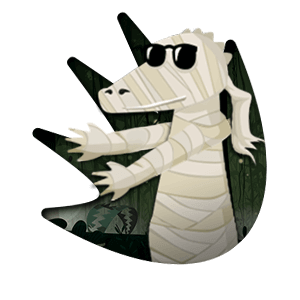 A short history of Halloween 🎃
As promised, our second stop on this absurdly terrifying article is a little lesson on the history of Halloween. Now you may think just because you watched a few Nightmare on Elm Street movies and dressed up as a monster you know all about this holiday. The truth is though, there's more to Halloween than just candy, door knocking and B-grade horror flicks.
What is Halloween? 🕯️
Halloween is actually a religious day that's celebrated each year on October 31st. For many Western countries, it marks the day before the Christian feast of All Hallows' Day.
This may be news to some of you, but when you learn that "Halloween" is a contraction of "Hallows' Eve" and/or "Hallows' Evening", it actually makes perfect sense. What's more, Halloween is also used as the starting point for the three-day-long observance of All Hallowtide, which is a period of time in which we're meant to remember the dead. This includes saints (hallows), martyrs and any departed loved ones.
How did it begin? 💀
This hair-raising holiday started as an ancient Celtic gathering called the Festival of Samhain. This tradition involved the Celtic people throwing a big ol' party, lighting bonfires and wearing costumes to ward off evil spirits.
But it wasn't all fun and games. The festival that birthed modern-day Halloween also ushered in the end of the harvest season and the beginning of winter (or the darker half of the year). Before long, Samhain was Christianised as Halloween by the early church and popularised by Pope Gregory III in the eighth century.

What are some Halloween traditions? 🍬
In addition to the traditions that spawned what we know now as Halloween, there are plenty of others that have evolved over time and been adopted throughout the world.
The carving of jack-o-lanterns is one of the more famous traditions, however, did you know that turnips were once used instead of pumpkins.
Another popular habit that's associated with Halloween is the wearing of spooky costumes. This can be traced back to the days of the Celts, who dressed up in an attempt to fool any ghosts that may be lurking around during this freaky date.
Perhaps the most famous tradition that still persists today is the tradition of trick-or-treating, which comes from the German concept of belsnickling, which saw children dressing up and knocking on their neighbours' doors to see if the adults could guess who their identifies were. The children were then rewarded with treats if no one could figure out who was hiding under the costume!
Finally, one of the more obscure traditions (well… obscure in the Land of PlayCroco anyway), is ye old bobbing for apples. This involves placing apples in a bucket filled with water and trying to retrieve them using only your mouth. The actual ritual goes back to the days of Rome, more specifically a festival that honoured the goddess of Pomona.
When the Romans went on to conquer the British Isles, this ritual was then blended with the Celtic festival of Samhain. And the rest, as they say, is history!
Where is Halloween still celebrated? 🌕
Since Halloween is one of the oldest holidays in the world, there are a multitude of countries that still continue to celebrate it.
These countries are dotted throughout the globe and while some of their traditions may differ from those found in America, Australia and the Land of PlayCroco, they're all rooted in the same concept.
Mexico and the rest of Latin America, for example, celebrate Dia de Los Muertos (Day of the Dead). This takes place on the November 2nd, however, the festivities begin on the evening of October 31st.
On this day, people from Mexico honour the dead by building commemorative shrines in their home for deceased loves ones then decorating them with food, fresh water and alcoholic beverages.
In Hong Kong, Halloween takes place on the 15th day of the seventh lunar month. This places it roughly around mid-August to mid-September. Also, instead of being called Halloween, it's called the Hungry Ghost Festival due to the belief that spirits are always restless (and apparently starving) this time of year.
The festival is run as a way to feed these spirits, as food and money are offered by all those who take part. The celebration last much longer than just one night, too. Running for roughly a month in total and including other activities such as the burning of paper or other types of offerings.
In Ireland, on the other hand, Halloween traditions are pretty similar to those found in other English-speaking countries. Children get dressed up for trick or treating and many games are played at community parties.
The only differences here is that in Ireland, bonfires are still lit in rural areas and the Irish play a card game whereby cards are laid face down on a table with candy or coins hidden underneath. Kids then choose a card and are given whatever prize is revealed beneath it.
 

👉 Create your FREE account today:
If you don't have an account create yours here.
Click on the "Coupon" button if you're using a mobile device or head to "Cashier" if you're using your computer
Redeem your welcome bonus: coupon PLAYCROCO - 200% bonus up to $5000
Grab your free $50 treat: coupon PLAYCOOL
Start playing and have fun!