Achilles Deluxe is the hit sequel to Achilles. Improved graphics, two jackpots and bigger rewards. Play it from Weds 26th August.
Achilles Deluxe details ⚔️
The man, the myth, the legend is back! Play this hit sequel from Weds 26th and enjoy bigger, bolder and better rewards than ever before. Read all about Achilles Deluxe below or check out our new games now…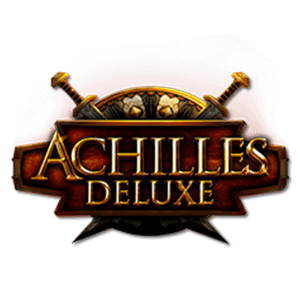 Volatility: Medium
Layout: 5 reels
Paylines/Ways: 20-fixed
Jackpot: Major, Minor
Free spins: Yes
Max Payout: 40,000-coins
About the game 🎲
Before the Land of PlayCroco there was the world of antiquity. A harsh and brutal place where the sword was mightier than the spoken or written word. Online pokies didn't yet exist and Crocos fun-loving ancestors were still too preoccupied with sunbaking to form a casino.
It was in this time that there lived a man of legend. Known by all as a fierce fighter, a loyal soldier and a deadly foe, his name was Achilles and stories about his conquests still live on in the present day… which brings us to his namesake pokie.
Called Achilles Deluxe, this 20-payline epic is guaranteed to rattle your scales. It's got a dashing soundtrack, enhanced graphics and TWO jackpots, whereas the original Achilles only had a single progressive jackpot.
It also comes with a top award that's bigger than any wooden horse we've ever seen, plus two feature rounds that offer either free spins and double prizes or free spins and triple prize multipliers. To say Croco is chomping at the bit to play Achilles Deluxe is an understatement.
If you're as excited as we are about this new title, you best read the rest of this article. In it you'll find everything you need to know about winning on Achilles Deluxe… plus a few sneaky tips. So scroll on down to live the legend that is Achilles and don't forget to claim your new game bonus!

Gameplay 🤺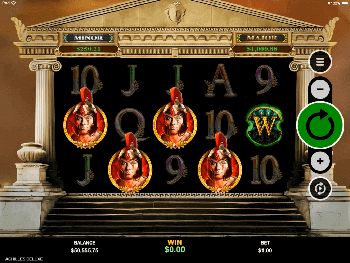 Even though Achilles' most memorable battle was the battle for the city of Troy, the game itself doesn't take place on Trojan beaches or within those famously thick walls. Instead, Achilles is played on the steps of a Greek temple with the 5x5 layout set between two pearly pillars.
Buttons at the bottom of the screen allow you to control all aspects of the game. Here you can increase or decrease wagers, spin the reels or even activate the auto play feature. Above the screen they've placed two regal-looking counters, each of which shows how much the Minor and Major jackpot are worth at any one time.
If you feel a little let down by the lack of bloody battles or an action-packed background, don't despair. Achilles Deluxe borrows a lot of its soundtrack and visuals from the hit movie "Troy", which had Brad Pitt playing our eponymous hero.
When you do manage to trigger the feature rounds though, expect a show. The braziers on either side of the screen will explode with flames and burn with a searing intensity that would make even the bravest Croco flee, while the scene behind the reels becomes dark and shadowy.
If you think you're ready to wage war on some glorious wins though, don't let the change of scene stop you. There's more to Achilles Deluxe than meets the eye, including expertly rendered symbols and a couple of incredible bonus rounds.
 
Symbols 🛡️
Croco loves a good movie. Crocodile Dundee is obviously is favourite, but he also likes Lake Placid and Rogue. For sure one of his favourite movies that doesn't include any reptiles though has to be "Troy". But why are we telling you this?
Well, it turns out that some of the symbols in Achilles Deluxe have been inspired by this historical action movie from 2004. Namely, the high-paying character symbols that appear on the reels to form awesome winning combinations!
There's Brad Pitt as Achilles, Orlando Bloom as Paris, Eric Bana as Hector and the stunning Diane Kruger as Helen of Troy. All of whom look just like real-life stills that've been taken straight from film.
These symbols, as well as the low-paying numbers and playing card icons, pay left to right. The wild Shield substitutes for all symbols except the scattered Achilles Deluxe logo, which pay whenever they appear anywhere on the reels. Achilles Deluxe scatter wins are also multiplied by your total bet and added to line wins.

Feature rounds 💯
You don't need to slash your way to victory in Achilles Deluxe, but you will need to sink your pointy Croco teeth into its two feature rounds. They offer some of the most legendary rewards that we've ever seen, so let's get into it.
The first bonus round is triggered when 3 or more Achilles Deluxe scatter symbols appear anywhere on the reels. When this happens 10 free games will be awarded immediately. All wins will also be doubled and the Achilles Deluxe free games bonus round can be retriggered whenever any 3 or more Wild and/or Scatter symbols drop onto the reels.
The second bonus round is called Wild Free Games and it begins when 3 or more of those glistening Shield wilds find their way onto the reels. At this point, three different coloured shields will pop up on the screen. You'll then be asked to select one of these shields to reveal a prize, which could be 15, 20 or 25 free games.
All winnings are tripled during the Wild Free Games round and all scatters are substituted for wilds and the highest paying regular symbol. This bonus round can also be retriggered for payouts so big you'll have to build your own Trojan Horse to carry all that loot around!
Pros ✅
Follow-up to a popular original
Enhanced graphics
Smooth gameplay
Realistic character symbols
Dynamic background
Generous 40K top award
Scatter pays
Major and Minor jackpot
Medium volatility
Win 25 free games with triple prizes
Cons 🤣
It only made us hungrier for Achilles 3!
Achilles Deluxe is a solid online pokie for crafty Croco members to get their claws on, complete with jackpots, awesome visuals and two massive feature rounds. So if you're keen to try a completely new game in the Achilles series, this is the title for you.