Put on your mask, get ready to break down some bank vault doors and steal a few jackpots in Cash Bandits 3.

Cash Bandits 3 details 💰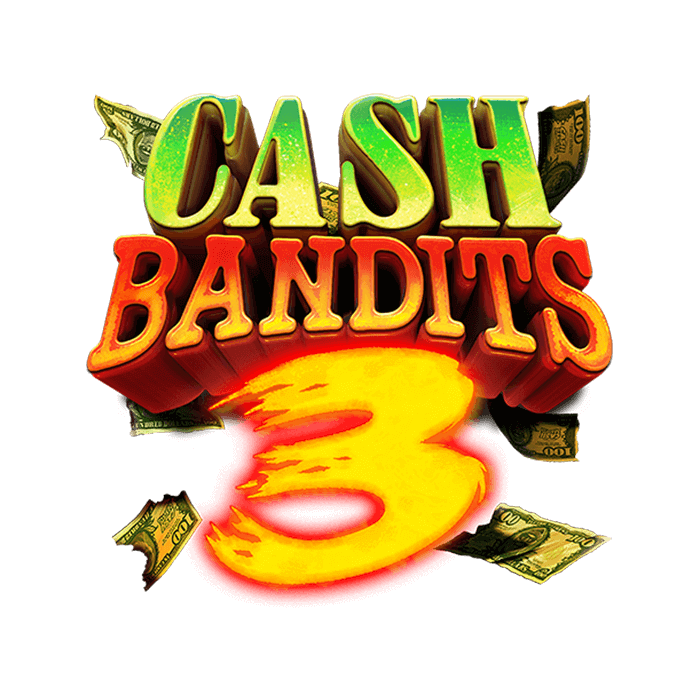 Volatility: Very High
Layout: 5 reels
Paylines/Ways: 25 Variable
Jackpot: Major, Minor
Free spins: Yes
Max Payout: 115,000-coins


About the game 🎲
Those bumbling bandits were almost pinned in the first Cash Bandits, only to narrowly escape the long arm of the law in Cash Bandits 2. Now with the release of Cash Bandits 3, it looks like one of them has been nabbed! The good news though is that this hasn't stopped the remaining robber from still trying to crack that elusive vault!
Of course, we don't condone illegal activities at PlayCroco. But if you're going to unleash your wild side anywhere… this 25-variable payline isn't a bad place to do it. So put on your darkest clothing, throw on some shades and grab your biggest money bag. Cash Bandits 3 is on the loose and it's waiting for you to catch it.
Before you break the bank and set alarm bells ringing though, check out the following article. Not only is it full of everything you need to know about Cash Bandits 3, it'll also help you make like a hungry crocodile and snap up some criminally big wins.

Gameplay 💫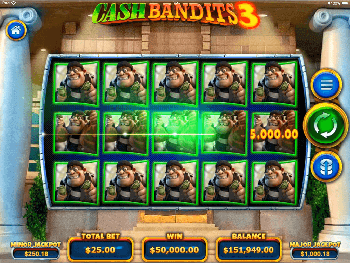 If you've played the predecessors of Cash Bandits 3 then you know that we have spared no expenses when it comes to the gameplay and optics of this series. What we love is that instead of taking the game in a completely new direction, they've updated various features and still kept that classic Cash Bandits charm.
Visually, Cash Bandits 3 steals the show with cartoon-inspired graphics that are amusing, colourful and full of character. This gives the entire game a fun feel, even though the theme has you risking life and limb to score a win. In regard to the animations, this title will keep you entertained from the moment it loads till long after you've collected your winnings.
As for the music, well let's just say that Cash Bandits 3 will have you sweating bullets. The reason being it has a jangly soundtrack and jittery sound effects that are designed to elevate your blood pressure and really immerse you in the game. Of course, you've been playing alongside a bunch of Crocos ever since you became a member, so a few suspenseful notes shouldn't rattle you.
Finally, Cash Bandits 3 features gameplay that is nothing short of arresting. With a minor and major jackpot, a massive 115,000-coin top award plus an impressive feature round to test your safe-cracking skills… but more on the later. As always, the autospin, bet and menu buttons can be found at the bottom of the reels and there are 25-paylines in total. The only thing to ask yourself is whether you have what it takes to pull off the perfect getaway!
 
Symbols 🚨
The symbols in Cash Bandits 3 are really stealing the spotlight! Expect to encounter a whole host of cops and robbers-related game icons as you fly the coop. This includes taped off bank crime scene symbols, police cars, moneybags, greenbacks, police badges, donuts, handcuffs, newspapers and police officers.
In addition to these standard base game symbols, there are also the Wild and Scatter symbols. The Wild is the robber, which is the main character in the game. This is a grouped Wild and counts for all other symbols except the scatter. The Scatter is the Cash Bandits 3 logo. When 3 or more of these land on the reels, you'll be awarded a payout and activate the Vault feature. All symbols pay left to right.

Feature rounds 💯
We've cracked the code and the results are in – Cash Bandits 3 has one of the most extraordinary feature rounds we've ever tried. Called the Vault feature round, it's activated when you land a certain amount of Cash Bandits 3 Scatter symbols anywhere on the reels. With 3 triggering Scatters awarding 5 or 6 selections from the 10-digit keypad and 4 or 5 triggering scatters awarding 7 or 8 selections from the 10-digit keypad.
Aside from making your reptilian tail wriggle with excitement, the start of this feature will have you winning 5 free games at a prize multiplier of x2. It'll then reveal 6 vaults and a keypad. Each of these vaults require a random 1, 2, 3, 4, 5 or 6 digit code to open it. Your aim is to try and guess the secret code, with every correct guess unlocking a certain part of the combination.
By completing either 1, 2, 3, 4, 5 or 6 digit combinations on the vaults, you'll earn 5, 10, 20, 50, 100 or 200 free games respectively. A prize multiplier will also be added at 1, 2, 3, 4, 5 or 6 respectively, with all retriggers adding 5 free games to the current feature. This can net you up to 390 free games with a x23 prize multiplier if you're lucky! Free games are played at the lines and bet of the triggering game.
Pros ✅
Familiar yet fresh theme
Entertaining gameplay
Great graphics and sound effects
Massive 115,000-coin top award
Scatter pays
Major and Minor jackpot
Very high volatility
Chance to win 390 Free Games at x23
Cons 🤣
You're a baddie instead of a goodie :)
They say that sequels never live up to the hype, but whoever said that most definitely hasn't played Cash Bandits 3. Croco has had a ball playing this game of late, although black and white really aren't his colours. In any case, we recommend that everyone breaks free from playing their favourite title and give Cash Bandits 3 a try today. Play it on your mobile device or on your computer for an opportunity to bag 390 free games at x23.