Join an awesome golden amphibian for some crocodile-sized wins on 243-paylines! Launches on Oct 28th.
Frog Fortunes details 🐸
A brand-spanking-new title that's alive with the sound of… payouts! Join an awesome golden amphibian for some crocodile-sized wins on 243-paylines. This is the most profitable trip through nature that you'll ever take!
Volatility: Low
Layout: 5 reels
Paylines/Ways: 243-AWP
Jackpot: No
Feature: Exploding symbols, cascading reels
Max Payout: 150-coins

About the game 🔮
What do you know about frogs? Well if you're as well versed in the study of amphibians as us (not very!) then you probably only know that they're green, they croak and that they have long sticky tongues!
But guess what? There exists a magical frog that bucks these stereotypes. A toad so terrific he glistens with gold. Finding him isn't a matter of trudging through dense green forest. This honorary hopper lives right here in Frog Fortunes!
Now that you're in on our little secret, it's time to uncover the many treasures he keeps. This isn't your ordinary online pokie. With no scatter symbols and no wilds, it's enough to make your head spin!
To ensure you're not totally swallowed up by the uniqueness of this title, we made notes about its finer points on our lily pad. So with no more ribbiting on, we're taking you on a safari into the heart of this exceptional online slot.
Get ready to trade the scales for slimy skin because Frog Fortunes is like nothing we've ever played before! Don't just take our word for it though. It's time to take the plunge and slurp up everything you need to know about this new title.

Gameplay 💎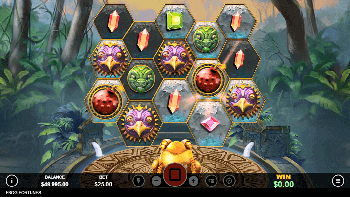 Croco doesn't spend much time in the jungle, but with the arrival of Frog Fortunes he's made it his mission to seek out a new adventure. And what better place to lose yourself than on this 243-AWP pokie!
As we croaked about earlier – Frog Fortunes is entirely different. There are no scatters, no wilds and no jackpot. Instead it uses a cascading reels system with exploding symbols. What's important to note though is that all of the symbols still pay left to right and that during a base game the reels actually spin like any other game. It's only during a certain feature that they cascade… but more on that soon.
In any case, the graphics alone make it worth checking out. While there are fewer animations and flashy images than our titles, Frog Fortunes will still jump off the screen. That's because the rendering is sophisticated, the graphics sharp and the background so vivid you'll think you're on a sub-tropical safari…
Aside from the visuals though, Frog Fortunes takes a bold leap in the right direction with outstanding sound effects. We've never slogged through the jungles of the Amazon, but we've spent a bit of time with Croco in the rainforests of Oz… and we can tell you right now this is pretty darn close to the real thing!
Finally, the top award is an honest 150-coins. This might not get your frog legs kicking with excitement, but it's a sweet little extra that makes an already interesting title even more interesting!
Oh… and before we forget! Game controls run either along the bottom of the screen or the side depending on whether you're using a mobile device or a desktop browser application. With the autospin, increase and decrease wager, menu and spin buttons all boldly displayed. Perfect for those who are new to the PlayCroco pond and prefer a simple interface!
 
Symbols 💰
The golden frog in Frog Fortune might seem like a royally zen character, but little did we know he's actually a treasure-hunting explosives expert!
Don't believe us? All you have to do is observe the reels, which are covered with an assortment of precious gems and glistening stones. These are the lowest paying symbols in the game and even though they look pretty, there's better spoils on offer! Take the bomb, purple totem and green totem for example – each of which offers up massive payouts or trigger a specific feature if they fall properly…
Of course, there's no scatter and no wild, which means there's less symbols to worry about. Before you think this is a totally stress-free pokie playing experience though, remember what we said before! This frog likes to BLOW things up…

Feature rounds 🌕
And one of the things that he likes to blow up is other symbols, which form the basis of all winning combinations. That means the bigger the boom, the bigger the win… so don't shy away from a little crackle and snap. Be the fearless Croco that we know you are and discover how this pokie functions starting with the Cascading Reels feature!
This feature begins after symbols have fallen onto the reels and produced a winning combination. This combination will cause an almighty blast, which will leave a few empty spaces behind.
These spaces will then be filled with new symbols that could also go on to create more winning combinations right up until there are no more winning combinations left. Also, the spin button will be disabled during this feature, but that's not a problem. The wins have the potential to get a little bit… well… fiery. So it's best to step back!
The second feature is called Exploding Symbols. It can happen on any spin, causing exploding symbols to blast outwards with a random pattern. A few things to note about this feature round include the fact that:
There are 10 different Exploding Symbol blast patterns
Exploding symbols don't appear during the Cascading Reels feature
Exploding symbols can appear anywhere on the gameboard
When one of these symbols explodes, another random symbol with replace all symbols affected by the explosion
An exploding symbol blast will replace ALL symbols within the blast radius… even other exploding symbols
Exploding symbols can trigger the Cascading Reels feature if there's a win after the explosion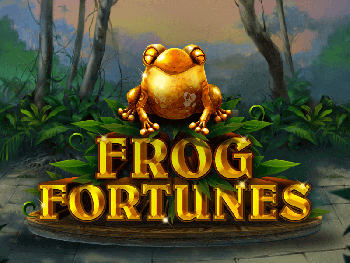 Pros ✅
Innovative gameplay that mixes cascading reels and exploding symbols
Fresh new theme that we've never played before
Fantastic explosion animations
Cool frog character that's made from real gold (we think)
243-paylines to win on
Excellent graphics and sound track
Vivid background that pulls you into the game
Plenty of potential for some runaway wins
Cons 🐸
Croco is afraid he'll be turned into a toad
As crocodiles, we're familiar with scurrying, crawling and sliding our way into online pokies. But for Frog Fortunes we're jumping for joy at all the (some would say explosive) ways to win that this pokie offers.
Now we don't want to give too much away, but it's going to be a looong time before a pokie this unique comes along. So don't miss out on the opportunity to play it from Oct 28th! There's even a frog-tastic bonus for you to claim on this new game, courtesy of the Croco host with the most! Stay tuned...

👉 Don't have an account? Create yours for FREE today:
If you don't have an account create yours here.
Click on the "Coupon" button if you're using a mobile device or head to "Cashier" if you're using your computer
Redeem your welcome bonus: coupon PLAYCROCO - 200% bonus up to $5000
Grab your free $50 treat: coupon PLAYCOOL
Start playing and have fun!