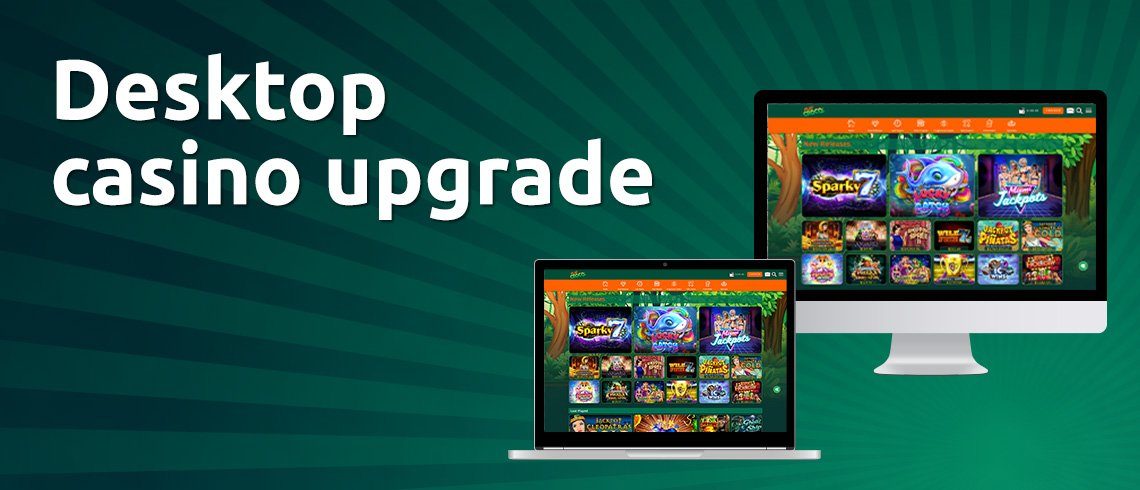 Launching on September 8th, this is your guide to your upgraded online casino on desktop. Ready to take your online gaming experience to a new level?
Desktop upgrade 🖥️
Everyone loves shiny new things… and Croco is no different! For this reason he's decided to create a flashy new desktop online casino lobby for you to enjoy.
Faster, smarter and infinitely more incredible, this new and improved PlayCroco casino lobby will be an absolute work of art. We've already got a trusty team of reptilian technicians working on it behind the scenes. Their goal? To ultimately ensure that playing at PlayCroco becomes even better, faster and much more rewarding!
But we don't want to bore you with behind the scenes stuff. You probably want the juicy details… right? Of course you do! So here's an article that you can really sink your teeth into.
In it you'll find everything that you will need to know about the release of our new and upgraded casino lobby on desktop! From when it will be released to some of the changes that we're making plus frequently asked questions…
If you want to win real money online AND enjoy a better overall gaming experience… it would be wise to check out this blog today.
Why are we upgrading our online casino on desktop? 🦸
Good question… and one that we've been asked a lot. It's true that our current casino lobby kicks alligator butt! But it's also true that we're always looking for new ways to improve PlayCroco online casino.
Sometimes this involves adding some absolutely ripper real cash online slots. Other times we might run a bonus or promotion that gets more hits than a Big Bash T20 match. At our core though, we just want to make your online gambling experience better each and every day. Hopefully… our upgraded casino lobby on desktop does just that!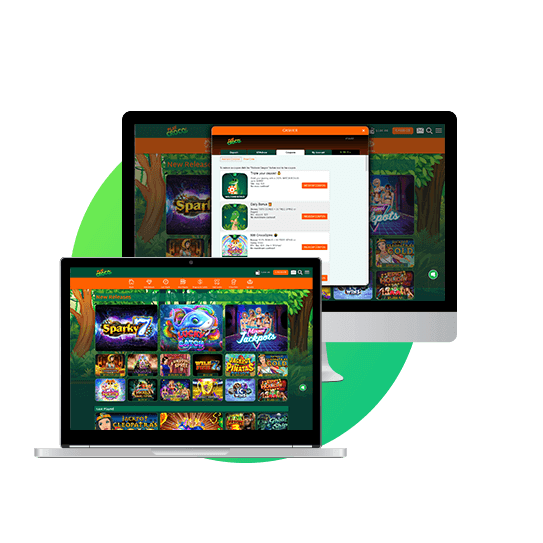 What is an online casino lobby? 🔑
An online casino lobby refers to the area at PlayCroco casino where you can find all of our games, promotions, banking methods, tournaments, casino coupons, bonuses, etc. It's essentially the nerve centre of an online casino, the one place where you can reach all other pages or areas of an online casino from.
As with all online casinos, we've got different categories for games plus some information about recent winners and any offers that we're currently running in our lobby. In short, it gives you an overview of what's going down in Croco's neck of the woods!
You'll find casino lobbies in brick-and-mortar establishments too. It's usually the part of the casino that players must wait in before being led into the poker room or to a VIP table.
Of course we don't make you wait at PlayCroco. You can login and play whenever you want! Specially with our mobile pokies app available at your fingertips.
Having a good online casino lobby is a vital aspect of our ability to give you an excellent online gambling experience. It makes finding what you need easier and allows you to quickly get to where you want to go in our casino.
Plus… the online casino desktop lobby is one of the first places you'll land when visiting our site. This means we need to make a good first impression. And if a cool Croco with shades plus a bunch of games, bonus offers and recent winners doesn't wow you… we don't know what will!

5 features of our upgraded online casino desktop lobby ✅
Excited? Nervous? Stinging for a CrocoShake to calm you down? Because if you're not… then you probably should be. These 5 features are pretty dang spectacular after all. Here they are in all their glory. The newest upgrades to our PlayCroco lobby.
✔️ Superior modern casino layout 
There's no excuse for a poor design. What with the wealth of info we have about what people do and don't like these days. With that in mind… we've improved the layout of our PlayCroco lobby!
Soon you'll be able to find what you want, when you want, faster than ever. This means less time scrolling up and down or clicking through to different pages and more time punting on your favourite real cash online pokies!
✔️ New online pokies and casino slot sections
Think that it's easy to find and play your favourite slots now? Well have we got something amazing for you. From the moment our new desktop lobby is launched, you'll be able to better search for all available online titles!
Yep… new online pokie and slot sections is another aspect of our desktop lobby With it you have the power to experience more than ever before. You can find your most played pokies, your favourites and of course the most popular pokies...
Flawlessly navigate to your favourite games in a flash. Alternatively you can also experiment with games that you've never tried before! In essence… our new online pokie and slot section will give you greater freedom to play what you want. And that's always a good thing.
✔️ Enhanced graphics
PlayCroco ain't no slouch in the graphics department. But even we'll be the first ones to admit that things can always look better… especially when it comes to our scaly reptile mascot.
Of course that's not a knock on Croco. We reckon he's one cool, smart and handsome bloke. There is, however, plenty of potential for taking the look of our online casino to the next level.
So with that in mind, we've decided to smooth out some of our scalier edges so to speak! All the while bumping up the visual aspects of PlayCroco. With any luck… the result will be a desktop lobby that's easy on the eye - just like Croco!
✔️ Next generation privacy protocols
We've upgraded our security protocols to protect your gaming activity. Rest assured that playing pokies at slots at PlayCroco is private and 100% anonymous. And by doing so we can give you a safe environment to play pokies and casino games.
The result? A tighter ship with zero leaks and an enhanced betting experience that comes with unparalleled peace of mind. 
✔️ Better user experience
Ultimately, everything we're undertaking with our new desktop lobby comes back to this – a better user experience. Because without you we're nothing, nada, the middle of a donut. So it's up to us to look after your wants and needs.
And it seems that everyone wants streamlined betting and consistent improvements in order to squeeze the most out of the big juicy peach that is PlayCroco! And if you think we're aiming too high… don't forget.
This is the online casino founded by a bunch of apex predators. If you don't believe that we can deliver a killer user experience for punters just like you… you might wanna give us a try for yourself. We'll be more than happy to prove that we rock!
Frequently asked questions about our upgraded desktop online casino lobby:


1. Where do I go to login? 🗝️
Once you have created a PlayCroco account, it's simply a matter of logging into your account if you want to begin playing right away. These steps will ensure that you know exactly how to access our casino titles: 
Go to the PlayCroco homepage using your computer or laptop. Or simply login here.
Click on the large "LOGIN" button at the top right of the screen
Provide your username and your password
You can then select whether to login under practice mode or to play for real cash
Enjoy playing premium online pokies plus the best table and specialty slots in the Land of PlayCroco.

2. How do I top up my PlayCroco wallet? 💳
Depositing just got even easier with our new PlayCroco desktop casino lobby:  
Go to the PlayCroco homepage using your mobile or tablet
Login using your username and password
On the top, you will find a big CASHIER button
Select your preferred deposit method
Choose the amount you would like to deposit
Play any pokie you like :)

3. How do I

 redeem a bonus

? 🎁
Redeeming a bonus or coupon is easier than even with the new lobby:  
Go to the PlayCroco homepage using your computer or laptop
Login using your username and password
Click the the CASHIER button at the top
Go to the COUPONS tab
Select one of the offered coupons or simply type your coupon
Have FUN!

4. Where can I find a list of all PlayCroco promotions? 📺
PlayCroco offers a multitude of tail-slapping promotions. From cashback offers to daily free spins, taking a Croco-sized bite out of our promos is one of the keys to online betting success. To find all of our latest promotions, simply follow the steps below: 
Go to the PlayCroco homepage using your computer or laptop
Click on the menu button (three horizontal white stripes on top of each other) at the top right of the screen
Click on the option that says "PROMOTIONS"
Select either "REDEEM" to claim a specific promotion or "MORE INFO" for additional information regarding the promotion in question
Remember to read or save all PlayCroco emails to ensure you never miss another promotion.
5. How do I contact customer support if I have any issues or questions? 💁🏻
We like to think that navigating PlayCroco is a piece of cake, but we also understand that sometimes things don't go as planned. The best way to go about contacting our 24/7 customer support team can be found right here:  
Go to the PlayCroco homepage using your computer or laptop
To talk with us online simply click on the small instant chat icon that looks like a speech bubble (on the right side)
You can also send us an email via

[email protected]

 or live chat with us via here.

6. How can I become a PlayCroco member? 👪
Becoming a PlayCroco member is still as easy as ever. To start your PlayCroco journey as a fresh-faced BabyCroco, please use the steps listed below: 
Go to the PlayCroco homepage using your mobile, tablet (you can also do this on your desktop browser). Or sign up here for free.
Click on the large "SIGN UP" button at the top right of the screen
Complete all fields in the 3-step sign up process including the account sign up, personal details and the final registration pages
Click "LOGIN" to confirm your new details
Congratulations! You're ready to begin your PlayCroco journey :) 

👉 Don't have an account yet? Create yours for FREE today:
If you don't have an account create yours here.
Click on the "Coupon" button if you're using a mobile device or head to "Cashier" if you're using your computer
Redeem your welcome bonus: coupon PLAYCROCO - 200% bonus up to $5000
Grab your free $50 treat: coupon PLAYCOOL
Start playing and have fun!