Launching this September, this is your guide to our upgraded mobile casino lobby. Ready to take your gaming experience to a new level?
Upgraded mobile casino lobby 📓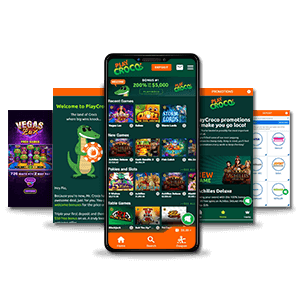 With promotions to blow your scales back, member's rewards that are nothing short of amazing and the mascot with the most, your PlayCroco journey is always getting better and better. But now there's one more reason for punters such as yourself to play with us… our new and improved mobile casino lobby which will launch later this month of September.
Sleek, user-friendly and incredibly fast, our fresh mobile casino lobby has been purpose built to ensure you can discover, bet and win with ease. We've had all of our Crocos working hard on its features and we know it's going to make you happier than a hungry gator with a leg of ham.
But why did we decide to update our original mobile casino lobby, what new features can you look forward to and what does it all mean? Well, we're stoked to say that all of these things plus some frequently asked questions have been answered in the following guide to our upgraded PlayCroco mobile casino lobby.
Why did we decide to improve our original casino lobby? 📱
It's just that we never rest on our tails. Instead we prefer to give you what we think you deserve, which really is the best of the best. Sometimes that means going back to the drawing board and having a reptilian brain-storming session… which can get messy.
This time though we think we've come up with a mobile casino lobby that you're going to love. But don't just take our word for it. If you want to play smarter (of course), bet faster (naturally) and win big on your favourite casino pokies (yep), PlayCroco's new and improved mobile casino lobby is guaranteed to impress.
What fresh features does our new mobile lobby offer? 🍪
The Fresh Prince of Bel Air ain't got nothing on these fresh features. See for yourself how we've levelled up your PlayCroco journey. Going from a wee little BabyCroco to a radical RoyalCroco just got a whole lot snappier! Here are the new features:
👉 Sleek yet user-friendly design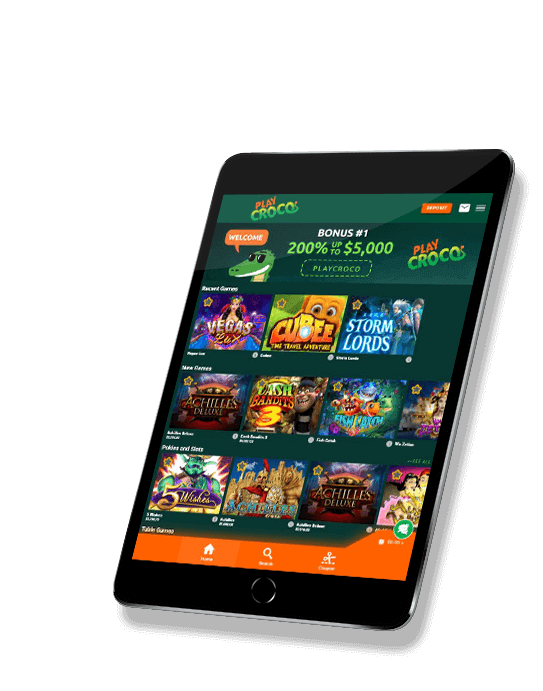 Our recent update has made our mobile lobby sleek and stylish whilst also maintaining usability. Now while that may sound like the very definition of an online casino upgrade… hear us out.
When you land in our new mobile lobby, you'll find our online pokie offerings and table games broken up into different categories which makes it easier to discover new pokies. What's more, each game will be represented by a larger than life icon. It's simple, but beautiful. Well… we like to think so.
But a better layout, larger game icons and an easy to navigate menu don't just look great. They also ensure that you can find your way around PlayCroco in style. This in turn lets you find what you're looking for much faster than usual, which translates to faster gameplay and even faster betting. The new layout is also more intuitive. Because sometimes it's possible to look great AND be super user-friendly.

👉 Get all the perks for each pokie
Below each pokie title and right next to the title, you will find a small question mark icon. If you click on it you will find all the details about the game such as volatility, paylines, scatter symbols, jackpots and free games. Need a little helping claw getting familiar with all these terms? Check out these 30 gambling terms you should know.
You can also mark a pokie as your favourite so you have it handy for next time! Simply click the star on the top left side of the image game. 
👉 Incredible performance upgrades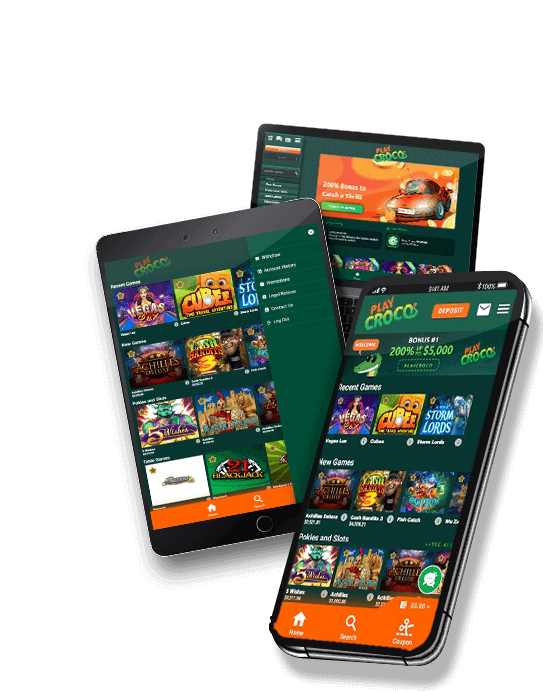 PlayCroco is now the online mobile casino equivalent of a supercharged V8 race car. With performance upgrades and behind-the-scenes tweaks that allow for a smooth, fun and fantastic betting experience.
Now you can access your favourite pokies with zero lag using your mobile device, tablet and of course your desktop computer… but that's not all. With better performance we can host more members and still deliver the same stellar gameplay and graphics. So tell your friends, tell your family and tell your pets. Croco just beefed up his mobile casino lobby and everyone is welcome to try these incredible performance upgrades for themselves.
👉 State of the art graphics
Once upon a time, online casino gamers had to make do with basic (ok let's be honest… stone age) graphics.
Since then rendering has come a long way and with our new mobile lobby design, you can look forward to crisp images and realistic depictions of your most beloved titles. This includes immersive live dealer animations plus a whole lot more. We're also happy to report that better graphics ensures that we stay one claw ahead of the competition, so don't be surprised if other online casinos start to look more alligator than crocodile…
👉 Enhanced security measures
Jokes aside here, folks. We're serious about your security. Everything from your real name to your banking details and your personal information deserves the highest protection possible.
So for our new and improved lobby, we've upped our protection measures to include the very latest security and privacy features. In short, this means you can worry less and play more with peace of mind knowing we've got your scaly backs. In any case, with Croco watching our digital doors you can bet your bottom dollar that any sensitive data is well guarded.

👉 Account history feature
Yep, he heard you all. Many Croco players contact us regularly requesting details on their account activity, which bonuses they used (and brought them luck) and how much they deposited. 
With the new mobile casino lobby, you will be able to select the date range and check all details about your gaming activity including the transactions you made, the bonuses you redeemed and how much you deposited. Easy!
👉 Significantly better gaming experience
What do all these new upgrades really mean for you, our loyal PlayCroco member, though?
Well essentially, they translate to a significantly better gaming experience. A gaming experience that includes easy-to-navigate menus, better in-game performance, faster betting for everyone and easier to deposit. Of course, we're still the same online casino that you've come to love. It's just that now we're a little smoother, a little faster and little bit better at meeting your needs.
Frequently asked questions about our new lobby 🧐
If you're wondering how our new lobby design is going to function compared to our old lobby though, the following answers will ensure that you can get where you need to go in rapid time. Read them, study them and let us know if you require assistance via our support page. We're here to answer your questions rain, hail or shine… although we'd prefer it to be shining - we're cold-blooded reptiles after all. 


1. Where do I go to login? 🗝️
Once you have created a PlayCroco account, it's simply a matter of logging into your account if you want to begin playing right away. These steps will ensure that you know exactly how to access our casino titles: 
Go to the PlayCroco homepage using your mobile, tablet (you can also do this on your desktop browser). Or login here.
Click on the large "LOGIN" button at the top right of the screen
Provide your username and your password
You can then select whether to login under practice mode or to play for real cash
Enjoy playing premium RealTime Gaming pokies plus the best table and specialty pokies in the Land of PlayCroco.

2. How do I top up my PlayCroco wallet? 💳
Depositing just got even easier with our new PlayCroco mobile casino lobby:  
Go to the PlayCroco homepage using your mobile or tablet
Login using your username and password
On the top, you will find a big DEPOSIT button
Select your preferred deposit method
Choose the amount you would like to deposit
Play any pokie you like :)

3. How do I

 redeem a bonus

? 🎁
Redeeming a bonus or coupon is easier than even with the new lobby:  
Go to the PlayCroco homepage using your mobile or tablet
Login using your username and password
Click the the COUPON button at the bottom on the navigation bar
Select one of the offered coupons or simply type your coupon
Have FUN!

4. Where can I find a list of all PlayCroco promotions? 📺
PlayCroco offers a multitude of tail-slapping promotions. From cashback offers to daily free spins, taking a Croco-sized bite out of our promos is one of the keys to online betting success. To find all of our latest promotions, simply follow the steps below: 
Go to the PlayCroco homepage using your mobile or tablet
Click on the menu button (three horizontal white stripes on top of each other) at the top right of the screen
Click on the option that says "PROMOTIONS"
Select either "REDEEM" to claim a specific promotion or "MORE INFO" for additional information regarding the promotion in question
Remember to read or save all PlayCroco emails to ensure you never miss another promotion.
5. How do I contact customer support if I have any issues or questions? 💁🏻
We like to think that navigating PlayCroco is a piece of cake, but we also understand that sometimes things don't go as planned. The best way to go about contacting our 24/7 customer support team can be found right here:  
Go to the PlayCroco homepage using your mobile, tablet (or desktop browser)
To talk with us online simply click on the small instant chat icon that looks like a speech bubble
You can also send us an email via

[email protected]

 or live chat with us via here.

6. How can I become a PlayCroco member? 👪
Becoming a PlayCroco member is still as easy as ever. To start your PlayCroco journey as a fresh-faced BabyCroco, please use the steps listed below: 
Go to the PlayCroco homepage using your mobile, tablet (you can also do this on your desktop browser). Or sign up here for free.
Click on the large "SIGN UP" button at the top right of the screen
Complete all fields in the 3-step sign up process including the account sign up, personal details and the final registration pages
Click "LOGIN" to confirm your new details
Congratulations! You're ready to begin your PlayCroco journey :) 

👉 Don't have an account? Create yours for FREE today:
If you don't have an account create yours here.
Click on the "Coupon" button if you're using a mobile device or head to "Cashier" if you're using your computer
Redeem your welcome bonus: coupon PLAYCROCO - 200% bonus up to $5000
Grab your free $50 treat: coupon PLAYCOOL
Start playing and have fun!