PlayCroco casino is launching a new online pokie: Shopping Spree II. A highly anticipated sequel for real money bargain hunters and premium Australian players alike. Launches on Wednesday May 19th.


Shopping Spree II 🛍️

Volatility: High
Layout: 5x3
Paylines/Ways: 9-fixed
Jackpot: Major progressive
Feature: Prize multipliers, free games, consolation prizes
Max Payout: 50,000-coins
About Shopping Spree II - new online pokie 🎰
Discounts, sales and bargains abound in 
Shopping Spree II pokie
. A newly released online pokie that'll have you dashing for the doors in order to play it. Building on from its predecessor, 
Shopping Spree II is chock full of Croco-approved prizes for all Australian players…

You'll be able to fill a trolley with the sheer number of bonus games and free spins in this 
9-payline pokie.
 Whether it's that perfectly placed 
progressive online pokie jackpot, the multiplying wilds or the free games bonus round
 that awards consolation prizes. 
Shopping Spree II
 online pokie gives you the chance to splurge when it comes to jackpot payouts! 

So don't let the fancy products, colourful reels and glamorous vibe fool you… 
there's some serious shopping to be done
 on this new online pokie and real money to cash out. Otherwise you can read the rest of this article to learn how best to 
play Shopping Spree II!

Don't forget to 
pick up your new online pokie bonus
 either…

Gameplay 💈
Shopping Spree II
 online pokie gives you a gold spending card to use any way you want. After that it's up to you how you 
enjoy this unique real money slot! 
All we can say is that it's a true shopper's paradise for Australian online pokie players…

Complete with clothing and fine jewellery symbols plus 
plenty of chances to pick some serious money.
 Croco even scored a new pair of shades...

It's the fact that there are 
more ways to win in Shopping Spree II
 online pokie than on other online pokies we've ever played. It's 
high volatility
 which means 
the big wins come fast! 
There's also a 
progressive jackpot, a 50,000-coin top award
 and 
a wild symbol that can multiply your bets.

The overall vibe of 
Shopping Spree II
 pokie is also worth mentioning. It's 
bright, energetic and perfectly suited to good-time loving PlayCroco members in Australia.
 As the name suggests… you'll feel like you've been let loose in your local shopping centre. 
With a spending card that never maxes out!

Available on both 
desktop and mobile devices.
 Shopping Spree II online pokie clearly displays the progressive jackpot amount above the reels. All pokie paylines are also marked on either side of the gameboard. However, you'll probably notice another bar at the top that says, 
"Shopping Spree Tally"
. Don't worry about it for now. We'll get into it later…

Other than that it features roughly the same layout as other popular pokies… but if we're being honest there's a lot going on.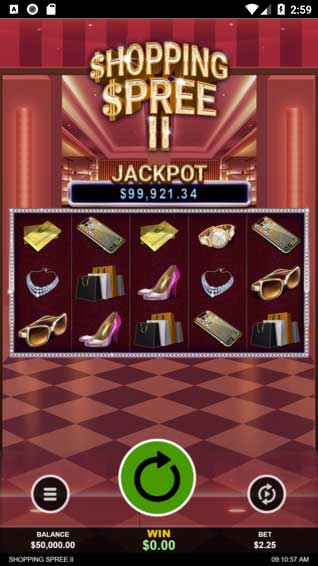 Pokie Symbols 💲
Rampant consumerism is alive and well in Shopping Spree II
. If you need proof… just check out the pokie symbols that spin up onto the reels! 

There's gold watches, expensive handbags, elegant necklaces and thick stacks of money. And that's not even taking into account the laptop, shoes, cards, bargain tags, shopping bags or the female shopper icon! But like all of the best things… 
the most rewarding online pokie symbols are saved for PlayCroco members.

We're of course talking about the 
SALE wild symbol
, 
the SHOPPING SPREE II scatter
 AND the 
Diamond Ring jackpot symbol. 

The SALE wild only appears grouped on reel 3. It'll then substitute for all other symbols except the scattered SHOPPING SPREE II! The cool thing here is that your 
wins will be multiplied by 2, 3, 5, 10 or 20 
when the SALE substitutes in a winning combo… not to mention the fact that the 
progressive jackpot
 is won when 5 Diamond Ring symbols occur on a payline with a 
x20 SALE wild.

As for the SHOPPING SPREE II scatter, it's wins will be 
added to line wins and multiplied by the total bet.
 It'll also activate the bonus round, which we're gonna talk about right now…
The online pokie bonus round in Shopping Spree II will 
make you feel like a kid in a candy store.
 Or at the very least… 
an adult in a shopping centre!
 In addition to the 
progressive jackpot
 and 
multiplying wilds
, this pokie bonus round can award 
free games... The perfect online betting and gambling experience!
 Here's how it works.

Online casino pokies: Free Games 💰
Simply land 3 or more scattered SHOPPING SPREE II symbols anywhere on the reels to 
receive 9 free games
 (free games are played at the bet of the triggering game) instantly.
When this happens, 100, 200, 300, 400 and 500 point symbols may appear on reels 1 through 5 respectively. With any point symbol being added to the Shopping Spree Tally bar that we mentioned earlier.

This Shopping Spree Tally bar will be filled upwards from 0. Only 
awarding a payout
 once all free games have come to an end. However, 
you can keep your spree going
 thanks to the fact that 
3 additional free games
 are awarded for every 1000 points collected in the Shopping Spree Tally bar (up to a maximum of 12 games). During this time, reel 3 is made up entirely of SALE substitute symbols.

If you don't manage to crack the 1000 points mark, don't stress like a crocodile in a leather good's store. 
A consolation prize is awarded
 if your total tally is less than 1000 points! For example:

• A tally of 500 to 900 points awards x3 your bet
• A tally of 400 points awards x5 your bet
• A tally of 300 points awards x10 your bet
• A tally of 200 points awards x20 your bet
• A tally of 100 points awards x40 your bet
• A tally of 0 points awards x100 your bet
• It's a high volatility online pokie
• A sequel that lives up to expectations
• Extremely satisfying to play
• No crocodile skin handbags on offer
• Plenty of things to look at
• You're almost guaranteed to bag a win

Cons
• You're gonna need a bigger trolley

Where to play Shopping Spree II online pokie 🛒
Shopping fanatics rejoice!
 Shopping Spree II online pokie is a savvy consumer's dream. Croco has had an absolute ball playing it and we know you will too. 
Start stuffing real money prizes and bonuses into your trolley right this instant. 

There are so many ways to win it's almost unfair. 
Grab your iOS or Android device
 and score on the go. Otherwise you can use a 
laptop, tablet or computer
 in order to try it. This is one of the few sequels that lives up to the hype. 
So claim your new game bonus…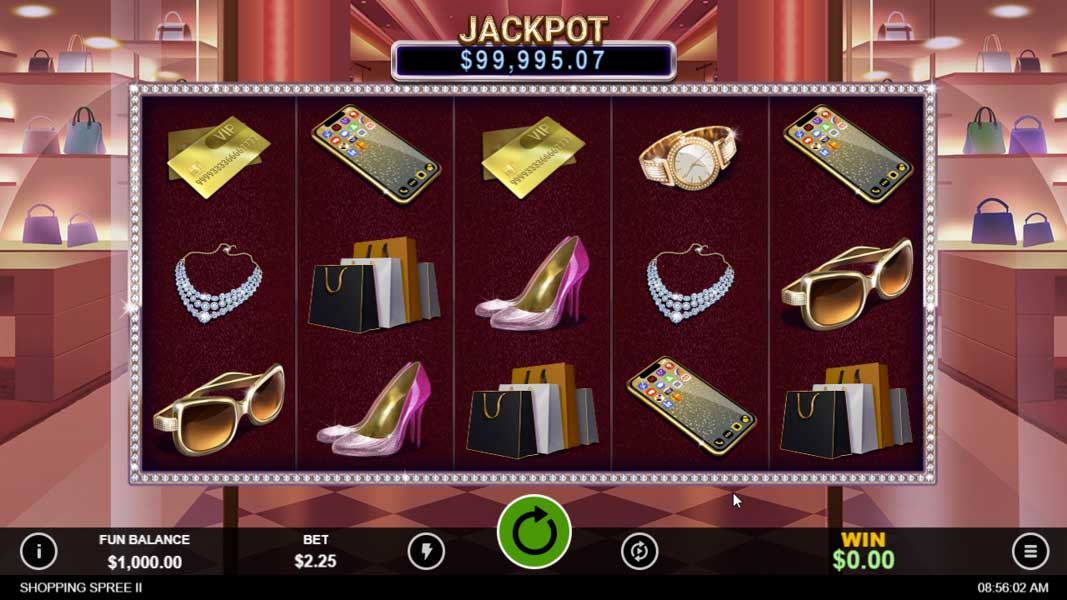 More articles 📗

👉

 

Don't have an account yet? Create yours today:
If you don't have an account

 

create your account today
Click on the "Coupon" button if you're using a mobile device or head to

 

Cashier

 

if you're using your computer
Redeem your welcome bonus: coupon PLAYCROCO - 200% bonus up to $5000
Grab your free $50 treat: coupon PLAYCOOL
Start playing and have fun!