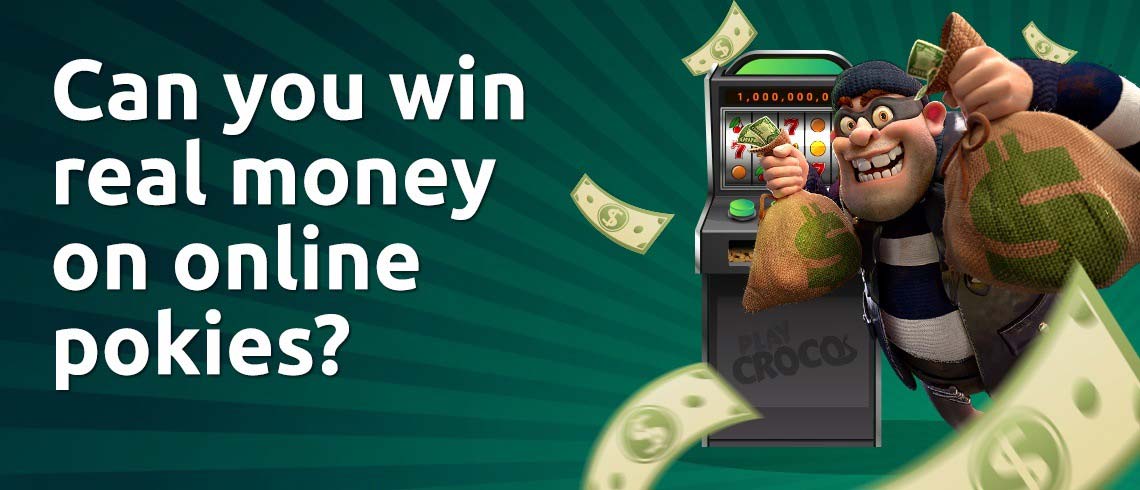 Whoever asked that question initially mustn't have been a PlayCroco member, but that's ok. In this article, we make it easy for everyone to win real money on online pokies…
This question has been asked since the dawn of time. The ancient philosophers pondered it. The mighty kings of Europe debated it. Even a few presidents of the modern era gave it some thought… but to no avail.
Can you really win real money on online pokies?
Well of course you can! You, Croco and your fellow members have been winning big since online pokies first became a thing. Whoever asked that question initially mustn't have been a PlayCroco member, but that's ok. In this article, we make it easy for everyone to win real money on online pokies…  
Simply continue reading if you want to win cash on online slots, because we're giving you all the best tips.
From how to create a PlayCroco account to the benefits of playing online slots and even a short history lesson, this is your go to guide for scoring cash on real money online casinos.
So don't waste your time reading this boring as bat guano intro.
Scroll down, mates!
How to win real money on online pokies in 5 steps 🛵
Ok, ok… you got us!
We were fibbing when we said that philosophers, kings and presidents had questioned whether one can win real money on online pokies. What can we say? Croco loves to exaggerate sometimes.
What we weren't fibbing about though is that winning cash on online pokies is actually pretty easy… but especially so when you break it down into 5 simple steps.
1. Sign up to PlayCroco for FREE ✍️
The first step to winning real money on online pokies is to create a PlayCroco account using your mobile, tablet, laptop or desktop device. This is totally free and only takes a few minutes! You can start by clicking on the SIGN UP button on our home screen. From there you just need to follow the prompts.
2. Make your first deposit 💳
Congratulations! You just became part of the PlayCroco family. We shall call you BabyCroco for now… but don't worry too much about the infantile title.
Soon you'll grow big and strong by making lots of deposits! You can then level up to JuniorCroco and SuperCroco before becoming a bonus busting, pokie plundering, good-time loving RoyalCroco!
But let's not get ahead of ourselves… Before all that happens, you need to make your first deposit! To do this you need to navigate to our banking page, choose from any one of the following 6 deposit options and nominate an amount: 
eZeeWallet – virtual wallet
CashtoCode – digital eVoucher
Visa – credit card
Mastercard – credit card
Bitcoin – cryptocurrency
Neosurf – pre-paid voucher
3. Remember to check out promotions page 🎁
Of course, you probably want to check our promotions page when pulling the trigger on your first deposit! The reason for this is that you can claim extra cash on most deposits you make. We suggest starting with the following welcome bonuses though:
Welcome Bonus #1 = Triple your deposit with a bonus - COUPON: PLAYCROCO
Welcome Bonus #2 = $50 free bonus - COUPON: PLAYCOOL
Then, once you have some cash in the kitty, you can explore our other popular promotions and bonus offers. Some of which are always there and others that are part of a seasonal or limited run offer. Either way… they're all gooooood!
$10 Free Chip = New members get a $10 free bonus
Cashback CrocoReload = Between 25% and 50% cashback on deposits
Weekly CrocoBoost = $100 free every Friday
Pokie of the Month = Double comp points plus free spins and a bonus offer
CrocoWeekend = $25 free bonus every weekend
New Pokie = Match bonus for depositing and playing a new game
Lucky Loco Draw = Win up to $777 every Tuesday
CrocoSpins = Free spins every day!
4. Select a real cash pokie to play 🎰
Now that you have your membership, your cash and (hopefully) an epic bonus offer, it's time to choose an online pokie!
Just login to your account and you will find a list of different online casino pokies, ranging from new games to pokies and slots and speciality titles!
Click on any one of the categories and you'll be presented with a screen that catalogues all the online pokies or virtual table games within that category.
Pick one! This will take you to the actual game screen, whereby you can choose to play the demo version of a game (if available) or to win real money on online pokies.
Remember, winning real money is where the fun is at!
5. Withdraw your winnings 💰
Assuming you had a few lucky spins, the final step to winning real money on online pokies is to withdraw your winnings! Of course, this isn't a totally necessary step. You can always leave your cash in your PlayCroco wallet to use on other titles. 
If you have a big date coming up, bills to pay or you just want to treat yourself with something nice though, you can easily submit a request to have your winnings transferred to your chosen bank account – simple!
The money will then show up in your account in a couple of days after being processed by Mr. Croco… ready to be spent on whatever your heart desires!
The benefits of playing real money online pokies 😎
Of course, we don't need to highlight the reasons why real cash pokies rock the socks off a 15-foot crocodile… but what the heck – we're gonna do it anyway!
You can win real cash
The biggest advantage to playing real cash slots is this – you can win real money on online pokies!
We're talking actual walking around money that you can use on other online pokie titles OR to spend in your daily life. Really you can do anything with it. It's your money after all!
You can sharpen your online casino skills
Another advantage to winning real money on online pokies is that you can better familiarise yourself with the world of online casinos. What does this mean?
Well, not all pokies are created equal and not all games have the same style of gameplay. This means that some titles are better than others (or at least easier to win on). The more you try different online pokies, the more you get a feel for which pokies are hot and which are cold – with hot titles being titles that pay out more than they probably should during a short period of time!
You can climb the PlayCroco loyalty ladder
Finally, the more you win real money on online pokies, the more you climb the PlayCroco loyalty ladder! And the higher up this mythical ladder you climb, the more bonuses, promotions and special VIP perks that you can claim.
Whether it's personalised support, cashback offers, increased weekly withdrawal limits or daily bonuses… our loyalty reward program is innovative and rewarding!
Real money online pokies 101: The basics
So by now you must be pretty serious about winning real money on online pokies! As Mr Burns always says… "exxxxcellent". Before you launch snout first into the most profitable swamp in the world though, there's a few other titbits that you should know!
A short history of online slots
It all starts with Charles Augustus Fey. Besides having an epic name (and a killer monocle), Charles Augustus Fey invented the first slot machine. Funnily enough… no one actually knows when this happened, but it's widely believed that it came about sometime between 1886 – 1895.
This machine would allow automatic payouts and the highest prize was for lining up 3 bell symbols.
Fast forward almost 100 years into the future and Money Honey is being released in 1964. Considered to be the first 100% electromechanical slot, Money Honey had to be started by a lever, but the reels operated on electricity. It could also offer payouts of up to 500 coins thanks to the bottomless hopper.
Money Honey quickly became the most popular type of pokie in casinos and as such it ushered in a completely new type of pokie playing style.
After this electromechanical invention came the first video slot in 1976. This slot, which was developed by a Las Vegas based company called Fortune Coin, used a 19-inch Sony TV for the display and was only available in the Las Vegas Hilton Hotel.
At this point it wasn't actually legal to play, but after a few modifications (and no small amount of cheat-proofing), the Nevada State Gaming Commission approved its use in casinos throughout the strip.
Finally, we come to modern slots. The original of which was called Reel 'Em and released in 1996 by WMS Industries INC. This video slot not only had a base game screen, but it also offered punters a completely different screen when they triggered the bonus round!
This innovation paved the way for online pokies, which came into existence thanks to brands such as Microgaming and Cryptologic. Of course, there was hardly much choice for online casino punters when it came to games – not like today at least!
So you can thank your lucky stars that you grew up in the golden age of online casino real cash pokies!
The different types of pokies
Like we said earlier… not all pokies are created equal. And if you're only a BabyCroco, you might not know how to paddle around Lake PlayCroco all that well.
If that's the case, this little list of the different pokie types that you can expect to come across will be very helpful. Note that our favourite type of online pokie is progressives (what we can say… we're a sucker for million-dollar wins), but you might find another variety suits your style. Just remember there's no right or wrong answer.
As Croco always says when he's about to enjoy a pokie playing session – If it feels good… do it! 
3-reel pokies
5-reel pokies
7-reel pokies
Progressive jackpot titles
Speciality titles
Classic slots
Fixed amount jackpots titles
Guaranteed bonus pokies
Real cash slots
Branded games
Popular real cash online pokies
Ok… that's enough from us, folks! Now it's time to get out there and flex your muscles on some of the most popular real money online pokies on our roster. Check them out below and search for them in our casino lobby – we've already got our fingers crossed that you're going to win something big! 
Plentiful Treasure
Diamond Fiesta
Asgard Deluxe
Wild Fire 7s
Cash Bandits 3

More articles 📗

👉 Create your PlayCroco casino account for FREE today:
If you don't have an account create yours here.
Click on the "Coupon" button if you're using a mobile device or head to Cashier if you're using your computer
Redeem your welcome bonus: coupon PLAYCROCO - 200% bonus up to $5000
Grab your free $50 treat: coupon PLAYCOOL
Start playing and have fun!