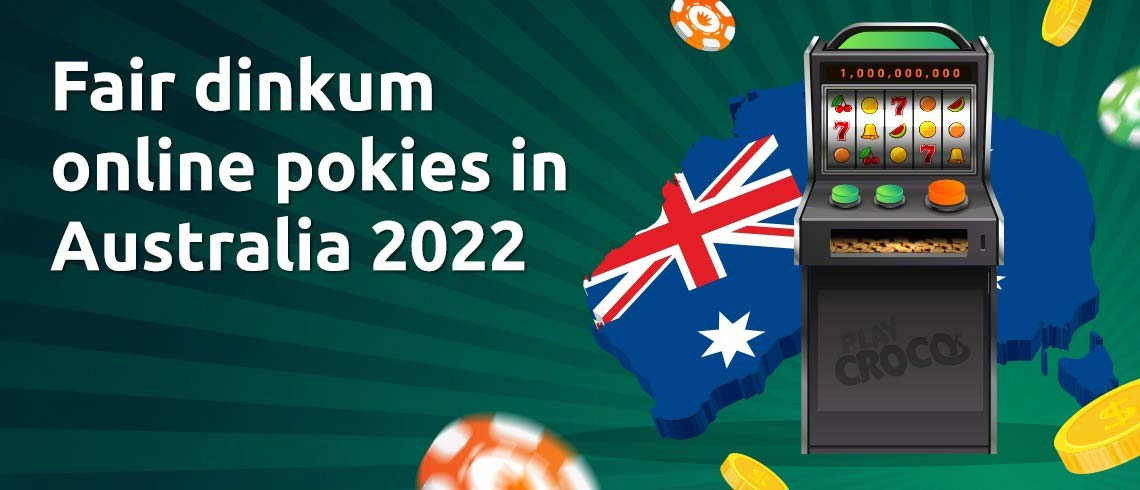 Strewth… you'll never guess in a million years what Croco has been up to. He's been rummaging through our list of 350+ online pokies and table games to find fair dinkum games.
Of course, not many people know what fair dinkum online pokies are. Do you have any idea? If not, your mates at PlayCroco are here to help. We asked Croco about the origins of the phrase "fair dinkum" and got a hot tip on which online pokies are currently on a heater.
What does the term "fair dinkum" mean? 👌
Fair dinkum is a term that's been in the Aussie vernacular since colonial times. However, much to the chagrin of Croco and his patriotic mates, we can't claim to be the originators.
Dinkum was actually a word used by miners in England that means "work". For example, one might say that you're up to the dinkum today. It then found its way to Australia and the word "fair" was added as a way to describe a good day's work.
What is a "fair dinkum" online pokie? 🎰
Nowadays, fair dinkum is used by Australians to label something as being decent or genuine. In the context of PlayCroco, we use it when talking about online pokies that always work hard to award big payouts.
This applies to all types of pokies. From progressive jackpot games to arcade-style online pokies, you can describe practically any high paying Aussie slot game as being fair dinkum. In saying that, we don't use the phrase lightly.
Like we just mentioned, a pokie needs to be of a certain standard before its labelled fair dinkum. Here's what we look for: 
Playability - Is this game a one-hit wonder or can it be played time after time?
Gameplay - Are the graphics and soundtrack up to scratch?
Features - Does it offer a range of special features that other online pokies can't match?
Bonus round - How many bonus rounds does it have and is there a high probability of big payouts?
Volatility - Is this a high volatility online pokie that rewards punters with massive prizes?
If online pokies tick boxes for these three parameters, Croco gives them his official reptilian stamp of approval.
If not, no worries. Fair dinkum pokies are exceptional by nature and only make up about 20% of total games on offer, so just because a game isn't labelled fair dinkum doesn't mean it's not good.
How do I play "fair dinkum" pokies? 🎁
In conclusion, fair dinkum pokies are the pokies that everyone wants to play. Not only do they offer amazing rewards in the form of top prizes, bonus rounds and even special wild symbols, but they're damn fun too.
So, if you're wondering how to experience a fair dinkum pokie for yourself, wonder no more. You can play any of the fair dinkum online pokies below just by following these simple steps: 
Login to your PlayCroco account
Make sure you have enough money in your wallet
Navigate to the lobby
Select a game from the home screen, choose a category or search for the games below
Play for real and win real cash on fair dinkum online pokies
What are the best "fair dinkum" pokies in Australia? 🐨
According to our online gambling experts and your fellow VIPs, these online pokies are the most fair dinkum listings on our roster. They meet all the necessary metrics for being fair dinkum and they come with a variety of different yet interesting game themes.
Of course, you probably already have a favourite online pokie. Perhaps you even have two or three. We're not saying that these are better than your most beloved online pokies. What we are saying is that you're sure to have fun (and claw your way to a win) when you play these fair dinkum games.
Hyper Wins ⭐
Volatility: Very high
Paylines: Pays any way
Top award: 5,000-times the bet per line
One of the most fair dinkum online pokies that we've ever played is Hyper Wins. This game takes place in some alternative universe where everything is bubbly, bold and bursting with colour. To play it, simply take it for a spin and enjoy the rainbow ride.
It pays any way, which means that all paylines are always activated and you can win on every spin. As a very high volatility game though, big wins are rare. When they do go off, it's because of the many Hyper Wins bonus rounds. These are: 
Free Games: Get up to 200 free games when up to 9 scattered Stars appear on the reels
Hyper Prize: Pick an instant prize worth up to x1,000 the bet when 4 or more Stars trigger the Free Games bonus round
Lucky Feature: Either the Free Games or Hyper Prize bonus rounds are activated at random at any time during a base game spin
As you can see, Hyper Wins makes it really easy for you to clean up. There are of course other significant features, but we don't want to ruin the surprise. Play fair dinkum online pokies such as Hyper Wins today to experience shooting stars and cosmic payouts.
Cash Bandits 3 🏦
Volatility: Very high
Paylines: 25-variable
Top award: 115,000-times the bet per line
If there's one fair dinkum online pokie franchise that everybody loves, it's the Cash Bandits trilogy. The winning potential and epic gameplay combined with loveable characters is a winning combination.
Your role in Cash Bandits 3 (whether you like it or not) is to bust open a bank vault using your wit, cunning and a few PlayCroco bonuses. To do this, you'll need to make full use of all 25-paylines and make sure your getaway driver is on hand. Learn all about the Vault Free Games bonus round below: 
Vault Free Games: Triggered when 3 or more scattered Cash Bandits 3 symbols appear on the reels. You'll then be given 5 free games with a x2 multiplier plus a golden opportunity to crack the safe. Just guess the combination to unlock your cash, with the top prize for a success maxing out at 390 free games with a x23 prize multiplier
If that doesn't put led in your pencil, Cash Bandits 3 has other advantages.
There's also a Minor and Major jackpot to win plus a very lucrative 115,000-coin base game top award. In short, this is a fair dinkum pokie in every sense of the word. Even if you don't win big, you'll still enjoy the interactive vault bonus round.
Egyptian Gold 🌵
Volatility: Very high
Paylines: 243 (can expand to 576)
Top award: 96,000-times the bet per line
Seeking a truly monumental gaming experience? PlayCroco has your back. The very high volatility game Egyptian Gold is bigger than the ancient pyramids in every sense of the word.
Firstly, it's one of the most unique online pokies we've ever had the pleasure of playing. There's a decent top award and 243-paylines. What's interesting though is that these paylines can expand to a whopping 576 when a wild appears on the gameboard. Crazy, but true.
In addition, the scatter activation process is slightly different. You'll still need to land 3 scattered Bonus Logo symbols on the gameboard to trigger it. However, you'll then be given the option to choose from three different features. The different types of bonus round in Egyptian Gold are as follows: 
Scarab Random: The magical Scarab symbol will fly across the reels and award you one of five bonus features - Wild Reel, Random Wilds, Magical Re-spin, Free Games Pick Bonus and Jackpot Pick Bonus
Wild Reel: Reels 2, 3, or 4 will be covered with wild symbols and made i4 rows high (324-paylines)
Random Wilds: Wild symbols will be dropped at random onto the reels
Magical Re-spin: All reels will be respun and you'll be awarded a big payout
Free Games Pick Bonus: You're awarded free games and an instant prize plus given the choice between three different additional rewards (with one being 10 free games and double-paying wilds)
Jackpot Pick Bonus: Pick three identical symbols in order to win a Mini, Minor, Major or Maxi jackpot prize
We don't need to tell you twice. Egyptian Gold lives up to the name of that precious yellow metal at every turn. You might not wind up richer than the pharaohs, but at least you'll know you're winning on a fair dinkum pokie.
Twister Wilds 🌪️
Volatility: Very high
Paylines: 50-fixed
Top award: 50,000-times the bet per line
Just when you thought it was safe to milk the cows, along comes Twister Wilds to whip the straw hat right off your head. Blowing in from lord knows where, this 50-payline pokie is an absolute head-spinner.
Twisters are tearing up your farm. Now you need to collect as much of the debris as possible. The good news is this isn't any old farm. It's a farm full of expanding wild reels, progressives jackpots, free games and cash. Grab a handful of loot today by triggering the following bonus rounds: 
Free Games: When 3 or more Weathervane scatters appear, 9 free games are awarded. Whenever wild Twisters land during the free games, they'll expand to cover 1 or 2 additional reels. Free games can be retriggered if 3 or more scatter symbols appear
Of course, this tornado is bringing more than just free games. The Minor or Major progressive jackpot can go off at a moment's notice, while wild Twisters can triple prizes when 1 or more appear in a win. So, don't be discouraged by the bluster. Chase a whirlwind of winnings in Twister Wilds now.
Plentiful Treasure´👑
Volatility: Medium 
Paylines: 243-all ways pay
Top award: 50,000-times the bet per line
There aren't a lot of online pokies with international cred, but Plentiful Treasure is one of them. You'll find it in the casinos of Macau and Monaco… and now it's here at PlayCroco. Needless to say, we're pretty chuffed. This is one seriously fair dinkum game.
The reasons why it's so famous is that it's easy to play, easy to win on and easy on the eyes - a triple threat in anyone's book.
There are four jackpots in total you can win, ranging from Minor all the way up to a huge Grand prize. These are activated when a Bao wild appears, whereby you'll be taken to a pick-and-reveal mini game that requires you to match 3 symbols to score.
There are also two substitutes, one of which is a Pearl that can award x5 prize multipliers when it appears in a winning combo. As for the bonus round, its listed below: 
Free Games: 8 free games are given instantly when 3 or more scattered Tripods appear left to right. During Free Games, A, K, Q, J, 10 and 9 symbols do not appear throughout the feature. It can also be retriggered
Now, it might not look like Plentiful Treasure has a lot to offer. And yes, we're aware that it's one of the only fair dinkum online pokies that's not high volatility. But it's charming nonetheless and Croco is a fan.
So, if you're after a fair dinkum punting experience in the Land of PlayCroco, these are the online pokies you need to play.

More articles 📗

👉 Create your PlayCroco casino account for FREE today:
If you don't have an account create yours here.
Click on the "Coupon" button if you're using a mobile device or head to Cashier if you're using your computer
Redeem your welcome bonus: coupon PLAYCROCO - 200% bonus up to $5000
Grab your free $50 treat: coupon PLAYCOOL
Start playing and have fun!