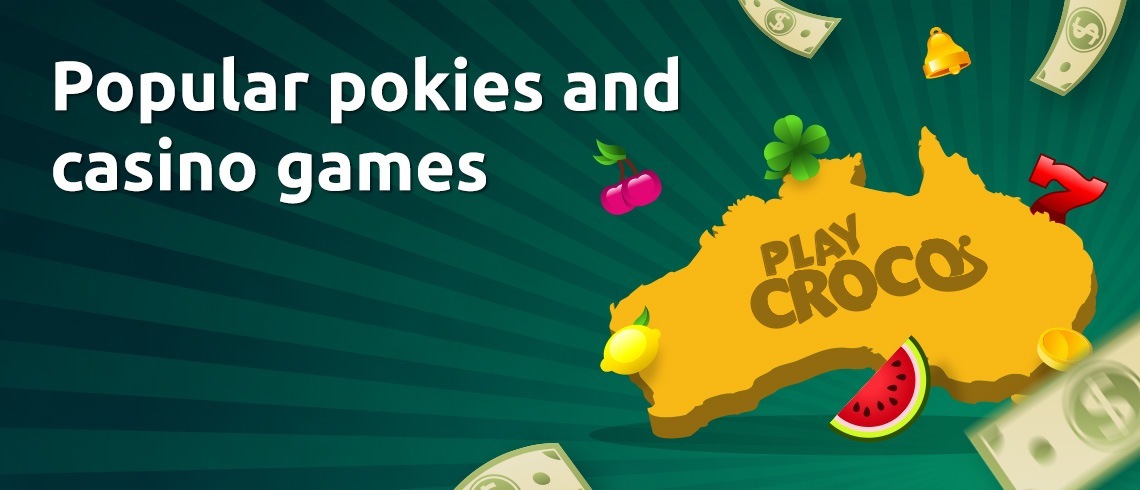 Discover the most popular online pokies and online casino games in Australia. These are the slot machines where the biggest payouts are...
Life isn't a popularity contest, but when it comes to pokies and casino games in Australia… you better believe it bloody well is!
Fortunately, we have all the most popular pokies in Australia on our roster. From seriously lucrative games like the Cash Bandits series to progressive jackpot pokies such as Megasaur! Our pokies and casino games have been consistently ranked 5 starts out of 5.
If you're new to PlayCroco though, you might be wondering what the hell we're on about. Fair enough… knowing which pokies, slots and casino games to play for maximum fun and prizes can be difficult.
In this article, we try to make it easy for you to sniff out the best games on our online casino. But before you do that, let's talk about the most popular casino games from around the world!
$10 FREE CHIP
Try all games!
Code: 10FREE
Coupon can only be used

 

once.

 

Max cashout it $180. Valid for new players only.
Popular casino games around the world 🌏
The world is a beautiful place. Sunsets never get old. Green hills with blooming flowers can melt even the stoniest heart. And casino games? Well, they're just the icing on the cake. But it makes sense, doesn't it?
We've been playing gambling games for thousands of years. Many of which are still alive today in one form or another. Poker, blackjack and roulette, for example, can trace their origins back to games that were played by our ancestors.
The question as to why they're so popular, however, can only be answered by diving it to see what all the fuss is about. Let's go!
Casino Poker 🎰
As with the next two casino games, poker is popular for a few reasons. Of course, you can make oodles of money. Like, enough to build your own PlayCroco casino and invite all your friends.
Another reason why poker is still played to this day though is that it's incredibly social. This is unlike other games of chance. In poker, you can play with friends or strangers and form a bond as the game goes on. In fact, you could even say that poker is the perfect game for a group setting. So invite your mates, invite your family and get ready for some fun. Just don't forget that you're there to win!
Blackjack Games 🕹️
Another casino game that's super popular is blackjack. 
There are two reasons for this. The first reason why blackjack is so popular is the ease in which you can learn it. When you break it down, the game is actually quite straightforward and there are no complex or twisted rules. This makes the learning curve quite friendly 
The second reason is that blackjack has a low house edge. Simply put, this means that your odds of winning against a casino during a blackjack game are higher than many other casino games. This keeps punters coming back again and again for a piece of the action. Have you ever played blackjack before? Because if you have, you'll know exactly what we're talking about!
Roulette Games 🎲
Finally, we have roulette – another one of the "big 3" casino games when it comes to prevalence and popularity. But why is that so?
Well, roulette like blackjack is very easy to pick up. Perhaps the biggest drawcard though is that roulette has an added drama or excitement factor that blackjack and poker don't – the wheel!
This wheel, when spun during a high stakes game, will keep you on the edge of your seat. There's just something about having hundreds of dollars on the line. All of which is dependent on where that little white ball lands!
Personally, we here at PlayCroco love this drama. And we can easily see why people seeking casino game action would choose roulette over blackjack and poker.
Our favourite game in an online or land-based casino though? Well… that just has to be online pokies and slots!
What are online pokies and slot machines? 💰
Pokies and slots make up the bulk of our online casino promotions…
Essentially, they're the digital version of the very pokie machines or slots you come across in clubs and pubs or land-based casinos. The major difference being that with online pokies and slots, the variety of game types and prizes you can win is waaaaay bigger!
What's more, playing slot machines or pokies online is a walk in the park – literally! You could be strolling through your favourite green space and pull out your phone. Then, it's just a matter of navigating to PlayCroco and picking your preferred game! 
Then again, online pokies and slots and land-based pokies and slots do have a lot in common. No matter which option you choose, the game mechanics are basically the same. All types of pokies and slots share these traits: 
Volatility: This is the amount of risk attached to a pokie. High volatility pokies pay out less frequently but award bigger amounts, while low volatility pokies pay out often (but in smaller sums)
Symbols: These are the icons that appear on pokie reels that have various functions within the game. They might contribute to a winning combination, pay out a prize instantly, trigger a bonus round or act as the in-game wild
Bonus feature round: A bonus feature round is like a game within a game that, once activated, will award extra prizes (in the form of free games, a pick-your-prize option, prize multipliers etc.)
Return to Player (RTP): The Return to Player is the expected percentage of wagers that will be returned to you as a win on a particular title. For example: If you wager $100 on a slot with an RTP of 90%, you will receive $90 back on average.
What are most popular online casino games at PlayCroco Australia? 🤑
Wondering what the most popular casino games at PlayCroco are? Well, it's most definitely pokies.  
Everyone loves them because they're easy to play and we love them because they're fun! Of course, you can also win some saltwater crocodile-sizes wins on pokies and slots… don't get us wrong. If you want to play a *popular casino game right now, these are for you. 
Sweet 16
Legend of Helios
Cash Bandits 3
Football Fortunes
Bubble Bubble 2
Plentiful Treasure
Wild Hog Luau
Enchanted Garden II
Bubble Bubble 3
Cash Bandits 2 
*Please note that we elaborate further on our top 3 most popular online pokies and slots below.
What makes a good online pokie or slot? 💸
There are many factors to observe when determining whether a pokie or slot is "good". First impressions are generally a good indicator.
If a game looks interesting, then you should definitely give it a try. To better decide whether a pokie or slot is worth investing your money in though, you should also look at the following:
Bonus rounds
Love winning insane amounts of loot on your favourite Australian online pokies? Hey… so do we! Which is why we're always scoping out bonus rounds: what are they, how many are there and what kinda prizes do they offer?
Some games, such as Legend of Helios, have pick-your-prize bonus rounds. Others are pre-set but no less rewarding. Nearly all bonus rounds are activated by a special combination of scatter or bonus symbols. Generally, when they land in groups of 3 or more, the bonus feature round is activated.
For more information about a game's bonus round, simply check out our PlayCroco games guides. They'll give you the inside scoop regarding everything you need to know.
Storyline
A good movie needs a good story, in the same way that a pokie can be infinitely more entertaining just as long as it has a story to tell. Take the speciality game Banana Jones for example.
In this pokie, the main character is on a quest to discover untold wealth hidden within a secret temple! In order to reach this temple (and everlasting riches), he first needs to negotiate a sketchy gameboard filled evil snakes and a deadly tiger.
Will he ever unlock the mysteries of this temple? Is that tiger too fast for our simian mate? Do you know how to suck venom from a snakebite? Like all good movies and games, the storyline in Banana Jones will invariably draw you in. And to us here at PlayCroco… that means that this game scores extra brownie points!
Graphics
There's nothing worse than playing a pokie that has good bonus rounds, a solid musical score and some epic rewards… BUT… the graphics are so horrible that they detract from the overall experience.
When this happens, it really highlights the importance of good rendering on a game. Fortunately, the majority of modern pokies and slots employ realist graphics with crisp edges and excellent animations.
Even the Aussie pokies that have a cartoony vibe still manage to pull it off. But blocky characters, stuttering animations or a less-than-convincing gameboard backdrop can make a game feel cheap. And that, good friends, simply isn't good enough.
Volatility
Another thing to look at when weighing up whether to play an online pokie or slot is volatility. Volatility, as we touched on earlier, will give you an idea regarding how often you can win and in what amounts those wins will come…
Games marked high volatility won't pay out all that often. But when they do, you better have a large hessian money sack on hand to store all your wins. Conversely, games listed as low volatility will pay out regularly. But the amounts in which they pay out won't be all that exciting. As for medium volatility games, they land somewhere in the middle.
How does this apply to you when picking an online casino pokie? Well, if you're looking for a quick hit of action, we suggest playing a low volatility game. If you're in for the big wins though, a high volatility pokie will be sure to scratch that itch!
Rewards
Last but certainly not least, rewards can make a break the reputation of an online pokie or slot. The reason being that without an alluring top prize or captivating bonus rounds, there's really no point in playing an online pokie!
After all, what we really want is to be rewarded for our efforts. And while graphics, volatility and storylines go a long way, it's the PlayCroco bonusesthat keep punters engaged. So when deciding whether an online slot is worth your time, have a gander at the type of rewards they offer. More specifically, ask yourself: 
What is their top base game award?
Do scatter wins pay?
Can wilds expand or multiply symbols?
What type of bonus round(s) do they offer?
Is it a progressive jackpot pokie?
Is there an option to win an instant jackpot prize?
Top 3 most popular online pokies and slots 🏆
Now that we've got everything sorted regarding the most popular pokies and casino games in Australia, it's time to list them!
These are the most played games on our online casino right now. If you haven't tried them yet, now's your chance. Check out whether these games are right up your alley by reading on below: 
Sweet 16 
Paylines: 243-paylines
Volatility: High
Are you a big fan of lollies AND delicious wins? Then you're going to love this sickly saccharine slot, Sweet 16.  
Wilds can group on reels 2, 3, 4 and 5 and winning symbols can morph after pays are awarded! This means that newer, better symbols can appear in their place, setting you up for some major payouts. What's more, prize multipliers build up on successive wins – running from a measly x1 to an amazing x10. Did we mention that the scattered Lollipop can trigger 16 free games with multipliers that go up to x20 too?
Legend of Helios 
Paylines: 25-paylines
Volatility: High
They say the gods must be crazy, but we reckon they're super generous! This is certainly the case with the god of the sun in Legend of Helios!
A truly benevolent deity, he operates a unique 4-3-4-3-4 reel game with 25-paylines and Mystery Stacked Symbols, Respins with Locking Mystery Stacks, a Bonus Wheel round with instant prizes and free games plus more! In short, Legend of Helios is packed with ways to win.
From the growing gameboard to x400 stacks and 14 free games or bursting wilds – you'll definitely feel the power of the gods when you win on Legend of Helios.
Cash Bandits 3 
Paylines: 25-variable
Volatility: Very high
The Cash Bandits are back to steal big wins (and your heart) in their latest release, Cash Bandits 3.
Featuring the same slick gameplay but with an updated Vault bonus round, you can now score up to 390 free games with a x23 multiplier if you crack the code on all 6 different safes. If that doesn't spike your adrenaline though, Cash Bandits 3 also has two progressive jackpots and a 115,000-coin top award! Because being bad definitely pays when it comes to this pokie. So grab your driver and make a profitable getaway by playing it today.

More articles 📗

👉 Create your PlayCroco casino account for FREE today:
If you don't have an account create yours here.
Click on the "Coupon" button if you're using a mobile device or head to Cashier if you're using your computer
Redeem your welcome bonus: coupon PLAYCROCO - 200% bonus up to $5000
Grab your free $50 treat: coupon PLAYCOOL
Start playing and have fun!