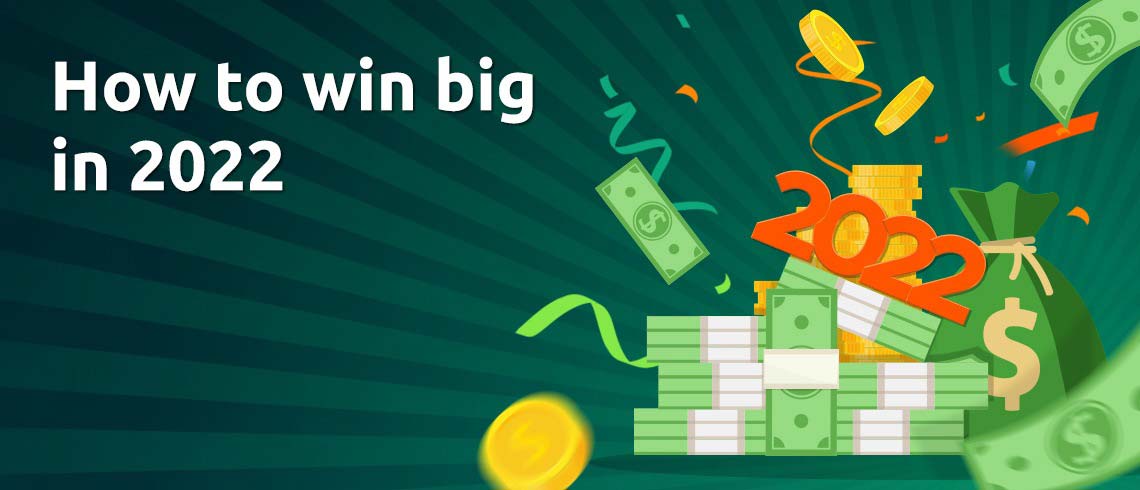 If you want to know how to win big at online casinos, you need to read this article. In it are a few proven methods for winning big at online casinos such as PlayCroco.
So, what you waiting for? The key to turning your luck around lies within this blog. Let's get into it…
Claim your welcome bonus pack 🗝️
When PlayCroco first launched, we trialled a lot of different welcome offers. The first of these was a welcome hug from Croco himself, but this wasn't popular amongst new members. Apparently, hugging a scaly green crocodile doesn't scream "Welcome to our online casino". So, we developed a new way to bring new members into our ranks: two different welcome bonuses. 
Welcome bonus 1 - Code: PLAYCROCO - Gives you 200% up to $5,000
Welcome bonus 2 - Code: PLAYCOOL - Gives you $50 FREE BONUS (after you've used bonus PLAYCROCO) 
Available to claim when you sign up to PlayCroco, these welcome bonuses will kick start your online casino winning streak. Sure, you might not score straight up, but we'll be damned if it doesn't feel fantastic to get a couple of freebies straight off the bat.
Get your $10 free chip 🎁
If you want to know how to win big at online casinos, claiming free chips is a good place to start. Think about it… you're getting free cash, which means you receive something for nothing.
Well, not exactly something for nothing. You do have to be a PlayCroco member and give us a little bit of time. But $10 simply for joining up, singing in and choosing PlayCroco to be your preferred punting palace? That's not bad at all.
Free chip: $10 when you enter code 10FREE
Grab your new game bonuses 🎰
While it can be incredibly tempting to just run out and play our new releases as they appear, you should always remember to grab the new game bonus if you want to win big at our online casino. The reason being that for every new game that we release, we also introduce a generous freebie that will hopefully boost your odds of winning.
With a minimum of one new game released every month, that's at least one extra bonus for you to claim on top of the other promotions that we run.
Experience the thrill of playing a new online pokie and potentially scoop up an additional win thanks to a special offer that could see us double your deposit and give you free spins.
Join in our tournaments 🏆
Maybe you've already heard about our online pokies tournaments, maybe you haven't. If you fall into the latter camp though, you're bloody well missing out.
Pokies Tournaments are perhaps the most exciting and lucrative thing to happen at PlayCroco since our reptilian mate started dishing up VIP rewards (more on that soon).
Available to all punters who've taken the PlayCroco pledge of allegiance, our tournaments essentially operate like a pokie playing competition that pits friends against friends, members against members and lifelong PlayCroco punters against the newbies.
Want to learn more? Here's how they work: 
You create an alias that will become your tournament avatar
You pay the buy-in fee (unless it's a weekly freeroll) to join the tournament
You play the tournament pokie and get points for every winning spin
These points contribute to your leaderboard ranking
At the end of the tournament, top places are rewarded with major prizes, although everyone who joins will come away with some cash
As you can see, these tournaments operate on a leaderboard system. The more you win on the pokie, the higher you climb on the ladder and the more likely you'll walk away with the cash. There are of course other features that make these tournaments way more interesting than just paying standard pokies.
You can "Add-On" credits to stay in a tournament after your initial investment runs out. You can also "Re-Buy" back into a tournament, which allows you to start all over again.
Finally, all tournaments have different prize pools. While one tournament may only be worth $300, another could go as high as $7,000 or higher. Most of the time freeroll tournaments are worth less, but that doesn't mean they're not fun.
As such, if you want to know how to win big at online casinos, keeping an eye on our tournaments is a good place to start.
Play progressive jackpot online pokies 💰
Now, while Croco can excuse you for not knowing what a pokie tournament is, he can't excuse you for not being aware of progressive jackpot pokies.
They're the jewel in the pokie playing crown. The games that everyone wants to win on. We love them so much we've given them they're own dedicated category. We're also highly selective about which progressive pokies we host.
If you don't know how to win big at online casinos, playing a progressive jackpot pokie is a great tip.
Because progressive pokie machines are linked all over the world and every non-winning spin contributes to the jackpot, the amounts can go higher than a summer sun.
For example, Cleopatra's Gold, Megasaur and Aztec's Millions have all had jackpots worth over $1,000,000 at one point in time.
When the jackpot is won, it's simply reset and the process starts all over again. Due to the fact machines are linked, it doesn't take too long for them to reach astronomical jackpot numbers.
So, take Croco's advice and play progressive slots jackpots whenever you have the chance. Sure, the major jackpot isn't something that you'll hear about going off every second day, but you've got to be in it to win it…
Redeem your weekly $100 CrocoBoost ⚡
Searching for the best deal in the Land of PlayCroco? Perhaps our CrocoBoost will be the offer that changes your life.  
Because we all need a little pick me up once in a while. Maybe you've had a long week at work. Perhaps you've just had some rough news. Or maybe you've simply come home and seen that the dog has swallowed the remote control. Either way, there are things out there that can rip your proverbial undies, which makes the CrocoBoost all the more welcoming.
To get your CrocoBoost, we don't ask much. Just login to your PlayCroco account, make a deposit and let us do the heavy lifting.
Oh… and don't forget to use the coupon code provided when you do make that deposit. Without it, your deposit won't be recognised as being valid for our CrocoBoost offer, which will be a biiiig bummer.
Take advantage of our loyalty program 👑
Every online casino has a loyalty program, but most of these are cookie cutter corporate-speak crap if you ask us. Our loyalty program, on the other hand, takes you on a magical journey through 4 different loyalty levels…
You begin as a wee little BabyCroco with big eyes and shallow pockets. You then progress up the lady to become a radical JuniorCroco, before going on to SuperCroco and finally RoyalCroco.
How you progress is by being a faithful PlayCroco punter, with each new level giving you access to a wide range of perks, such as: 
Up to 40% cashback
Premium customer support
Daily bonus with free spins
Increased weekly withdrawal limit ($10,000)
Dedicated VIP host
Use different payment methods to claim deposit bonuses 🏦
Finally, our last tip for how to win big at online casinos is to grab those deposit method bonuses while they last. These are bonuses applied to any deposit you make using specific deposit methods. So, for instance, if you deposit using CashtoCode, you'll get a certain bonus. Likewise, if you deposit with eZeeWallet.
Unbelievable, right? Who knew that online casinos would reward you for using a certain deposit method. Well, we do at PlayCroco and based on feedback, punters love them more than a hungry bloke loves a hot dinner.
So, now that you've finished this article, we reckon you're ready to join the big spinners and the big hitters in our online casino. 
Consider yourself graduated from the school of Croco… an institution of learning where everyone gets an A+.

More articles 📗

👉 Create your PlayCroco casino account for FREE today:
If you don't have an account create yours here.
Click on the "Coupon" button if you're using a mobile device or head to Cashier if you're using your computer
Redeem your welcome bonus: coupon PLAYCROCO - 200% bonus up to $5000
Grab your free $50 treat: coupon PLAYCOOL
Start playing and have fun!