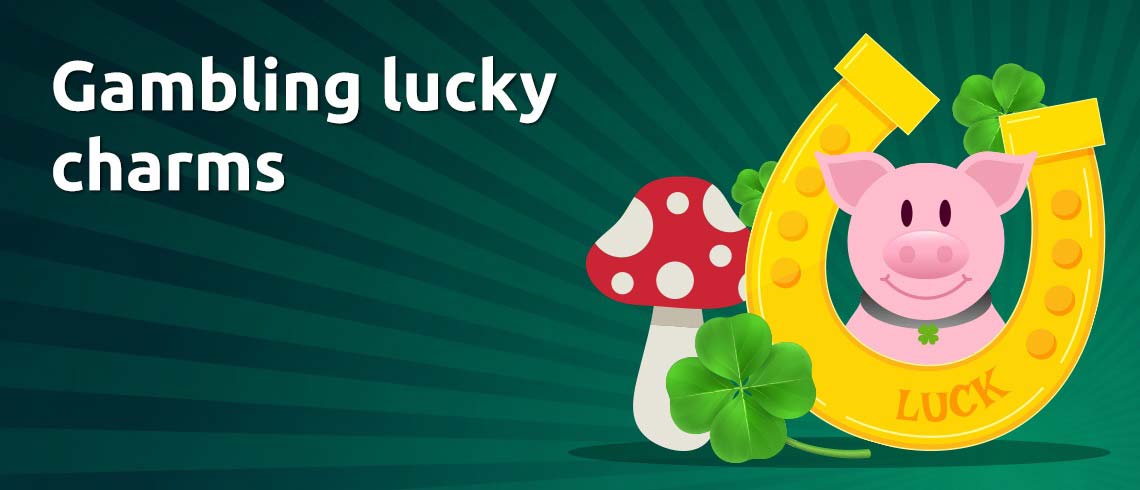 If there's one thing that a gambler always needs, it's luck. Here's a list of the top online gambling lucky charms that you can use to increase your winning odds. 
From a lucky rabbit's foot to red clothing and even a fish scale, these items have been used by different cultures from around the world as a way to win BIG. So, in addition to the many bonuses and promotions that Croco runs, consider grabbing one of these lucky charms too. 
Who knows?
A four-leaf clover or laughing buddha statue might just be the X factor you need.
Alligator teeth 🦷
Ok, so we'll start with the gnarliest online pokie lucky charm - alligator teeth. Now, as you'll recall, Croco isn't a big fan of his mortal enemy the alligator. That being said, he wouldn't wish tooth removal on any animal… even those evil gators.
Apparently in American folklore though, alligator teeth are a lucky charm that can be used in an online casino. Plus, in addition to giving you an extra hit of gambling confidence, they also look pretty badass draped around your neck.
Just ask Croco's other foe, Crocodile Dundee.
Rabbit's Foot 🐇
The animal theme continues with our next online slots lucky charm. This time, however, we're going a bit further south on the animal in question and instead using its foot.
Yes, that's right. The lucky rabbit's foot is an iconic lucky charm for the sole (get it?) reason that it actually works. Of course, Croco heard that from a friend who knows a rabbit who knows another hare, but the sentiment remains.
Rabbit's feet are said to bring luck to all areas of your life and not just gambling. A belief that's said to have its roots in ancient pagan cultures who thought that a rabbit's foot can protect one from evil.
Then again, it doesn't make a lot of sense. Surely any rabbit missing his foot isn't that lucky.
Horseshoe 🐎
Regarded as being one of the most iconic and most powerful lucky charms within the online slots industry, the horseshoe is synonymous with stories of good fortune.
The history of this lucky icon goes back to ancient times. According to experts, the origin of the horseshoe as a lucky charm was started by Saint Dunstan. It's said that instead of nailing a horseshoe to the devil's horse, he instead nailed it to the devil's hoof. Both the devil and Saint Dunstan then made a pact that the devil wouldn't bother anyone with a horseshoe nailed to their front door.
Once word of this promise got out, people went gaga for horseshoes. They stole, borrowed and bought them whenever they could and proceeded to hang horseshoes above their doors.
The catch here is that you can only protect yourself from the devil if you hang the horseshoe pointing upwards so that it forms a "U" shape and collects good luck. Turning it downwards, on the other hand, is the folklore equivalent of pouring your fortune onto the ground.
After horseshoe mania passed, people began to use the horseshoe as a good luck-bringer for other aspects of their lives. They would affix them to their carts and even hang them about their beds (cheeky buggers). Most of all though, they'd make sure there was a horseshoe present when they were having a punt.
These days, a horseshoe is still considered to be a good lucky symbol. So, if you're hunting for a life changing PlayCroco win, here's a tip: make sure you've got a horseshoe handy (and be certain that it forms a "U" shape).
The Cat's Eye Gem 👁️
The Cat's Eye Gem is an incredibly popular lucky charm for punters. It's also a talisman that can ward off ghosts, evil spirits and other bad juju.
It's known as a cat's eye simply because the gemstone looks like a cat's eye when viewed up close. So, if you want to win money instead of watching it disappear, make sure you put a cat's eye amulet in your pocket the next time you're gambling.
Red clothing 👗
In Chinese culture, red is the symbol for luck, wealth and fortune. That's why you might see red envelopes given at Chinese New Year or red gowns at weddings.
You might also notice that gamblers from China tend to wear a red item of clothing when they enter a casino. Presumably, they also rock something red when they're punting with an online casino too.
Either way, so long as they're wearing red, it's believed that they'll win a lot of money on online slots or table games. Although you might find it hard to spot that red item of clothing.
Turns out, most gamblers choose to wear red underpants.
Tumi 🗝️
Ever heard of a tumi? Probably not.
That is, unless you've visited the beautiful South American nation of Peru. It's there you'll quickly learn that a tumi isn't a type of exotic ice-cream dessert. Instead, it's an ornate ceremonial axe that has been the national symbol of Peru since time immemorial.
Originally, it was used to perform religious sacrifices made by the Incans and even earlier cultures. It was even used in something called trepanation, which involved surgery whereby a part of the person's skull was removed. Yikes.
These days, however, the tumi is used as a good luck charm for everyday life, land-based casinos and online casinos. People will wear a small tumi necklace or carry it with them. Others will hang a proper tumi on the wall of their home.
As a genuine luck-bringer, having a tumi is a must in Peru. We just hope you don't use it for impromptu surgery.
Carp scale 🐟
What is it with animals and good luck symbols you ask? We're not exactly sure. All we can say is that for this good luck charm, we're glad people don't need to pull teeth or take a whole foot.
In saying that, you do need to pluck a scale from a fish. More specifically, you need to take it from a carp. This legend is popular in Poland, but other central European cultures also believe that a carp scale brings luck. How does one acquire a carp scale though?
In Poland, carp is a traditional Christmas dinner entrée. The carp will be cooked and eaten and the scales will be saved in a wallet or somewhere nearby in order to bring good fortune for the remainder of the year.
This custom is widely practiced in Poland. However, in earlier times, families would actually let the carp live in their bathtub until it was time for dinner (much like other families do with pigs or cattle… except in pens and fields, no bathtubs).
Laughing Buddha 🧧
Hotai or Pu-Tai as the laughing buddha is called in Chinese is actually a monk that can bring wealth and prosperity to anyone who has his likeness.
For example, putting a laughing buddha statue in your home will bring fortune to the house. Conversely, eating lots of rice, shaving your head and walking around with your pot belly poking through your shirt will just make you look like a laughing buddha. Don't do that.
Instead, get yourself a laughing buddha totem and rub his belly for good luck. Remember, get one that has gold or gold nuggets in his hand too - that brings additional joy and fortune.
Hamsa Hand 🧿
A well-known Middle Eastern and even Western cultural symbol, the Hamsa hand or Hamsa charm is a protective mark that can bring good luck and safety to those who obtain it.
It's depicted as an open palm with an eye in the middle, which gives it the power to counterbalance the effects of the evil eye. In Jewish culture, the hand is a metaphor for god's hand and the five books that make up the Torah.
Four-leaf Clover 🍀
Finally, the last symbol of fortune for online slots, online pokies and other online gambling games is the four-leaf clover.
Historically, the four-leaf clover was linked to the Irish, but given that the Irish diaspora extends to just about every nation on earth, it's become synonymous with good fortune around the world.
Like the horseshoe, it gets its reputation from a saint - Saint Patrick. As the story goes, the three-leaf clover is associated with The God, The Son, and The Holy Spirit. If you find a clover with a fourth leaf though, it's said to represent god's grace and it's therefore deemed lucky.
There is a catch. Since practically all clovers you find will have three leaves, finding a four or even five-leaf clover is extremely rare. In fact, the estimated odds of finding a four-leaf clover on your first try is 10,000 to 1 and 1,000,000 to 1 if you're looking for a five-leaf clover.
So, perhaps finding one of these is luck enough?

More articles 📗

👉 Create your PlayCroco casino account for FREE today:
If you don't have an account create yours here.
Click on the "Coupon" button if you're using a mobile device or head to Cashier if you're using your computer
Redeem your welcome bonus: coupon PLAYCROCO - 200% bonus up to $5000
Grab your free $50 treat: coupon PLAYCOOL
Start playing and have fun!