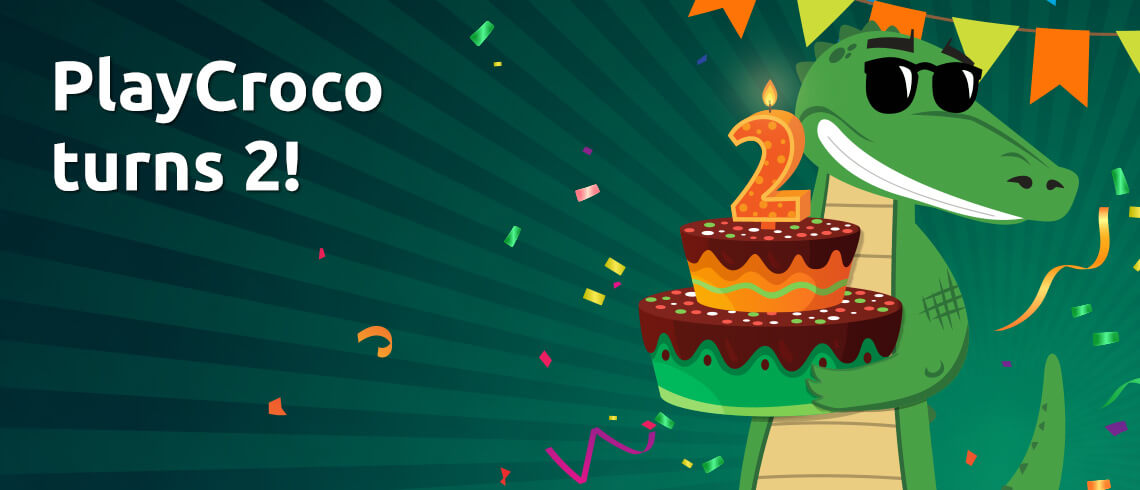 Two years ago, we set out to become the most awesome online casino in Australia and we're proud to say that we've (almost) accomplished that goal. We have excellent online pokies and online casino games, the most honest gambling environment and some of the most lucrative bonuses around.
Plus, PlayCroco is open to everyone - and we are waiting for you!
If you're not a member yet, now is the time to sign up and join all the fun. So come on over and celebrate with us - PlayCroco is the place to be for online pokies players in Australia and from around the planet.
Join the Birthday Bash tournament for FREE 💰
HUGE $10.000 PRIZE POOL
Join the Birthday Bash tournament today!
GET 2000 FREE CREDITS
2 years, 730 days, 17520 hours, 1051200 minutes of real online gaming and pure fun! It's always been a wild ride and we're here for more. Thank you for being part of the family and, if you haven't joined us yet, we can't wait to have you on board!
Bruce Fern - PlayCroco Casino Manager
$10 FREE CHIP
Try any game!
Coupon: 10FREE
Coupon can only be used

 

once.

 

Max cashout it $180. Valid for new players only.

What makes PlayCroco so successful? YOU 💚
If you ask us, there's really on one reason that PlayCroco has made it two long years: loyal punters just like you. Seriously, where would we be without our members? We'll tell you where... not here. That's because PlayCroco is an online casino made by punters, for punters. We have high paying pokies, deposit and no-deposit bonuses and an unwavering commitment to making your day better. 
Of course, there are heaps of other reasons why we've made it this far. So for the sake of this article, we're going to focus on PlayCroco's most enduring features over the last couple of years.
Oh... and if it sounds like we're bragging, it's because we are. While we're normally as humble as can be, we've just ticked over two years of helping punters from around the world have fun with their online casino gaming. If that's not worth celebrating, we don't know what is.
Here are a few of our favourite achievements.
Wildly popular online pokie tournaments 🏆
A few months ago, PlayCroco announced the launch of our online pokie tournaments. This was an Australian first and at the time, PlayCroco was the only casino site where you could play against other members and compete for lucrative cash prizes. Now there are more and more pokie tournaments popping up, but ours is for sure the most popular. Not only can you join some tournaments for free, but you can see where you stand on the PlayCroco leaderboard against other top players.
Better yet, our online pokie tournaments are always changing so there's always something new to sink your teeth into (literally). One week we might have a modest freeroll tournament while the next might involve a $5,000, $10,000 or even higher prize pool. Who knows?
The fact that every tournament is different and that you can play on both mobile and desktop platforms is what gives our tournaments the edge. So what are you waiting for? Get stuck into the PlayCroco pokie tournament action today.
Over 5,000 positive casino reviews ✍🏻
Like we said earlier... we're not all for bragging, but when you run an online casino for two years and earn over 5,000 positive casino reviews, who can blame us? In all honesty though, this feat is one that we're immensely proud of. It confirms that PlayCroco is a beloved online casino, but it also goes to show that we're legit.
This is especially important considering some of the horror stories you hear about other casinos. We won't go into them, but let's just say that they act more like alligators than crocodiles. But enough about other online casinos. We're here to talk about all those positive reviews.
If you want to read them for yourself, go ahead. They've been written by happy punters from all over the world. But, if you're short on time, we've summarised a few of our favourites below:
"I have been with PlayCroco for a while now and I absolutely love it! The games are great and the customer service is outstanding." 
Darren - Australia
"I have never had any problems at PlayCroco. They always pay out my winnings and they have a great selection of games."
Monica - USA
"I am glad I joined PlayCroco as soon as they launched in 2020. They're one of the best online casinos I've ever played at and makes me come back all the time!"
Sasha - UK
So, there you have it. If you're looking for an online casino that's fun, trustworthy and cherished by punters from all over the world, PlayCroco is the one for you.
Continued to deliver new online pokies and slots monthly 🎰
Another accomplishment that we want to highlight is our ability to continually deliver top-rated online pokies month after month. From games such as Cash Bandits 3 to Pulsar, T-Rex II, Cleopatra's Gold and Enchanted Garden II, PlayCroco is constantly giving players more reasons to celebrate. But we don't rest on our laurels.
Instead, we're always on the lookout for new and exciting casino games to add to our collection, so you can be sure that there's always something new to try when you log in.
Everything is on the table and we test each new game before it's released. This way you can rest assured that only the best of the best make it onto our site. So if you get bored quickly or are always looking for new challenges, PlayCroco is the perfect online casino for you.
You'll never be left twiddling your thumbs, nor will you feel the need to have multiple accounts just to experience a wide range of great games. PlayCroco has everything you need.
Upgraded layout with next-gen performance 📱
How many times have you logged into an online casino only to be disappointed by the dated layout? We see it time and time again and it really bums us out. The good news is that here at PlayCroco, we've been working hard on our site design and the performance of our mobile and desktop browsers, and we think we've finally delivered an updated platform that looks amazing and runs smoothly.
The result? No more lagging. No more freezing. Just fast-paced fun. That's the way it should be. So whether you're playing from your desktop or mobile device, you can enjoy the PlayCroco experience without any interruptions.
It's only going to get better too given that we're always on the hunt for ways to improve your punting experience.
Heaps of happy winner stories 😍
Besides an extra snappy fish sandwich, there's nothing Croco loves more than seeing his mates win big on our online pokies and casino games. In fact, he loves them so much that he's put together a whole page dedicated to PlayCroco winner stories.
You can check it out for yourself and see if your name is up in lights. If not though, don't worry. We're always receiving winner stories from excited punters, so you'll always have something to read when you need the inspiration to play. In saying that, we thought we share a couple of awesome winner stories below.
The first is about a PlayCroco casino player who goes by the name of D. Gannon. He was recently celebrating after winning an impressive $86,000 on a single spin while playing the popular Cash Bandits 3 online pokie game.
Smith, who is originally from Newcastle in Australia, said he was "absolutely gobsmacked" when his winnings popped up on the screen. "I just couldn't believe it," he said. "I was shaking like a leaf".
The best part of this story is that Mr Gannon is a vintage car collector, so he plans on using his PlayCroco winnings to buy an "old school V12 muscle car". Not a bad way to spend $86,000 if you ask us.
The second story is about a PlayCroco player known as Matthew L.. He was also celebrating recently after hitting the jackpot on Shopping Spree II and taking home a whopping $180,311 in winnings. Matt, who was happy for us to use his first name, said he was "over the moon" with his PlayCroco windfall.
"I'm still in shock," he said. "It's life-changing". According to Matt, he will spend his winnings on something that he calls "quite weird". Without going into too much detail, he's apparently going to purchase a brand-new fridge, a PlayStation console and... a pet kangaroo. 
We're not sure why he wants a pet kangaroo, but each to their own we say. Perhaps Matt is just a big fan of Skippy the Bush Kangaroo?
Daily perks including free spins, deposit bonuses and no-deposit bonuses 🎁
Over the last two years, we've made a name for ourselves as an online casino that offers daily bonuses and promotions. From free spins to exclusive prizes and themed promotions with countless opportunities to haul in eye-popping wins, we've got it all.
For example, you could get 40% cashback on busted deposits, a $50 free no-deposit bonus simply by joining PlayCroco or daily free CrocoSpins with the number of spins awarded varying from day to day (you know... just to keep things interesting).
These daily perks are one of the reasons why thousands of online casino enthusiasts from all over the world have made PlayCroco their home. It's also the reason why we have so many winners at PlayCroco.
So if you're looking for an online casino that gives more than it takes, you're in the right place. Sign up today and take advantage of our daily bonuses and promotions. We've got something for everyone at PlayCroco - where the fun never stops.
Outstanding VIP loyalty rewards program 👑
It's no secret that every online casino has some sort of loyalty program these days. But PlayCroco's is different, and definitely one of the best in Australia. Here's how it works: you start as a BabyCroco, and then move up through the ranks to JuniorCroco, SuperCroco and finally RoyalCroco. The higher you climb, the more no-deposit bonus codes, free spins and secret perks you unlock. Easy to understand, no?
The cool thing about our loyalty program though is that it's not just about the rewards. It's also a great way to build your online punting confidence and feel cited for your efforts. After all, didn't we say at the very top of this article that you're the reason why we've made it this far?
At the end of the day, we want you to have fun and feel like a valued member of our PlayCroco family, and our loyalty program is one way we can show you just how much we appreciate your support.
Cutting edge deposit methods and cryto options 💳
In addition to the most prompt and efficient withdrawal methods in the industry, PlayCroco is fast becoming famous for our cutting edge deposit methods. We've got all the old favourites like Visa, MasterCard and POLi, but we're always looking for new ways to make your life easier.
Take NeoSurf for example: it's a simple, secure way to make online payments without using a bank account or credit card. All you need is a NeoSurf code, which you can easily purchase from any participating newsagent or corner store.
But that's not all! PlayCroco is also one of the first Australian online casinos to offer Bitcoin as a deposit method. That's right: you can now use the world's most popular cryptocurrency to top up your account.
In total, we have over 10 different deposit methods available, so you're sure to find one that suits your needs. If you're not sure how to use a particular deposit method or you'd like to request a new one, let us know.
As you'll find out in the next section, we're more than happy to help.
Award-winning customer service ☎️
Last but certainly not least, we're immensely proud of our PlayCroco customer support team. They've been recognised as the best in the industry, and they're always willing to go above and beyond to help with any enquiries you might have. Whether it's day or night, early morning or in the middle of your picnic lunch, our legendary customer support team are always available to help.
Don't just take our word for it though. If you have a query, reach out. We promise to get back to you as soon as possible and help you in any way we can. We hope you've enjoyed this celebratory article about PlayCroco - the best online casino in Oz.
We're proud to have been around for two years now, and we want to thank each and every one of our players for their support. Our goal has always been to provide a fun, fair and lucrative gambling environment, and we believe that we've accomplished that. Of course, we'd love to hear from you. If you have any suggestions or feedback, please don't hesitate to get in touch.

More articles 📗

👉 Create your PlayCroco casino account for FREE today:
If you don't have an account create yours here.
Click on the "Coupon" button if you're using a mobile device or head to Cashier if you're using your computer
Redeem your welcome bonus: coupon PLAYCROCO - 200% bonus up to $5000
Grab your free $50 treat: coupon PLAYCOOL
Start playing and have fun!