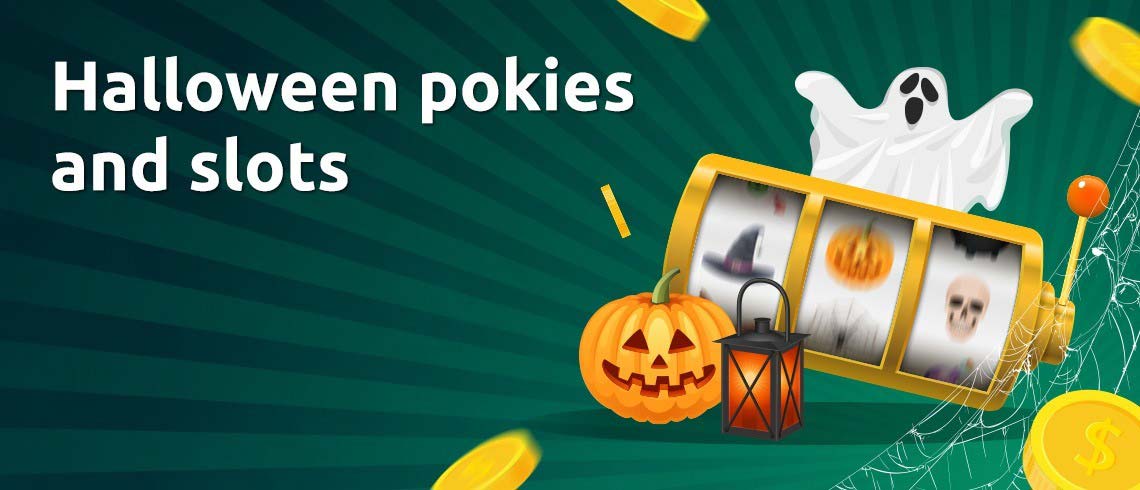 Knock, knock! It's Croco and his gang of popular Halloween pokies and slots. Will you answer the door?
We bloody-well hope so! Because we've got an absolute bonzer blog article for you today. In fact, it's so bonzer that it may just blow all of our other Halloween-themed articles out of the water. So what's all the fuss? Well in lieu of the upcoming spooky season, we're discussing our fang-tastic Halloween online pokies and slots that qualify as free to play casino games!
This blog post is so Halloween it makes Michael Myers and IT look like Bert and Ernie. Just joking… it's not that scary, it's actually quite boo-tiful👻. Don't worry, it wont be all black cats and blood suckers. It's actually trembling with handy information, we've even put a few Halloween pokies under the microscope just for you. You'll find out about all the free spins bonus rounds, special symbols, wild symbols and bonus features that these Halloween slot games offer.
So get ready for a frighteningly informative post from your main reptile Croco! Oh… and if you're looking for a terrifying costume idea this year, we suggest going as someone with an enormous PlayCroco balance (although after reading this post and playing a Halloween fortune slot, it won't just be a costume).
Halloween at PlayCroco casino 🎃
Boo! It's Halloween at PlayCroco - that special time of year when we scare up some epic prizes and a few equally as frightening online casino games. Just joking… our offerings are never frightening. They're friendly, with just a hint of devilish! We also don't believe in tricking you at PlayCroco. Instead, we prefer to reward you with treats. Come to think of it… what exactly is Halloween?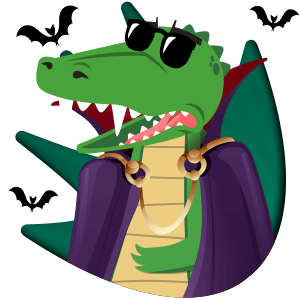 What is Halloween? 👻
Halloween is a holiday that's celebrated around the world every year on October 31st. Like many holidays, Halloween has a long and interesting history. It started out as a Celtic festival called Samhain that was pretty much just a massive party (that Croco would have loved), complete with bonfires and costumes which were thought to ward off evil spirits.
Then Pope Gregory III came along and made November 1st a day for us to honour all saints. Before long, both Samhain and this new date kinda combined into something called All Saints Day. The evening before All Saints Day was then coined All Hallows Eve… later shortened to (yep… you guessed it) Halloween.
Since these heady days of bonfires and Popes called Gregory, Halloween has transformed into a more commercial religious holiday. There's trick or treating, festive parties, costumes and jack-o-lanterns – all of which have their roots in ancient traditions.
What makes a good Halloween pokie? 🔮
That's a good question. Some will say a good Halloween slot game needs to send shivers up your spine with creepy animations! Others will swear black and blue that a fun-to-play Halloween slot should offer more treats (something as enchanting as our welcome bonus) than tricks. We reckon that the best Halloween slots that you can find at online casinos give you a bit of everything - from excellent bonus spins and an epic bonus game to spooky themes and thrilling sound effects just to keep you on your toes!
Superstitions surrounding online pokies gambling and Halloween 🐞
One thing we will point out is that Halloween slots always have superstitions around playing them! Did you know that? If not, it's ok. Now is the perfect place to learn more about these superstitions!
The first is that you should only play Halloween pokies while wearing red underwear. This superstition stems from China, where red is considered to be a lucky colour. Of course, you can also substitute the underwear for a red t-shirt or a red dress. But there's just something about rocking red underwear that Croco loves!
The second superstition regarding Halloween slots is that you should never bet the same amount more than 6 times in a row. As you probably know, 6 is a very… errr… ungodly number. So when playing a Halloween-themed title, you need to change up your bets! Go big, go low. Do whatever you need to do. As long as you don't throw 6 spins with the same amount, you'll be sa-weet!
Our final Halloween casino games superstition involves mobile devices and costumes. Guys… hear us out! If you're going as a werewolf, a goblin or any other *monster that has claws, you're going to have a hard time hitting the buttons on your phone. Trust us… Croco sometimes breaks down in tears when he can't claim a new game bonus due to his talons. 
*Incredible Hulk costumes are also a no go given that they would require you to wear Incredible Hulk sized hand gloves. Think people… think!
Top 3 best payout Halloween pokies ever 🤑
With these superstitions in mind, let's dive into the top 3 best payout Halloween pokies ever! Eerie, alarming but oh so rewarding, these popular Halloween slots will give you the heebie jeebies (and some cash). So don't look away in terror. Stare these terribly terrific real cash pokies directly in the eyes and prepare yourself for wins that go bump in the night!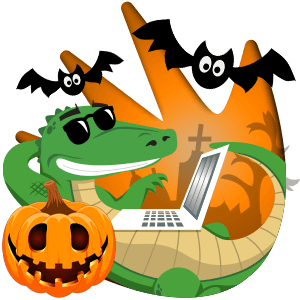 Bubble Bubble 2
Remember Winni the Witch? Yeah… everyone does. The witch with a wand and those curves that don't quit! But there's more to Winni than just racy black dresses. This sultry sorceress is the female lead in Bubble Bubble 2 alongside her seductive sister Wanda the Witch.
Back once again after the huge success of its predecessor, the 50-payline game Bubble Bubble 2 will turn you into a pokie win worshipper! There's a 50,000-coin top award plus THREE bonus rounds for you to trigger that can offer up 33 free spins, prizes worth x100 and expanding wilds!
Of course, there's more to this wonderfully witchy title than just big wins and petrifying payouts! Discover for yourself all that the Halloween-pokie Bubble Bubble 2 has to offer by playing it today!
Halloween Treasures
Dressing up for Halloween is super fun because you can cut loose in a different costume or play pretend for an entire night. Pirates, witches, zombies and mummys are all popular… and for good reason! These characters are normally really scary, but in Halloween Treasures… they're really quite generous!
You can see them all for yourself on the 243-AWP pokie Halloween Treasures. They'll be hiding around dark corners just waiting to jump out and reward you. There's a Mini, Minor and Major jackpot PLUS a Grand jackpot that could just change your life.
If that's not enough though, there are x5 multipliers, a retriggerable free game bonus round and heaps of spooky action! So don't let the word "Halloween" frighten you away. Focus on the "Treasures" part of its title and you're guaranteed to reap the prizes.
Witches Brew
Ever walk past a house and wonder to yourself what that person is cooking? Well, in Witches Brew, you can bet your bottom dollar that the only thing cooking is big prizes! To see for yourself what she's prepping, simply give this 25-payline pokie a run today.
The Witch and the Dragon Wilds can double payouts and matching wilds on reels 2, 3 and 4 can lock in place to deliver multipliers worth up to x10! What's more, the Goblin Blood scatter can pay individual prizes and trigger the bonus round, which offers 10 free spins, 25 free spins and 125 free spins depending on how many scatters appear.
Yep… this brew definitely isn't bitter, but it's up to you to have a taste test. Who knows? You might just emerge from Witches Brew dripping with cash!

More articles 📗

👉 Create your PlayCroco casino account for FREE today:
If you don't have an account create yours here.
Click on the "Coupon" button if you're using a mobile device or head to Cashier if you're using your computer
Redeem your welcome bonus: coupon PLAYCROCO - 200% bonus up to $5000
Grab your free $50 treat: coupon PLAYCOOL
Start playing and have fun!