Given that February is the month of all things online casino love related, we thought it would be the perfect time to launch our very own mobile pokies dating app.

Just when you thought you already loved us (we were voted the best online casino of the year), along comes our Valentine's Day casino love promotion. Designed by none other than our very own crocodilian Casanova, this promo is like a dating app for dashing blokes and damsels who want to pick a red-hot winner! So if you consider yourself a Romeo or a Juliette-esque romantic, you will love what's coming this Valentine's Day...

In this article, we give you all the information you need to fall in love with our online casino Valentine's Day promo. From how it works to which characters it involves and what type of special rewards you can win!

Get ready to have your heart set on fire. This casino love experience is better than any box of chocolates, bed of roses or candlelit dinner! This is your chance to prove once and for all that true love comes in the form of bonuses and free spins…

Before we begin though, let's get a bit of background info on Valentine's Day. After all… it's one of Crocos favourite days of the year. A day when he can slick his scales back and try to woo members just like you with heart achingly awesome prizes!

How to access this true blue casino love experience? 🎁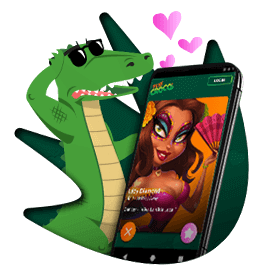 Ready to date our different mobile pokie characters? Want to know more? Here's how to join our mobile dating app for pokie lovers and claim your bonuses:
Go to the Valentine's Day mobile pokies dating app
Swipe left or swipe right and pick your your favourike pokie character to go on a CrocoDate!
Get your casino love coupon code
Head to the cashier
Enjoy your Valentine's Day casino love experience!

What is Valentine's Day? 💐
Celebrated on February 14th every year, Valentine's Day (or Saint Valentine's Day) is a day when people send cards to their secret crushes, show affection for people in their life and exchange messages of love. In short, it's the day when we can confess our love for one another… or your love for our favourite and best online casino: PlayCroco!
How did Valentine's Day begin? 💌
Valentine's Day didn't begin when the very first Croco sent a romantic card to his love interest! Instead, it started with a Roman festival called Lupercalia that was held in the middle of February and coincided with the start of springtime…
One of the things that people did during this celebration was draw names from a box (presumably a love heart shaped one). Boys would pick from the girl's box and they'd be partnered up during the festival, with the hope that they would go on to marry!
As the festival evolved, the church turned it into a Christian celebration that would remember Saint Valentine as well. Eventually it transformed into a day for people to share their feelings about the people that they loved!
Who was Saint Valentine? 😇
Saint Valentine wasn't a little angel or a cherub, but rather he was a priest in Rome during the 3rd Century AD who secretly married Roman soldiers. We say secretly because at this time, Emperor Claudius II had banned marriage due to the belief that married men made terrible soldiers. When the Emperor found out that Saint Valentine was doing sneaky ceremonies on the side, he imprisoned Valentine and sentenced him to execution on the 14th of February.
A bummer for him… but maybe it was a win for us, casino love avid blokes and sheilas. Thanks, Saint Valentine!

What are some awesome Valentine's Day gifts? 💝
Valentine's Day is a day for many things. As we said earlier… you might get chocolates, roses or (if you're lucky) a romantic dinner at a swanky restaurant. Of course these are just some of the more common Valentine's Day gifts that lovers give to each other. There are actually plenty of other goodies that you could get your prince or princess, such as:
A romantic getaway to a dreamy spot
A home cooked meal
Breakfast in bed
Free spins or a cheeky bonus on the top PlayCroco romantic pokies
A shopping spree at his/her favourite shop
Back massage (always a winner)
Play a boardgame
Go on a hike or a trip to the beach
Whatever you do decide, just remember that your gift doesn't have to be expensive. Your partner or love interest will appreciate the thought more than the actual physical present anyway. Unless you get them a brand-new sports car. Then they'll most likely appreciate that the most!
Do we offer Valentine's Day bonus codes? 💰
At PlayCroco, we recognise February 14th as the perfect day to launch a casino love Valentine's Day promotion… along with some pretty beautiful bonus offers. So to answer the question, "yes", we do offer casino love Valentine's Day bonus codes. Just keep an eye on our promotions page and of course, on your casino inbox!
In the meantime, you can still claim a bunch of our other promotions and bonus offers. Some of the ones that we recommend combining with this Valentine's Day promotion include:
Pokie of the Month
New game bonus
CrocoWeekend
CrocoSpins - daily FREE spins!
Daily Cashback
Weekly CrocoBoost
Lucky Loco Draw
Secret Deals
How does our casino love Valentine's Day promo work? 🎰
Essentially our Valentine's Day promotion is like Tinder for online casino love characters… except without the sleazy pick-up lines!
All you have to do is login to your PlayCroco account and navigate to our Valentine's Day promotion page… once there you'll be presented with a screen that has a bunch of popular different pokie characters.
Each casino love character comes with their own bonus offer and a short funny description. If you like the look of the character in question and/or the bonus offer, you can take them on a date and claim said offer!
If you think the character looks like the south end of a north bound crocodile, you can simply swipe past them and look for something better. Because you know what they say… the grass is always greener on the other side (wait… is that how that saying goes).
Which characters will appear on our casino love mobile pokies dating app? 🔥
If you're wondering which characters you will be choosing from, well wonder know more. The lucky men and women who get to share a candlelit bonus with you are:
The crafty yet wealthy burglar from Cash Bandits 2
That stone-studded senorita from Diamond Fiesta
The thunderous Thor from Asgard
That wonderfully wicked witch from Bubble Bubble 2
That feisty beauty Freya also from Asgard
Plus many more...
Remember that if the sparks don't fly when you see a particular casino love character and bonus code, you can simply swipe your screen left or right or click and move them on. At the end of the day, you get to choose who you date!
So there you have it folks! Our comprehensive Valentine's Day casino love promo rundown.
On behalf of the many loved up PlayCroco team members, we wish you a long and lovely month of big romantic gestures (and even bigger wins)! May your Valentine's Day be full of roses, chocolates and most of all… casino love payouts!

💝 15 FREE SPINS 💝
Login to your account here.
Click on the "Coupon" button if you're using a mobile device or head to Cashier if you're using your computer
Type your bonus:

CASINOLOVE

- Offers 15 FREE SPINS on Eternal Love

if you've deposited in the last 3 months

Start playing and get ready to fall in love!
Please note: free spins apply to Eternal Love only. Coupon can only be redeemed if customers made a successful deposit in the last 3 months. This coupon carries a max cashout of $180 and can only be used once. Coupon balance expires within 7 days from redemption. This coupon expires on Monday 8th Feb.
👉 Don't have an account yet? Create yours today:
If you don't have an account create your account today
Click on the "Coupon" button if you're using a mobile device or head to Cashier if you're using your computer
Redeem your welcome bonus: coupon PLAYCROCO - 200% bonus up to $5000
Grab your free $50 treat: coupon PLAYCOOL
Start playing and have fun!