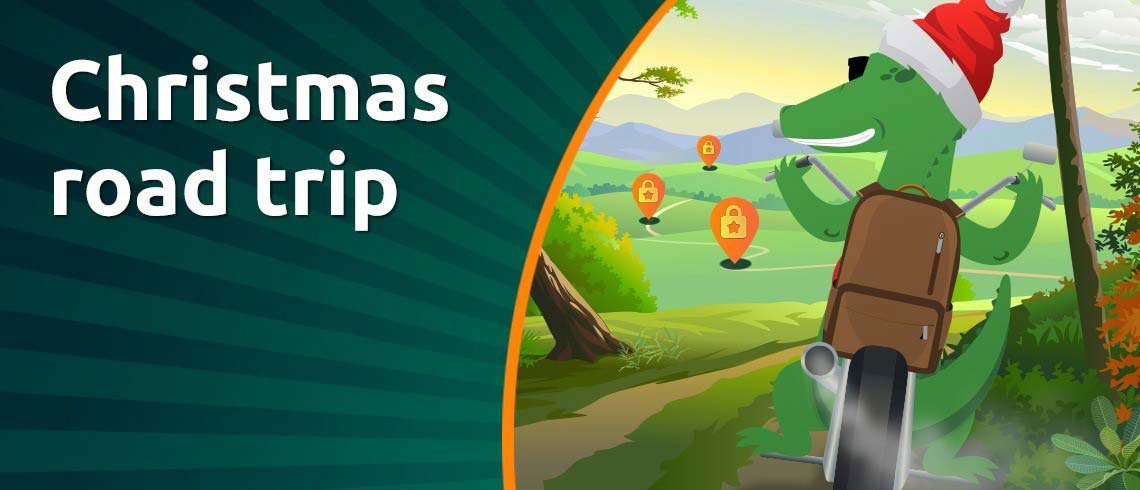 This Christmas, Croco will embark on an absolutely awesome road trip through Australia! Starting on December 1st, Croco will be visiting a total of 26 fabulously beautiful and unbelievably interesting places around Oz and most certainly he will stop right where you live!
Will he come to your hood? There's only one way to find out! Join Croco on his road trip from December 1st and discover for yourself where he visits. We promise that all those who follow Croco will be handsomely rewarded…
How does Croco's Xmas road trip work? 🛵
Croco's Xmas road trip is all about giving Croco some time off after a busy year rewarding punters like yourself. That being said, he'll still be giving you rewards as he stops from place to place. So how does it all work? Simple: 
Croco departs from Perth 1st December
He then travels to different locations around Australia
Croco will finish the road trip on 26th December - right in time for Christmas!
That's 26 stops in total. He'll explore these stops, give you a report of what he's doing and detail any bumps in the road (of which there's sure to be a few). Better yet, each stop will come with a Christmas treat that you can't say no...
Can everyone take part in our Xmas road trip? 🧳
Of course! We don't want to exclude anyone, so as long as you meet the criteria below… you can join our Christmas road trip. 
You have a PlayCroco casino account - Sign up now for FREE! 
If you meet all these criteria, then you're ready to hang with Croco while he's on the road. So strap yourself in, PlayCroco punters. Croco will supply the fun and the online pokies. You just need to bring some snacks...
Your Croco travel checklist ✔️
Before you jump in the passenger seat, there are a few other things you need to bring besides snacks and your game. 
This isn't just a quick road trip down the coast after all. You're going to be joining our main man Croco on an almost month-long adventure! So to ensure that your mind, body and soul are ready, here's what we suggest doing: 
Make sure you have access to the internet or a good Wi-Fi connection. You can't claim PlayCroco bonuses if you ain't connected to the web!
Use your mobile device to check in on all 26 of Croco's stops (it's way more convenient than lugging a computer around with you)
Check in each and every day of his 26-stop tour of Australia! This way you can maximise the number of bonuses that you receive.
See if you can identify the place that Croco is stopping in. Pull up a map, consult an atlas or get yourself a spinning globe… following along is half the fun!
Every adventure has a few unexpected twists and turns… and Croco's is no different! So enjoying learning about Australia with everyone's favourite reptile. This most important thing is that you're entertained!
26 stops around Australia 🗺️
Australia is a mighty big place. Like… seriously big! Throw in the fact that most of the country is borderline inhospitable and that there are only 26 million people on a continent that's bigger than Europe and it feels all the more grand!
For this reason, Croco is going to be making plenty of stops on his trip from Perth to Melbourne. Not only will he visit all of the major cities in our fair land, but he'll also pull up stumps at a few lesser-known locations.
As mentioned earlier, Perth and Melbourne are definitely on the cards! Then there's Adelaide (or rad-elaide as Croco calls it), Darwin, Brisbane and Sydney. Unfortunately, Croco doesn't have time to reach Hobart on this trip.
The next time he sets off on an around the country adventure though, Hobart will be one of the first destinations that he visits!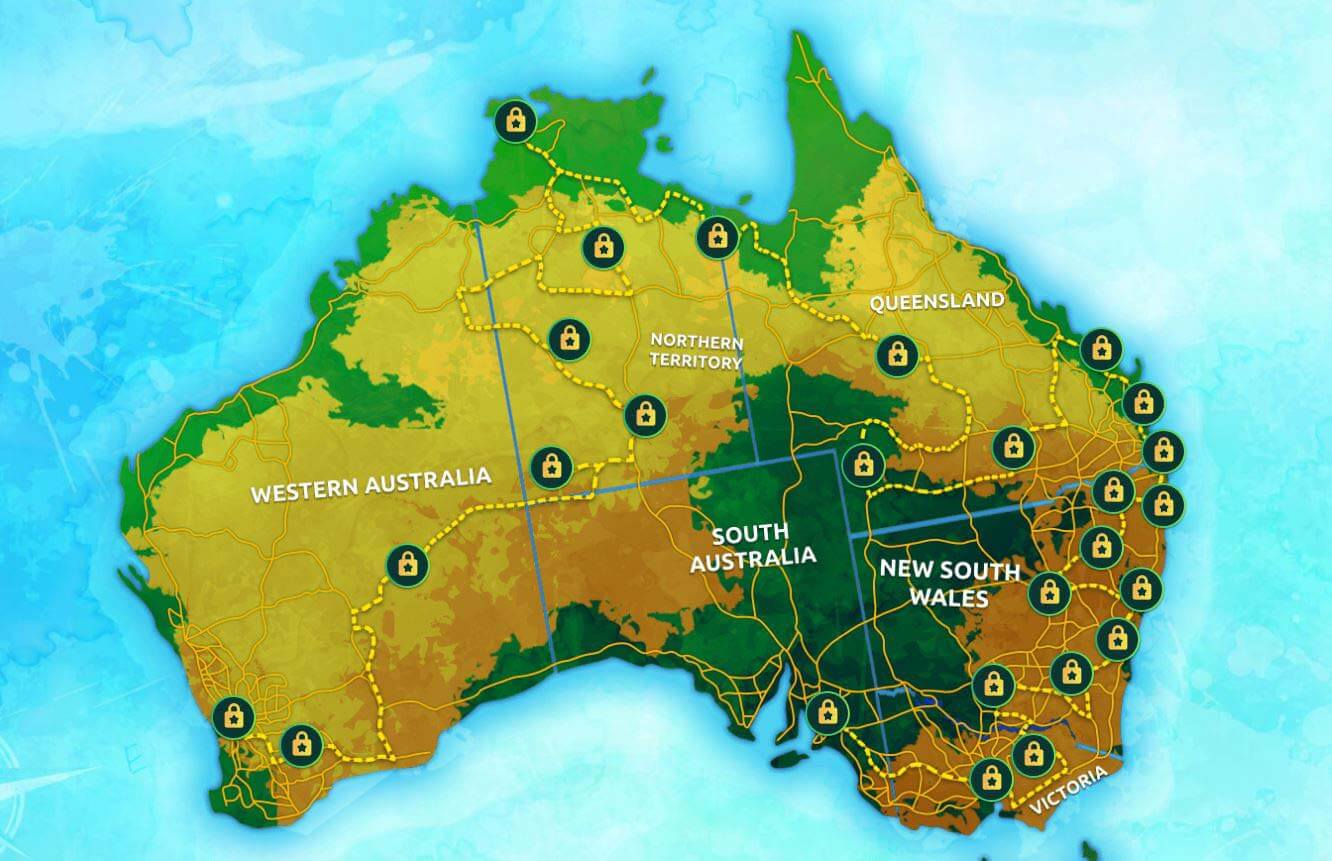 A cheeky Christmas bonus at every stop 📍
Some of these not so famous places you'll for sure know, others will be a little bit more obscure. Either way, there will be a tidy little PlayCroco bonus waiting for you at each stop. You just need to swipe right in order to discover where Croco is… then grab your goodie!
In terms of what these goodies look like, it will be different at every stop. Sometimes you'll pick up a deposit bonus, other times it might be free spins or free cash. What's important to note though is that all 26 stops will have an offer waiting for you! This means that there's a chance to grab 26 bonus treats. 
Now, we don't want to tell you something you already know… but 26 bonuses leading up to Xmas is huge! Especially so when you combine these offers with other daily bonus and no-deposit bonus offers that we currently host at PlayCroco online casino. It's like an on-the-road bonus bonanza… and you don't even need to handle the driving!
Croco is coming to a place near you ⏰
Croco's road trip is a celebration of our Sunburnt Country… but it's also a way for us to say thank you for being loyal PlayCroco punters in 2021!
Hopefully Croco will come to a place near you, whether that's a country town, coastal village or major city. If not, there's guaranteed to be more Croco-endorsed road trips to come, so stay tuned!
Don't forget either that after this trip is over, Croco is straight back into the business of releasing new online pokies, new casino bonuses and new promotions… so don't get lazy!
Croco isn't like Santa who only works once a year. Croco is busier than a one-legged man in a bum kicking contest 24/7, 365 days. This means that you can expect a bunch of special goodies coming your way in the next few weeks…

More articles 📗

👉 Create your PlayCroco casino account for FREE today:
If you don't have an account create yours here.
Click on the "Coupon" button if you're using a mobile device or head to Cashier if you're using your computer
Redeem your welcome bonus: coupon PLAYCROCO - 200% bonus up to $5000
Grab your free $50 treat: coupon PLAYCOOL
Start playing and have fun!