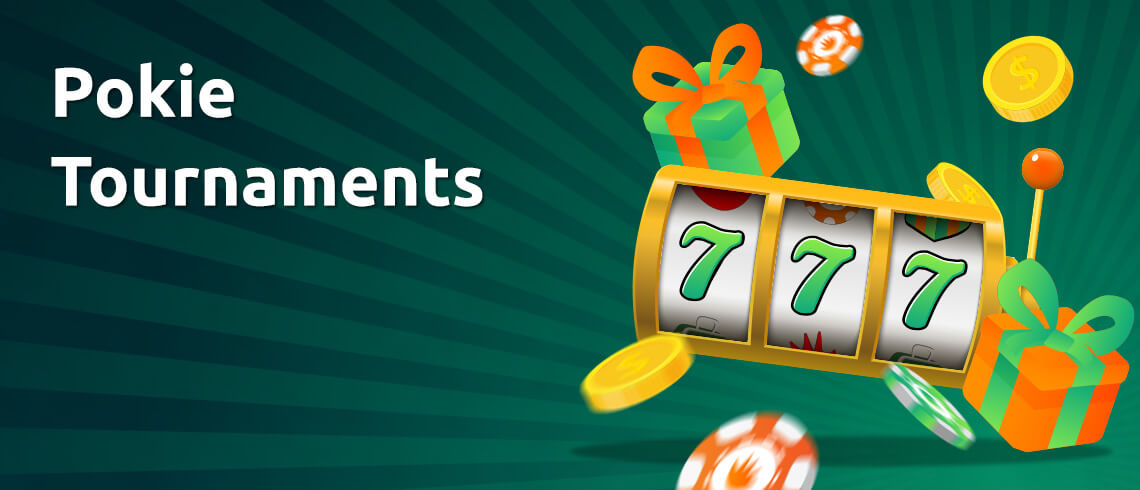 Enjoy the best free pokie tourmanets with massive prize pools at PlayCroco casino. Learn all about how to join completely for free and win real money every single day!
Looking for some pants-wetting excitement? Then PlayCroco pokie tournaments are the thing for you. Of course, you won't really wet your britches. But you will have a buttload of fun. 
After all, PlayCroco online casino is home to some of the best pokie tournaments around, and we're excited to tell you all about them. Our pokie tournaments are a lot of fun, and they come with some pretty real money sweet prizes. 
In this article, we're going to talk about what pokie tournaments are, how they work, and what kinds of prizes you can win. So keep reading to learn more.
Do I need to be a PlayCroco member to join a free pokie tournament?
Before we launch into the good stuff, we should address the crocodile in the room. That is, whether online casino fans who don't have a PlayCroco account can still enjoy winning BIG on our tournaments.
Look, to be honest, we love all casino punters. It doesn't matter who you are, where you're from or what you're wearing. We just want everyone to have a good time.
But alas, our pokies and slots tournaments are for PlayCroco members only. This might be a bummer for punters from other casinos, but there's actually a silver lining. That is, becoming a PlayCroco online casino member is super easy. 
In fact, it's easier than eating a big ol' plate of Croco's famous fish meal cookies (trust us, we've tried). Just follow the steps below to start your PlayCroco journey.
You won't regret it. 
Fill in the appropriate fields
Confirm your details
Congrats! You're now part of the family :)
$10 FREE CHIP
Try any pokie game!
Coupon: 10FREE
Coupon can only be used

 

once.

 

Max cashout it $180. Valid for new players only.

How do our free pokie tournaments work? 🛠️

Now that you've joined the PlayCroco ranks, it's time to learn more about our online pokie tournaments. 
Essentially, they're tournaments that we host at PlayCroco that allow you to compete against other punters for a major prize pool by playing various pokies. These tournaments can be played on both desktop and mobile devices and we have both weekly tournaments plus special tournaments.
To win this major prize pool, all you need to do is finish in the top spot on our tournament leaderboard. The higher up you are on this leaderboard, the bigger your share of the prize pool will be. In order to climb the leaderboard though, you'll need to play the featured pokie. With every spin on said pokie, you'll earn points. Simple, right? But wait, there's more.
When you first enter a pokie tournament you'll be given the chance to create an alias. The reason for this is so other players can't see your real name. After all, we want these slot machines tournaments to be fun, and nothing gets you in the mood to go bonkers like making up a cool or interesting name for yourself.
Lastly, you're awarded a certain amount of credits when you first join a pokie tournament. However, these credits are used as you spin the feature pokie. If you run out of credits, you can no longer play in the tournament… or so you might think.
Fortunately, we give you the option to buy more credits in the form of an Add-On, which allows you to continue playing. Then there's the Re-Buy feature, which also allows you to continue playing but you must start from scratch (your leaderboard points won't carry over). 
So to summarise, our online pokies and slots tournaments are: 
Held weekly and when there are certain events or special dates
Available to play on both desktop or mobile devices
Played with an alias instead of your real name
Freeroll and paid (with pay-to-enter tournaments having more lucrative prizes)
Winnable so long as you are at the top of the leaderboard
Endowed with humungous cash prizes
Why join our free pokie tournaments? 🏆
Everybody loves pokie tournaments because they offer a great opportunity to win big cash prizes. 
Players just like you can use free credits to enter the tournament, or you can purchase Add-Ons to continue playing. The top player on the leaderboard at the end of the tournament will take home the top prize... but there's so much more to pokie tournaments than just cash.
There's a social aspect to these tournaments. Plus, you also get access to cutting edge online pokies that aren't available anywhere else.
Throw in the fact that there are heaps of different tournaments to choose from plus free-to-enter tournaments and it's easy to see why your fellow members are falling in love with this style of online casino punting.
Play live against thousands of other online casino pokies players 🤑
There are many benefits to playing casino tournaments against other players. One of the most obvious advantages is that it's a great way to test your skills and see how you compare against other players. 
Australians are, after all, a very competitive bunch. That means we love nothing more than pitting our skills against others in the hope of coming out on top (or at least near the top). 
What's more, playing against other players gives us a chance to feel connected to our fellow members. Sure, you might not know them on a first-name basis, but you can at least enjoy the sensation of playing against other real people from all around the world. 
Finally, let's talk about the satisfaction of winning against other players. It's one thing to beat the pokies, but it's a whole other feeling altogether to come out victorious against your fellow man or woman. So if you're looking for some good old-fashioned competition, then you should definitely check out the pokie tournaments at PlayCroco online casino.
Immersive free pokie tournaments and slot machines 🎰
Pokie technology has come in leaps and bounds over the last two decades. From basic graphics and single reel gameplay to immersive storylines and features, pokies now have it all. 
Some pokies feel like video games, and with themes that borrow inspiration from movies such as Home Alone and Jurassic Park, it's not hard to see why. Better yet, PlayCroco has access to all the best pokies from world-leading developers.
This means you can enjoy pokies with the latest graphics, animations and sound effects while also benefitting from exciting gameplay features such as free spins, wild symbols, scatters and bonus rounds. In short, playing online pokies has never been more fun. 
Some high-paying online pokies that have been featured in our online pokie tournaments include: 
Cash Bandits 3
5 Wishes
Plentiful Treasure
Wild Hog Luau
Cai Hong
Halloween Treasures
Storm Lords
Trigger Happy
Asgard Deluxe
Bubble Bubble 3
Miami Jackpots
Enter online pokie tournaments for free on your mobile 📱
Everybody loves getting things for free. Whether it's a no-deposit bonus, free spins or something else, we all love to get our hands on some free stuff. And what could be better than joining an online pokie tournament for free? 
Well, maybe a free car or a free holiday, we'll admit. But if you play our online pokie tournaments for free and win the big prize, isn't that the next best thing?
We've got some amazing pokie tournaments lined up for you at PlayCroco online casino, with a range of different pokies to suit all tastes. And like we said, the best part is that you can join these pokie tournaments for free.
That means you needn't whip out your credit card to deposit, nor do you need to use any of our other awesome deposit methods. Just login to your PlayCroco account and start spinning those pokie reels.
Of course, if you want to purchase an Add-On or two to give yourself more chances to win, that's up to you. But we reckon our pokie tournaments are pretty darned good fun whether you win or lose.
High-paying online pokies in a safe and secure environment 🔒
Another reason why online pokie tournaments rule is that we make them both safe and secure for punters. This means you can try out some high-paying pokies with peace of mind knowing that your financial details aren't being shared. It also means that our pokies are fair - so you really are in with a chance of winning big. Because at PlayCroco, winning isn't everything. We want you to feel totally comfortable no matter how you enjoy our online pokies.
If you're worried about the safety of your sensitive data, worry no more.  PlayCroco uses the latest 128-bit SSL encryption technology to protect your details.
We also have a strict anti-fraud policy in place so you can play pokies to your heart's content without any concerns. Oh... and our pokies are regularly tested for legitimacy by independent auditors. So you can be sure that when you're playing at PlayCroco, you're playing in a secure and honest environment.
Win real cash that you can withdraw from PlayCroco online casino 💰
Of course, we can't talk about the benefits of playing online pokie tournaments without mentioning the big one: the fact you can win INSANE amounts of cash. 
This is the main reason people join pokie tournaments in the first place, and PlayCroco definitely doesn't disappoint. In fact, our pokie tournaments have some of the biggest prize pools you'll find at any online casino. Dare we say the biggest in Australia? 
Plus, when you combine the fact that our prize pools are massive with these other advantages, it's clear that pokie tournaments at PlayCroco are the ultimate way to win big. So what are you waiting for? 
We don't mean to be pushy, but seriously... hurry up and join a pokie tournament at PlayCroco today if you're looking for a chance to walk away as a genuine high roller. With our massive prize pools, you definitely won't be disappointed.
Not to mention, our pokie tournaments are also filled with excitement and suspense as you never know when you'll hit that big win.

More articles 📗

👉 Create your PlayCroco casino account for FREE today:
If you don't have an account create yours here.
Click on the "Coupon" button if you're using a mobile device or head to Cashier if you're using your computer
Redeem your welcome bonus: coupon PLAYCROCO - 200% bonus up to $5000
Grab your free $50 treat: coupon PLAYCOOL
Start playing and have fun!