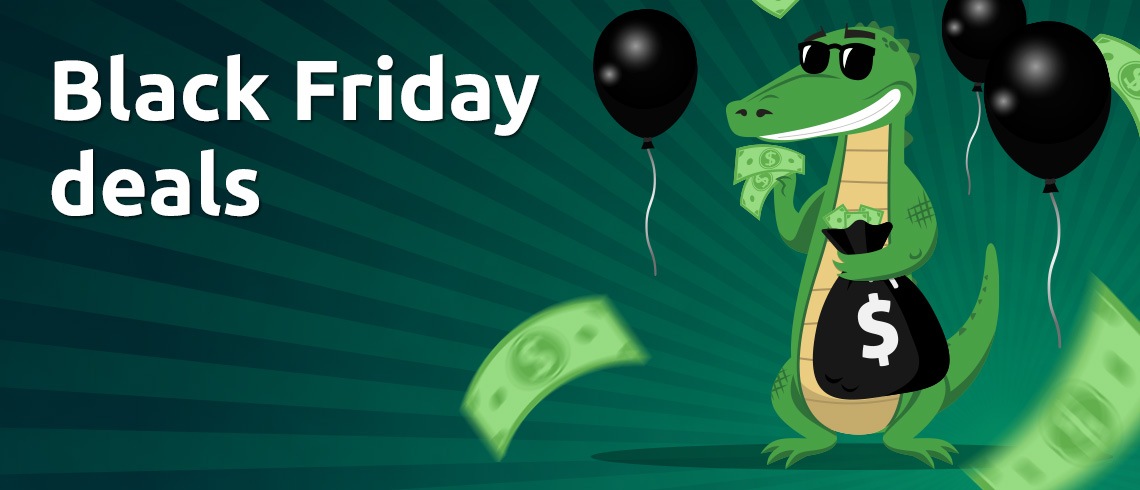 Black Friday isn't just for electronic stores and online clothing shops… it's for online casinos too!
Here at PlayCroco online casino, we promote our various bonuses, put our best games forward and cross our reptilian toes that you win during Black Friday. To be honest… we might as well call it Green Friday, because all you're gonna be seeing are crocodiles and cash!
So if you like to punt and love online casino Black Friday deals, this is the article for you. We'll talk about the history of Black Friday, why it's so important and present a few much-loved promotions! There'll be no stampedes and no dodgy sales this Black Friday! Just epic prizes and feel-good pokie playing fun thanks to your mates at PlayCroco!
What is Black Friday? 🛍️
Black Friday is a term used to describe the day following Thanksgiving Day in the States.
It's regarded as the official start to the holiday shopping season and it's also the biggest retail sales day in many countries. These days, Black Friday is closely associated with the buying of goods at discounted prices. But it wasn't always so.
The phrase was first coined in 1869 as a way to describe the financial mess left by a crashing USA gold market. It was then adopted by retailers who often said that a bad year had them "in the red", while a good year had them "in the black".
The first-time black Friday was attached to shopping came in the 1950s (once again in the States). The term was used to categorise all shoppers who flocked to the city after thanksgiving to go shopping.
As for online casinos, well, we use Black Friday as an opportunity to help you win more money. How do we do that though? Read on to find out.
Why is Black Friday important? 🛒
It's a good question, but to be brutally honest… Black Friday isn't all that important when it comes to shopping. Sure, you get a few bucks off a new TV or save some money on a dress. But the beauty of Black Friday isn't to do with retailers, warehouses or stockists. The real advantage of Black Friday is that you can actually earn cash instead of just burning through it!
Black Friday and online casinos 🍀
How can you earn cash instead of just spend it? Well, that's where online casinos and Black Friday come together!
Black Friday for PlayCroco is kinda like Christmas, Easter and your birthday all rolled into one. It's an opportunity for you to rekindle your punting relationship with popular pokies and take advantage of our bonus offers, rather than just buy consumer goods…
Of course, we're not telling you that you should hold off on buying cool stuff for Black Friday. Go right ahead! What we are saying though is that you should try to imagine how much more cool stuff you could buy with the winnings you receive on Black Friday!
PlayCroco Black Friday Deals 🎁
Speaking of Black Friday winnings, it's time to dive right into our latest Black Friday Deals. As you might've noticed, these promotions are designed to maximise your chances of scoring a HUGE jackpot on our pokies or virtual games!
What's more, these particular bonus offers are incredibly popular amongst your fellow punters. So you just know that if other people are regularly redeeming them, they must be pretty schmick…
As always, any questions about our promotions can be forward to our 24/7 customer support legends. For now though, let's check out our current online casino Black Friday Deals:
Black Friday Top Deal for online pokies and slots 🏆
UP TO 250% MATCH BONUS + 100 FREE SPINS
Min. deposit $20
Code: BLACKFRIDAY21
Coupon can only be used 10 times. No max cashout applied. Free spins apply to Plentiful Treasure.
How does it work?

Deposit $20 - GET 50% MATCH + 25 FREE SPINS
Deposit $50 - GET 100% MATCH + 50 FREE SPINS
Deposit $100 - GET 175% MATCH + 75 FREE SPINS
Deposit $200 - GET 250% MATCH + 100 FREE SPINS
Spin until you drop thanks to Croco's Black Friday top deal. Choose your bonus match and your FREE spins up to 10 times 💰 Start your hot streak now with just $20 – you don't even need to line up!

Black Friday Free Spins
10 FREE SPINS
If deposited today
Code: CROCOSPINS
Coupon can only be used once daily. Max cashout is $180.
Daily free spins to use on any pokie – just redeem the code to claim
Like free cash and free food, free spins are bloody awesome! CrocoSpins free spins, however, is something else entirely. Essentially, it gives you a bundle of fresh, funky and most of all fun free spins every day that you make a deposit – no questions asked.
Look at them like a pat on the back from your pal Croco. All you need to do is top up your account. Better yet, CrocoSpins are always changing, so you never know how many you're gonna get.
Just rest assured it will be enough to make your deposit worthwhile. But enough chit chat – get your CrocoSpins today!
Black Friday Welcome Bonus Pack
COUPON: PLAYCROCO + PLAYCOOL
200% up to $5000 - $10 free - $50 free bonus
It always feels nice to be welcomed into a club or fancy restaurant. The extra attention, the friendly service, the little freebies that you receive. But nothing beats being welcomed into PlayCroco online casino… especially when you consider our Welcome Bonus Pack!
Consisting of three very different but equally as epic offers, our Welcome Bonus Pack will make you feel like a VIP from the word "Go"! Just deposit to get 200% up to $5,000 then redeem the codes to get $10 worth of free chips and a $50 free bonus!
Then, it's just a matter of ripping and tearing through our online pokies and virtual casino games offerings until you strike it lucky. Which, if you ask us, sounds way better than lining up at a store to get $5 offer a new pair of jeans. But hey… what do we know – we're just a bunch of crocodiles!
$100 Free Bonus CrocoBoost on Black Friday
$100 FREE BONUS
If deposited this week
Code: BOOST261121
Coupon can only be used once. No max cashout is $250.
Finally, our third Black Friday Deal that you simply can't miss is our $100 CrocoBoost! Consumed in the form of a delicious shake, the CrocoBoost is prepared by our resident reptilian restauranteur and designed to give you an extra dash of energy (and cash) for the weekend!
Just redeem the coupon code that Croco whips up on Friday. Then, after making your deposit, pick up your $100 at the counter and start slurping down some pre-weekend wins. Because while Saturday and Sunday rule, Friday arvo is the best time of the week to score…
5 tips for making the most of Black Friday Deals 🤑
Now that we've chatted about Black Friday and the many deals you can claim, it's time for a few Black Friday tips. Compiled with a little help from our top VIP punters, this list will help you take full advantage of Black Friday… ready, set, win!
1. Wake up early
Black Friday is 24 hours, 1,440 minutes and 86,400 seconds of crazy casino winning opportunities, so don't waste it by sleeping in! Set your alarm the night before, wake up early and start claiming our Black Friday Deals. Winning before work or after your morning surf will set you up for an amazing day!
2. Have a plan
Of course, you shouldn't just wake up and hit PlayCroco – you need to formulate a plan! By this we mean you should have a short list of bonuses to claim and pokies to play! Fortunately, we've already outlined the best Black Friday Deals. We'll also talk a bit more about the best Black Friday pokies below.
3. Stay motivated
Just because it's Black Friday, it doesn't mean that the RTP of our Aussie pokies change. So maybe you get lucky and have a life-changing win, maybe you don't. The important thing is that you don't get discouraged. Because the more you spin, the closer you get to picking up some additional moolah!
4. Save your winnings
According to your fellow VIP players, you have three options upon winning: save all of the money, spend some and save some OR spend it all.
What separates the winningest blokes and sheilas from part-time punters is that they always choose the middle option. By saving a percentage of your wins and then gambling the balance, you cover all grounds. Then again, if you feel like you're on a hot streak and you want to make the most of it, be our guest and keep that cashflow rolling!
5. Redeem all offers
Last but not least… redeem ALL the bonuses! Seriously, if there's one bit of advice worth taking, it's that claiming our bonus offers can be the difference between a small win and a mega jackpot.
The reason being that bonus offers supplement your balance. Plus, it's also like you're getting free money. After all, we all love an extra scoop of ice cream or a free cookie with our coffee. Additional free spins, bonuses or free wagers are exactly the same… only better!
The best Black Friday online pokies and slots 🎲
Trumpets, please! It's time to roll out the red (or black) carpet for our favourite Black Friday pokies and slots at PlayCroco. Next up? Wild Fire 7s, Plentiful Treasure and Storm Lords.
Otherwise known as "three of the greats", these Aussie pokies are the pick of the bunch! So don't waste your time searching for the perfect game. Sit down, get comfortable and prepare yourself for an exhilarating pokie playing experience – these Black Friday slots might just change your life.
Wild Fire 7s 🎰
Everyone loves a classic. Its why Mad Max is still a cult Aussie movie and Chiko rolls will never go out of fashion. But it's also the reason why the 3x3 pokie Wild Fire 7s has taken the pokie world by storm.
Designed to capture the nostalgia of retro games, complete with gem, bar and 7 symbols, this Aussie slot packs a lot of punch for a pared-down pokie. Set the reels on fire with 7 free games – each of which has a x5 multiplier added on each consecutive spin.
You can also enjoy a progressive jackpot that accumulates cash on every non-winning spin. Will it be you who takes it home? Only time can tell. Even if you miss out though, there's still a 17,850-coin base game top award.
Wild Fire 7s will set your wallet alight (if you're lucky). So don't wait until tomorrow to try it. Follow that distinct smell of smoke to the hottest Black Friday slot on our roster!
Plentiful Treasure 💰
There's no need to book a table at your local sushi joint for a taste of Asia. Get your fill of oriental flavour by playing the hit land-casino classic, Plentiful Treasure!
Available to play this Black Friday at PlayCroco, Plentiful Treasure is 243-paylines of prime pokie action! The bonus rounds will come hard and fast if you spin those reels right. For example: you could get 8 free games during which no low-paying symbols appear on the gameboard.
Then there's the Gold Coin bonus round, which is activated by the Bao symbol. Just touch the coins that pop up in order to discover whether you've won one of four jackpots – Grand, Major, Minor and Mini!
Toss in prize multipliers that can go as high as x5 plus a jolly Oriental theme and it's easy to see why Plentiful Treasure is so epic. Of course… with a name like that, what else should we expect?
Storm Lords ⚡
Like getting caught in the rain? What about swept up in a raging tempest that rains down prizes like water on a blustery day? If your answer is "Go on", then we've got a pokie for you…
Called Storm Lords, this 50-variable payline game will make you feel the power of Mother Nature. With a theme that incorporates godlike figures and different elements of the natural world, it's a refreshing take on your standard slot.
The Storm Lord wilds can appear on reels 2 and 4 and nudge to cover the entire reel, setting up some amazing winning combos. What's more, 6 or more Treasure Coins award a respin whereby all 15 positions could deliver an instant bonus – neat!
Finally, 3 or more scatters can kick off one of two free game bonus rounds. What's not to love? Bring a jacket to Black Friday and batten down the hatches, because there's sure to be some crazy weather (and even crazier payouts) in Storm Lords!

More articles 📗

👉 Create your PlayCroco casino account for FREE today:
If you don't have an account create yours here.
Click on the "Coupon" button if you're using a mobile device or head to Cashier if you're using your computer
Redeem your welcome bonus: coupon PLAYCROCO - 200% bonus up to $5000
Grab your free $50 treat: coupon PLAYCOOL
Start playing and have fun!