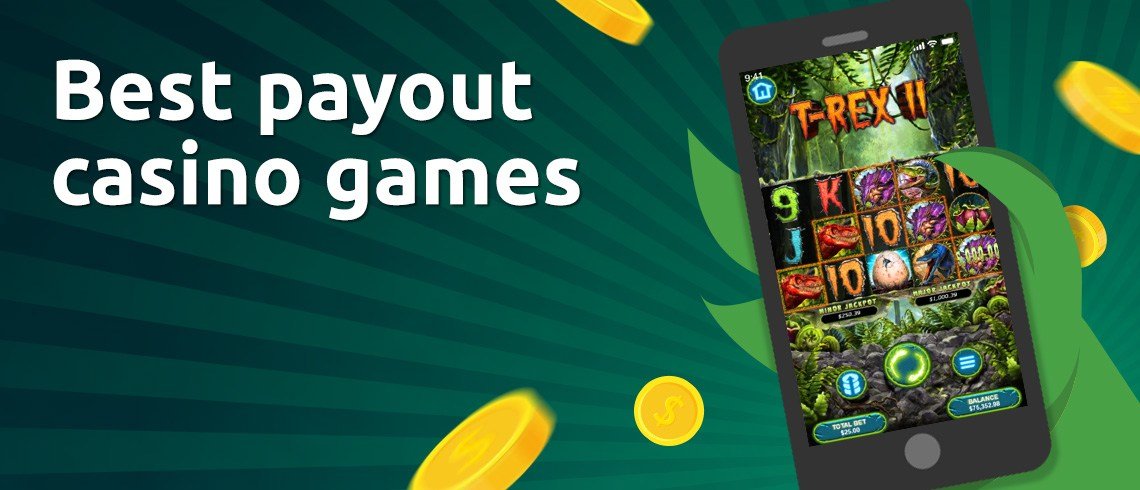 All our online pokies are epic but there are a few that sit head and shoulders above the bulk of our roster… These pokies and slots deliver the best real money payouts and the best odds of winning.
All of our 300 plus online casino pokies are positively epic! After all, we wouldn't host them on our site unless they were. But there are a few that sit head and shoulders above the bulk of our roster… 
You may already be aware of these online pokies, but perhaps they slipped under your radar! Either way, we reckon it's important that you know which online casino games boast the best payouts!
For this reason, we created the following article. In it we go over the 5 things that influence online casino game payouts, how much you can win and how to choose the best payout online casino slots…
Of course, we also give you the inside scoop on which slots offer the best online casino payouts. So if you're in the mood to win (and we know you always are), then read on today!
5 things that influence online casino game winning odds 🎲
Payouts don't just happen by accident. There are actually heaps of things that influence how often and how much you can scoop up real money in a single payout!
Volatility 🎪
Volatility is a term that you'll come across often at PlayCroco casino. Essentially, it's the term we use to assess the risk of an online pokie. Or in other words… it gives you an idea as to how big your wins will be and how often they will come on a particular pokie.
There are three main gradings when it comes to volatility:
Low volatility – These types of slots give you more chances to win, but the payouts are relatively small. This means that they'll satisfy your desire for that winning feeling, but your bank balance won't grow all that much
Medium volatility – This type of online pokie offers a compromise between low and high volatility. Normally they come with lots of bonus features and different ways to win. As for their playability, punters who want semi-regular wins that are pretty decent will enjoy medium volatility slots
High volatility – If you dream of becoming a RoyalCroco then high volatility pokies will be right up your alley. They are high risk machines that come with really high rewards. They also generally come with either one or multiple jackpot prizes. This means that while a high volatility pokie might not make you a billionaire… but they could push you towards millionaire status
Jackpots 😃
Another thing that influences which online casino games have the best payouts is the jackpot. Obviously, games without jackpots are still incredibly awesome to play! Games with jackpots, however, are simply more fun! This is because jackpot games give you more opportunity to win, which means they boast better payouts than non-jackpot slots.
As we just mentioned, some games can even have multiple jackpots. These might range from a few hundred dollars to tens of thousands or even more! The best jackpot pokies though are progressives…
What this means is that the jackpot amount grows on every non-winning spin! These types of slots are also linked to other slots from all over the world, which means there's always more than one person contributing to the ever-growing jackpot amount!
Essentially, progressives can offer jackpots in excess of $1 million dollars! Think games like Aztec's Millions, Shopping Spree II and Megasaur. As such, the best payout pokies often boast a progressive jackpot!
Hot and Cold online pokies 🔥
Have you ever heard about the concept of hot and cold games? Well, it's important that you know what they are if you want to play the best payout online casino titles.
In theory, hot and cold games are titles that either pay out regularly (hot) or don't pay out all that often (cold)…
As you might imagine, a hot game is preferable given that there's a chance it will payout wins more often than a cold title. The only problem here is that it can be hard to identify which games are hot and cold!
Fortunately, we have solved this problem by listing on the PlayCroco homepage which game are currently exceeding our expectations for payouts! Here's how to find them: 
Login to your PlayCroco mobile or desktop account
Go to the main PlayCroco page
Scroll down till you find the 'Best Online Pokies' section
Select any one of these online pokies
Enjoy winning big on a hot game
Bonus rounds 🎁
The last factor that comes into play when considering which online casino games boast the best payouts is bonus rounds…
As you may well know, bonus rounds can make or break an online pokie! They are entertaining, exciting and fun to trigger. Most of all though… they can make your screen turn into a popcorn machine when you score a massive win!
Bonus rounds are generally activated when a certain number of symbols land on the reels. You'll then be taken from the base game to another screen, whereby you'll most likely win either free spins or instant prizes!
We love games with unique or interesting bonus rounds, but to be honest… we'll take just about any online slot just as long as the bonus round promises the potential for big payouts. In fact, we even have a shortlist of pokies with epic bonus rounds. They are: 
The Vault bonus round in Cash Bandits 3
The progressively unlocked bonus rounds in Achilles
The prize meter bonus round in Shopping Spree II
The pick-your-prize bonus round in Paddy's Lucky Forest
How much can you win on an online casino game? 🎰
This is one of the most common questions that we receive. Well, that and "Can I hang with Croco?".
In all seriousness though, it's totally normal to want to know how much you can win on an online casino game. But that's not an easy question to answer. We say this because the best payout pokies often pay out at random! This means you can't really anticipate how much you will win unless you trigger a fixed amount jackpot.
So to answer the question as to how big your wins will be on an online pokie, all we can tell you is that it depends on many things.
From whether the title in question is a progressive to its volatility, bonus rounds and even if it's on a hot streak, determining the payout amount of an online slot is an exercise in university-level maths…
The best advice we can give is to read the attached game guides for each new release. They'll at least give you some good info regarding how much you can expect to win when it comes to the top award!
How to choose the best casino slots? 10 essentials tips 📗
Want to know how to pick casino games with the best payouts and winning odds? Here are a few Croco-approved tips to help you find your next favourite online slot: 
Tip #1: Pick recently released slots so that you can claim the attached new game bonus
Tip #2: Match your bankroll to the slot's volatility
Tip #3: Look for titles with a theme that you find fun or interesting
Tip #4: Play only progressive titles if you seek big jackpot payouts
Tip #5: Check out our 'Best Online Pokies' section on the PlayCroco homepage
Tip #6: Don't forget to suss out the Return To Player percentage
Tip #7: Check out the game's top award (the bigger, the better)
Tip #8: Read game reviews to get a better feel for the title in question
Tip #9: Feel free to ask Croco if you want some online slot selection advice
Tip #10: Play our online slots for free for a taste of what they offer
What are the best payout online casino pokies? 💰
There are heaps of titles that pay out big at PlayCroco, but the following online casino games are the best payout slots on our roster right now. Learn all about them by reading on below:
Storm Lords 
5 reels
50,000-coin top award
50-paylines
Respins and expanding symbols
There's a storm brewin' at PlayCroco… but it's not between gators and crocs. Instead, this one is between two godlike characters. Each of which can conjure up some massive wins!
Called one of the most sensational slots ever to grace a digital screen, Storm Lords lets you feel the payout power. With nudging wilds, an impressive respin bonus round and instant prizes plus free games, this 50-payline pokie is a sight to behold!
Halloween Treasures 
5 reels
50,000-coin top award
4 jackpots
243-paylines
A land-based casino favourite, Halloween Treasures is a classic spooky season slot! With more treats than trick and plenty of goodies for young and old, this 243-payline pokie is definitely worth a look…
Enjoy how the Halloween House substitutes for all symbols to form big winning combos while the many different ghosts, ghouls and other creepy cats keep you entertained. Don't forget about those jackpots either! There are four in total and all of them will definitely send your payouts soaring higher than a flying witch…
Bubble Bubble 
5 reels
50-paylines
3,000-coin top award
x100 prize multipliers
Bubble, bubble, toil and trouble… this 50-payline pokie is as sexy as it is scary. Win up to 20 free games on the Great Ghosts bonus round or watch as all reels turn wild by Winni the Witch and her magic wand!
This Halloween-themed title is full of free games, expanding wilds and wicked ways to win. Perhaps the best feature though is the fact that you can claim prize multipliers worth x100! If that doesn't frighten you into trying it… we don't know what will!
Popiñata
5 reels
10-paylines
250-coin top award
Expanding wilds
Got your party pants on? Good! Because this is your invite to the fun-time slot Popiñata. Filled to the brim with festive piñatas and opportunities for crazy payouts, Popiñata is like an awesome pokie fiesta…
Instant respins abound and expanding wilds can appear at any moment! Better yet, Popiñata pays in both directions, which means you receive prizes from both left to right AND right to left winning combos. So what are you waiting for? Join the Popiñata party today!

More articles 📗

👉 Create your PlayCroco casino account for FREE today:
If you don't have an account create yours here.
Click on the "Coupon" button if you're using a mobile device or head to Cashier if you're using your computer
Redeem your welcome bonus: coupon PLAYCROCO - 200% bonus up to $5000
Grab your free $50 treat: coupon PLAYCOOL
Start playing and have fun!