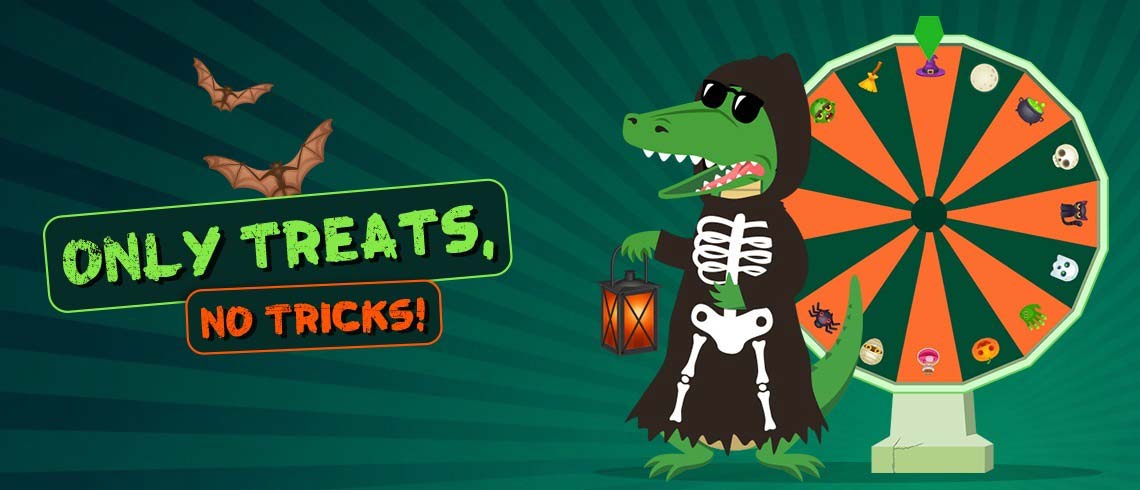 It's that time of the year again. Halloween is about to arrive! We're already stockpiling lollies for this spooky holiday. But what we really want to stockpile is MASSIVE pokie wins!
The best thing about Halloween? Croco doesn't even need a costume. Seriously… there's not many things scarier than a talking crocodile with shades, even though we all know Croco is an awesome dude… In fact, Croco is so awesome he's running his special CrocoWheel promo once again! This means there are 16 treats up for grabs (no tricks). Each of which can lead to a lifechanging win.
But before we launch into our CrocoWheel promo, there are a few things you need to know about Halloween. So lock the door, turn off the lights and get ready for a frighteningly awesome edition of our blog! PlayCroco is here to help you discover your inner winner!
Halloween traditions from around the world 🗺️
Not everyone celebrates Halloween like in America. In fact, most of the world have their own unique and memorable ways for celebrating Halloween! At their core though, they all have something to do with honouring the dead. Here are some of the most interesting Halloween traditions that we could find!
Día de los Muertos, Latin America
Día de los Muertos is the Mexican, Latin American and Spanish version of Halloween. It's commemorated with a three-day celebration that begins on the 31st of October and ends on November 2nd. Participants remember the dead by constructing an alter in their homes.
They then decorate the alter with flowers, candy, photographs and even their deceased loved one's favourite food and drinks. Parties are also commonly held and there is somewhat of a festive vibe. On the whole though, Día de los Muertos is about respecting adults and kids who have passed away by dedicating three entire days to their memory.
Awuru Odo Festival, Nigeria
In Nigeria, dearly departed friends and family members are remembered with the Awuru Odo Festival. This is similar to the aforementioned Día de los Muertos, but one difference is that the Awuru Odo Festival can last for up to six months!
The holiday is celebrated with music, food and elaborately constructed costumes that include some truly terrifying masks. Then, when it's all said and done, local customs dictate that the dead will once again return to the spirit world. The Awuru Odo Festival is extremely important in Nigeria, however, it's only held once every two years to coincide with the time that the spirits are closest to the earth.
Day of Dracula, Romania
What do you think of when you hear the word "Dracula"? Bloody fangs? Black bats? Coffin beds? Well, in Romania, when people hear the word Dracula it's normally associated with the Day of Dracula.
This special date sees people from all over the country and across the globe migrate to Vlad "The Impaler" Tepes's home at Bran Castle, Transylvania! Tours are held, people can get photos with actors dressed up as the world's most famous vampire and you can even party in Count Dracula's castle on Halloween night. And while it may not be your most traditional Halloween celebration, it still somewhat honours the dead (or should we say the undead).
Guy Fawkes Day, England
Bonfires are lit throughout the country of England on November 5th. Effigies are then burned and fireworks set off, all to commemorate Guy Fawkes Day.
Of course, this doesn't have all that much to do with Halloween. England put a stop to All Hallows Eve as Martin Luther's Protestant Reformation kicked off. Instead, this autumn ritual is held to mark the anniversary of Guy Fawkes' death, who was executed as a traitor in 1605 for trying to assassinate the king and blow up the House of Lords… wild!
Pangangaluluwa, Philippines
On the other side of the world, we have Pangangaluluwa, which is more or less the Filipino version of Halloween!
Children go door to door dressed up in spooky costumes. After knocking on a door, they sing or ask for prayers for those stuck in purgatory. In more modern times, the singing and the request for prayers has been supplanted by trick-or-treating.
However, some villages and regions in the Philippines are working hard to keep the tradition of Pangangaluluwa going. Some towns also use it as a way to raise funds for the less fortunate!
10 surprising Halloween facts that you probably didn't know 🎃
Jack-o-lanterns were originally made from turnips, beets and potatoes instead of pumpkins
Halloween is based on a Celtic festival called Samhain, which makes it more Irish than St. Patrick's Day
Bakers used to bake thimbles into Halloween cakes. If you then bit into one of these cakes and hit the thimble, it's said that you would be unhappy in love
Michael Myers scary mask in the slasher movie series Halloween was actually a mould of William Shatners face
Germans hide all the knives in their house during Halloween for fear that returning spirits will injure themselves if they're left out
Trick or treat started with the European tradition of "mumming", whereby you danced for your food
If you grew up as a Celt during the reign of the Roman empire, you probably danced around a fire while wearing animal skins to celebrate Samhain
The word "Halloween" is actually just the super condensed version of "All Hallows Eve"
The Halloween game of bobbing for apples began way back in ancient Rome. It's said that sandal-wearing pagans honoured the eponymous goddess of fruit and trees, Pomona, by bobbing for and eating apples
Our American mates spend over $8 billion on Halloween, which makes it the second largest holiday after Christmas in the USA
Halloween pokies: our spookiest real cash slots 🎰
Congratulations! Now that you're an All Hallows Eve expert, it's time to put your bravery on display… These pokies are disturbingly awesome! Full of spooky symbols, creepy characters and petrifying prizes. So don't turn those lights on just yet. The following Halloween pokies are the only real cash slots you need to play during the scary season!
Bubble Bubble 🔮
50-fixed paylines
3,000-coin top award
No jackpot
Free games bonus round
x100 bet multiplier
Witches do exist in Bubble Bubble! Not only that… but they actually look nothing like the traditional old hags we're familiar with. In fact, Winni the Witch is very generous (and pretty easy on the eyes).
She offers Cauldron wilds that can trigger three huge features, including 20 free games, expanding wilds and prizes that can go from 5 to 100 times the bet per line. Throw in 50-fixed paylines plus a 3,000-coin top award and Bubble Bubble is guaranteed to conjure up some payouts!
Count Spectacular 🧛
25-variable paylines
Two jackpots
50,000-coin top award
Triple prizes
Retriggerable free games
Don't believe the fairytales… Dracula definitely doesn't suck. He actually loves to party and hand out prizes, which is exactly what he does in Count Spectacular.
With 25-variable paylines, a Minor and Major jackpot plus a 50,000-coin top award, this real cash slot has all the right ingredients. The Count can also substitute for all symbols and expand to cover other reels, while also dishing up 12 free games with triple prizes… there's nothing this living legend can't do (besides see himself in the mirror).
Witchy Wins 🧙‍♀️
243-ways to win
10,000-coin top award
Multiplying and morphing wilds
50 free games
Random prize bonus round
Don't be afraid of the witch's cauldron… embrace it, love it, make it your friend. You'll be suitably rewarded with magical prizes in Witchy Wins.  This includes win multipliers that can go up to x4, 50 free games or a Random Wild Reel bonus round that could cast a spell of good luck over all of the reels. Witchy Wins is 243-paylines of enchanting action, so don't miss out! Grab your broom, give your black cat a reassuring pat and get winning with this Halloween-themed pokie today.
Eternal Love 🖤
243-ways to win
Life Force Meter bonus round
x1,000 wins
Gothic vampire theme
No jackpots
Do you love love? Do you love romance? Do you love things that go bite in the night? Then you're weird (not really but). That's just a joke! What isn't a joke though is the gothic-themed vampire pokie that is Eternal love!
Unlike Count Spectacular, which is a little bit whimsical, Eternal Love is a passionate pokie full of seriously awesome ways to win. It has 5-reels and 243-paylines to play on plus a top award worth 50,000-coins. But that's not the half of it. What sets Eternal Love apart from other real cash slots is the Life Force Meter, which fills up on winning spins to offer various prizes such as free games, x1,000 multipliers and the promise of everlasting fun! Now that doesn't sound so scary!
Panda Magic ✨
1,024-winning combinations
2,000-coin top award
30 free games
Expanding wilds
Double wins
Pandas are cute, cuddly and totally harmless. That is unless you give them magical powers! In Panda Magic, a big black and white bear has learned the secret of sorcery. Now he's conjuring up marvellous rewards on 1,024-paylines!
Just land the Magic Ticket scatter to trigger up to 30 free games. Wins will be doubled and more free games can be won. Panda Magic wilds will also appear and expand, serving up extra winning combinations that would make even the grumpiest bear smile. Add a 2,000-coin top award and premium Halloween-themed graphics and Panda Magic is guaranteed to weave you some wins.
Everything you need to know about our CrocoWheel 🎡
Yep, our Halloween pokies are unbelievably good. But when you combine them with the CrocoWheel… it's simply awesome! Here's how the Halloween wheel of fortune CrocoWheel works: 
You click the button on our landing page to spin the wheel
This wicked wheel of wins will then land on one of 16 bonuses
These bonuses are valid on the best Halloween online pokies and slots
They'll also increase your odds of bagging a MASSIVE payout
Ultimately though, our CrocoWheel is here to get you in the mood for Halloween! So cut yourself some slack and have some fun!
More articles 📗

👉 Create your PlayCroco casino account for FREE today:
If you don't have an account create yours here.
Click on the "Coupon" button if you're using a mobile device or head to Cashier if you're using your computer
Redeem your welcome bonus: coupon PLAYCROCO - 200% bonus up to $5000
Grab your free $50 treat: coupon PLAYCOOL
Start playing and have fun!