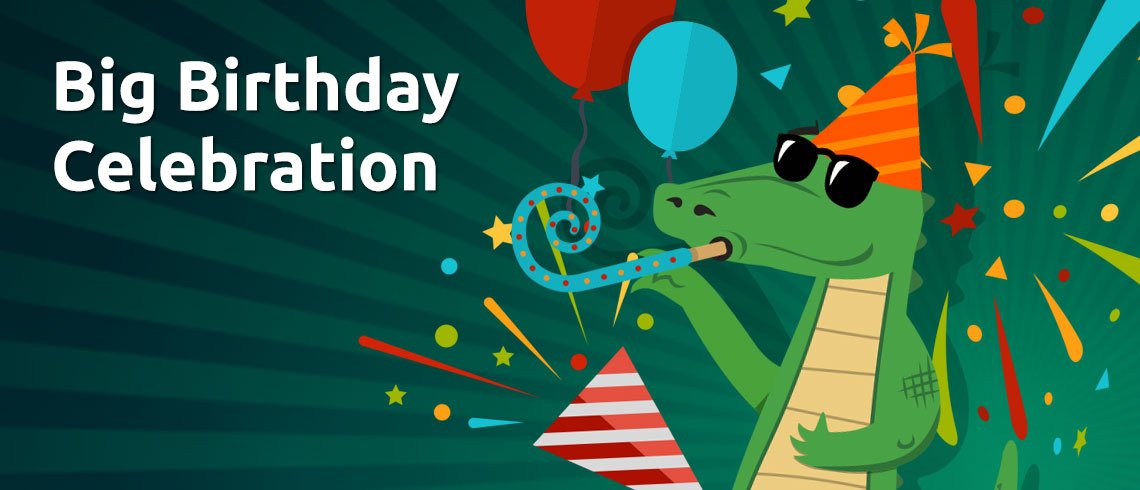 Step right up, ladies and gentlemen, and join us for the biggest birthday bash of the year! PlayCroco Casino is turning another year older and we're celebrating in style with a Fun Fair Birthday extravaganza! For three weeks straight, we're bringing you non-stop thrills, spills, and chills with a carnival-inspired celebration that's sure to knock your socks off.
So grab your cotton candy, hop on the Ferris wheel, and get ready for the ride of your life at PlayCroco's Big Birthday Celebration!
PlayCroco's Fun-tastic Fun Fair 🎡
If you're looking to have a ripper of a time then join us for the Birthday Celebration Fun Fair! We've got three weeks of non-stop fun and games lined up for you, with new rewards up for grabs every week. Keep your eyes peeled for pressies scattered around the virtual fairgrounds - collect 'em all for some sweet surprises!
But that's not all - our resident clown is back and ready to tickle your funny bone with new jokes every time you visit. And if you're feeling peckish, check out our delicious food recipes that you can try at home. And what's a birthday bash without a cold one? Head on over to the beer stand for some refreshing brews and pokies recommendations for extra fun.
In true PlayCroco style, it gets even better! We're also doing our part for the environment with an eco-friendly initiative. Collect trash in the virtual fairgrounds and get rewarded for your efforts. And don't forget to write a birthday wish for Croco, our lovable mascot. Swing on by and join the party!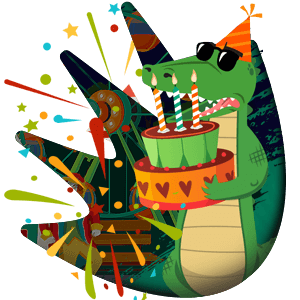 Three years of pure croc'n'roll 🎸
We're stoked that PlayCroco has been ranked as the number one (yep, you heard that right - NUMBER ONE!) online casino in Australia for three years running! We're constantly releasing exciting new online pokies every month, offering our players generous promotions and free chips, and giving them millions of opportunities to WIN BIG! 
But we're not ones to rest on our tails - we're always looking for ways to up the ante and keep things fresh and exciting for our players.
So, without further ado, we present to you our top online casino highlights that we reckon are super cool. But at the end of the day, it's all about YOU, our awesome players - we're only happy if you're happy!
💚 A message from Bruce, the online casino manager 💚
I had to get this off my green-coloured chest: THANK YOU!
PlayCroco online casino is turning 3 year old and what a ride it's been. Thank YOU for being part of this family, for having FUN and for making PlayCroco the best online casino around!
Bruce Fern, Online Casino Manager
Heaps of happy online casino pokie players in Australia 💚
Sure, it's all good and well to be named Australia's best online casino, but you know what really gets us croc-ing? Hearing from our awesome players that we're pretty darn good! This fact makes Croco happier than a pig in mud (or should we say crocodile in mud?). 
Our top priority is to keep building a safe, fun, and rewarding online casino experience for our Aussie players. And in that sense, we reckon we're pretty unique!

New online casino pokies every month 🎰
We're over the moon to tell you that we've been churning out new online pokies and slot machines like nobody's business - one (or sometimes two!) every single month for the past three years and counting. And let us tell you, these aren't your run-of-the-mill pokies - they're the hottest, most sizzling pokies for real money that you've ever seen! We're talking playability, bonus rounds, and gameplay that'll knock your socks off.
From Football Fortunes and Spring Wilds to Paddy's Lucky Forest, Wild Hog Luau, and Achilles Deluxe, we've got the best of the best when it comes to real cash pokies and slots. And that's not all - every new pokie comes with a game bonus and a detailed walkthrough in the form of a casino blog article. Talk about getting a leg up!
We're pretty chuffed with ourselves for this accomplishment, and we're not afraid to pat our own scaley backs. If you want to see all our amazing pokies for yourself then head on over to the casino lobby!

The best real money online casino promotions 🎁
If you could pick one thing for an online casino to excel in, what would it be? We asked our Aussie players, and you know what they said? Bonuses, a special bonus code or two and real money casino promotions, of course!
That's why Croco founded our online casino with a mission to dish out regular deposit bonuses, no deposit bonuses, and free spins galore! And to make sure you're never bored, we've got between 12-16 promotions on our page at any given time. Talk about spoiling you for choice!
These real money casino promotions can be for special holidays like Valentine's Day or St. Patrick's Day, or they can be for using a certain deposit method. Whatever the case may be, we've got you covered.

100% mobile online casino pokies 📱
We know that playing at online casinos using an iOS or Android device is the bee's knees for Aussie players like you. I mean, who doesn't love the convenience of playing and winning while riding the train to work, kicking back on the couch, or even enduring a dull movie on a first date (just kidding, don't do that!).
And let's face it - pretty much everyone in the world owns an Apple or Android phone these days, and we spend a lot of time using them. That's why we've reinvigorated our casino mobile design to give you a seamless online betting experience on the go!
But don't just take our word for it - try it out for yourself! Head on over to PlayCroco and check out our updated mobile casino app. We guarantee you won't be disappointed!

Expansion of casino deposit methods 💰
Finally, another highlight for us here and all our croc-lovers is the fact that we've received some awesome feedback regarding our latest deposit and and withdrawal casino methods.
These new-fangled options, combined with some of our more traditional methods, have been putting smiles on the dials (and cash in the wallets) of players all across Australia.
VIEW DEPOSIT AND WITHDRAWAL METHODS


Raise a glass 🥂
It's time to break out the cake, pop the bubbly, and sing a rousing rendition of "Happy Birthday" to Mr. Croco and his awesome online casino! 
These amazing three years have been a roller coaster ride full of full of casino games, online pokies, and bonuses that have put a grin on the faces of Aussie players everywhere. And you know what? We're not done yet - we never rest on our tails! 
So come on down, play and join the PlayCroco Big Birthday Celebration - we guarantee you won't be disappointed!

More articles 📗
👉

 

Don't have a casino account yet? Create yours for FREE today:
If you don't have an account

 

create your account today
Click on the "Coupon" button if you're using a mobile device or head to

 

Cashier

 

if you're using your computer
Redeem your welcome bonus: coupon PLAYCROCO - 200% bonus up to $5000
Grab your free $50 treat: coupon PLAYCOOL
Start playing and have fun!