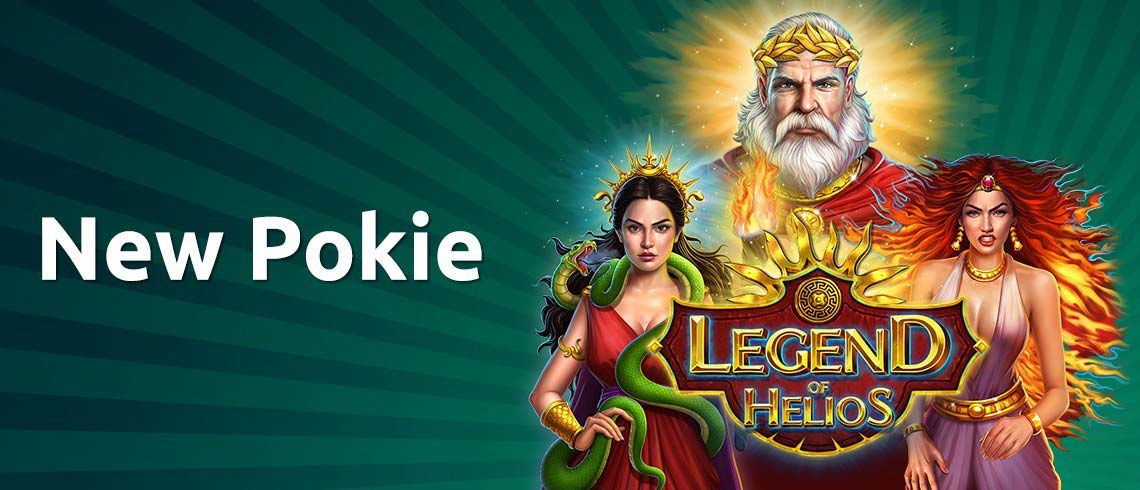 If you thought the gods were powerful, wait till you getta load of the action-packed bonuses in Legend of Helios. Launches on Weds 8th September.
Legend of Helios 🎰

Volatility: High
Layout: 5x3
Paylines/Ways: 25-paylines
Jackpot: Game without jackpots
Feature: Stacked symbols, bursting wilds, prize multipliers, free games
Max Payout: 2,250-coins
About Legend of Helios ⚡
There are heaps of legends in the world today. Heck… you're one of them! But before there was you, your best mates and of course Mr. Croco, there was a bunch of legendary Greek gods!
Some of these gods were fearsome, some of them were kind. All of them wielded more power than a supped up V8 commodore though… especially Helios. Have you heard of him? He was said to be the personification of the sun. This means that he had all the features of that big glistening globe in the sky!
What's more, the ancient Greeks believed that it was Helios who towed the sun across the sky. He would lash it to his chariot and set off at dawn, only to fly across the sky throughout the day and descend beneath the horizon come dusk…
Of course, we don't really care all that much about these exploits. All we care about is that Mr. Croco just released Legend of Helios – that flaming Greek gods namesake online pokie. Stuffed full of bonus rounds, flush with ways to win and oozing with charm, Legend of Helios is ready to play!
Gameplay 🎲
Legend of Helios has relatively simple gameplay, but don't let the pared-down graphics fool you. This is one high quality PlayCroco-endorsed online pokie! Don't believe us? Here's how the gameplay goes…
You have a 4-3-4-3-4 layout for the gameboard, but this can grow depending on one of the bonus pick features. This means that the paylines can go from 25 to 50! What's more, the volatility of Legend of Helios is high, which ensures you can pick up some seriously massive real money prizes. Another interesting aspect of Legend of Helios is that there are two scatter symbols and a multiplying wild.
What's more, there are cool sound effects, animations and a soundtrack that totally rocks… if you're into heroic Greek music. All in all, the gameplay in Legend of Helios will absolutely floor you. But we don't want to give away all of its secrets! You'll just have to read on to learn more about our new favourite slot…
Pokie Symbols 💫
Winning on Legend of Helios doesn't require you to make a ritual sacrifice, nor will you need to climb the steps of the mighty Pantheon. Scoring a god-sized prize payout really comes down to whether or not you can land the wild or scatters symbols, since they offer the biggest rewards.
Of course, there are some inconsequential low-paying symbols and yes… there are even some handy high-paying symbols too. The WD wild, however, will multiply your wins when it appears in a combo. It will also substitute for all symbols (except the scatters) to increase your chances of securing a solid victory!
Like we mentioned earlier, there are two scatter symbols in Legend of Helios. The first of these is the Patina Coin 1. It will only appear on reels 2 and 3. Then there's the Patina Coin 2, which is the second scatter symbol. It will only appear on reel 4.
The catch here is that you need 3 or more scatters to trigger the bonus rounds, so look out for both the Patina Coin 1 and Patina Coin 2 symbols when you spin. In addition, the Patina Coin 2 scatter will actually determine how many free spins are given when it lands on reel 4!
Finally… we have the Mystery Stack symbols. This can randomly morph into other symbols in order to further complete winning combinations! You never know when they'll appear, since they pop up at random. But try to keep your eyes peeled… they're pretty bloody awesome!
Slot Bonus rounds 💯
Phew… that took a bit of explaining, but not as much as the following bonus rounds. We did warn you that Legend of Helios was packed with features, right? Well… here's the proof. Below are the main special and bonus rounds that can kick off throughout the game.
Respin with Locking Mystery Stacks 💰
Remember those Mystery Stack symbols we mentioned before? Turns out they have another important function in Legend of Helios! When any matching Mystery Stack symbols appear on reels 1 and 2 during the base game, the Locking Mystery Stacks bonus round will be triggered!
When this happens, Mystery Stacked symbols will be locked on those same reels. Then, reels 3, 4 and 4 are respun. If this respin results in a win, all the power to you! If it results in a loss though, an additional respin will be rewarded until you nab a prize. And who said the gods can't be generous!
Bonus Wheel 🎡
The Bonus Wheel round is triggered when 3 Patina Coin scatters appear on reels 2, 3 and 4. You'll then get a few free spins (1 to 3) depending on the value of the Patina Coin that lands on the fourth and final reel… but free games aren't the only thing you receive.
The Bonus Wheel round will then give you the chance to choose between a number of different pick your prize bonus features. These include: 
14 free games with 50 paylines
12 free games with 3x win multiplier
10 free games with bursting wilds
8 free games with extra wilds and longer symbol stacks
All of these options are pretty self-explanatory… except perhaps the bursting wilds and the longer symbol stack options. Bursting wilds, you might remember from other titles, can turn other symbols on the gameboard into wilds. Longer symbol stacks, however, are a pretty new feature.
How they work is by giving you the opportunity to build winning combinations into massive prize multipliers. This means that if you select the 4th Bonus Wheel option, you could potentially win prizes worth 400x the bet, 100x the bet, 50x the bet, 30x the bet, 25x the bet, 20x the bet or 10x the bet.
Now, we should mention here that there are some other cool features in the Legend of Helios bonus rounds. What are they though? Well, like we said before, we don't want to give away all of its surprises. We suggest that you simply give it a crack. Trust Mr. Croco when he says it will croc your earthly world.
Pros
Simplistic gameplay
Inspiring Greek mythology theme
Stacking symbols
Wild prize multipliers
Two scatters
Expanding gameboard
Neat little base game max payout
Heaps of ways to win
Cons 
Where to play Legend of Helios online pokie 🎰
The gods are calling your name from Mount Olympus! Now it's time to heed their call and reap the riches that await in the heavens. Play Legend of Helios at PlayCroco online casino now to join Mr. Croco in becoming a heroic winner. It's available on all types of devices, from mobile phones, iPhones, iPads and computers laptops. The power is in your hands… literally!
More articles 📗
👉

 

Don't have an account yet? Create yours today:
If you don't have an account

 

create your account today
Click on the "Coupon" button if you're using a mobile device or head to

 

Cashier

 

if you're using your computer
Redeem your welcome bonus: coupon PLAYCROCO - 200% bonus up to $5000
Grab your free $50 treat: coupon PLAYCOOL
Start playing and have fun!